Founded in 1856, Burberry Group Plc (BRBY) is a British-based luxury goods company specialising in leather goods and ready-to-wear items. The company designs, sources, manufactures and distributes luxury men's, women's and children's clothing and non-apparel accessories through directly owned stores, wholesale and licence channels. The company was listed on the LSE (London Stock Exchange) in July 2002.
Financial Highlights (FY2019, £ million)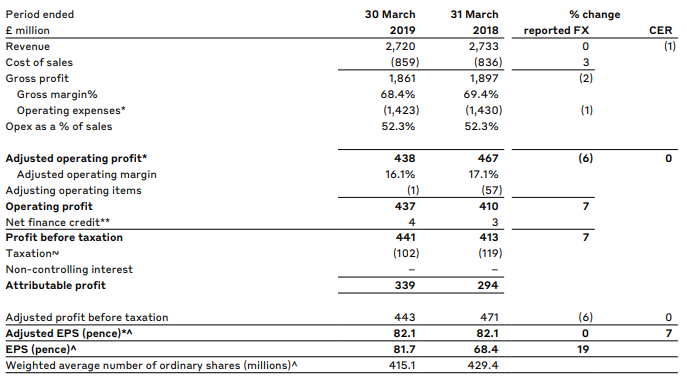 (Source: Annual Report, Company Website)
The company's revenue was £2.7 billion and decreased by 1 per cent at constant exchange rates (CER) against the previous year data. The reported gross profit declined by 2 per cent to £1,861 million as compared with the financial year 2018 data of £1,897 million, while gross margin stood at 68.4 per cent.
Adjusted operating profit decreased by 6 per cent to £438 million as compared with the prior year data, while remained flat at CER. The adjusted operating profit margin decreased to 16.1 per cent. Reported operating profit stood at £437 million, a surge of 7 per cent from the previous year data.
Reported profit before taxation rose by 7 per cent to £441 million against the £413 million in FY18. The attributable profit stood at £339 million. Adjusted diluted EPS (earnings per share) was 82.1 pence, a surge of 7 per cent at constant exchange rate.
Reported diluted EPS stood at 81.7 pence, a surge of 19 per cent at reported basis as compared with the previous year data.
Full year dividend increased by 3 per cent to 42.5 pence per share against the 41.3 pence per share in FY18.
Share Price Performance
Daily Chart as at June-06-19, before the market close (Source: Thomson Reuters)
On June 6, 2019, at the time of writing (before the market closed, at 09:36 AM GMT), Burberry Group Plc shares were trading at GBX 1,762, up by 0.945 per cent against the previous day closing price. Stock's 52 weeks High and Low is GBX 2,347.24/GBX 1,618.50.
At the time of writing, the share was trading 24.93 per cent lower than the 52w High and 8.87 per cent higher than the 52w low.
Stock's average traded volume for 5 days was 1,905,709.20; 30 days - 1,235,072.23 and 90 days – 1,141,175.38. The average traded volume for 5 days was up by 54.30 per cent as compared to the 30 days average traded volume.
The company's stock beta was 1.45, reflecting significantly higher volatility as compared to the benchmark index. The outstanding market capitalisation was around £7.19 billion, with a dividend yield of 2.43 per cent.
Conclusion
FY19 results were soft as expected and currently, Burberry navigates through a transition period into 'new Burberry' under Riccardo Tisci's (Chief Creative Officer) purview. The group announced the FY20E guidance for broadly stable revenue and flat operating margin at constant FX with more credence towards the second half.
FY20 is the final year of Burberry's transition period managing the creative transition and rationalizing its distribution network (closing US wholesale non-luxury doors and closing 38 small retail stores in secondary locations) more in line with the new brand vision.
Capex should increase significantly to £200 million in FY20 versus £110 million in FY19, but further £150 million share buybacks confirmed for FY20. The company also announced additional cost savings in FY21-22 of around £135 million.
With Bank of England reducing the interest rates to a historic low level, the spotlight is back on diverse investment opportunities.
Amidst this, are you getting worried about these falling interest rates and wondering where to put your money?
Well! Team Kalkine has a solution for you. You still can earn a relatively stable income by putting money in the dividend-paying stocks.
We think it is the perfect time when you should start accumulating selective dividend stocks to beat the low-interest rates, while we provide a tailored offering in view of valuable stock opportunities and any dividend cut backs to be considered amid scenarios including a prolonged market meltdown.


CLICK HERE FOR YOUR FREE REPORT!