Highlights

Technology stocks play a vital role in the advancement of the economic growth of an economy.
PaySauce to organise its Annual Shareholders' Meeting this week.
Chorus to pay a final dividend in October.
Technology stocks refer to those stocks which are engaged in the technology sector and makes use of the latest advancements as well as software in delivering services to their customers.
The importance of technology stocks can never be undermined as they help businesses in the growth of their trade and commerce as well as act as a link to the world.
Moreover, the pandemic has pushed the companies to accelerate the speed of the adoption of digital technologies and also to attract customers towards online channels.
With this backdrop, let us explore the five NZ technology stocks amid the pandemic.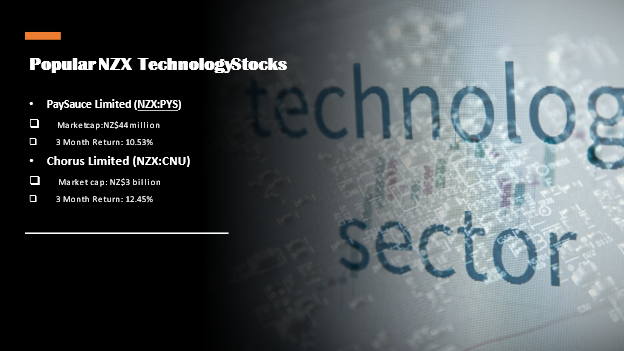 Image source: © 2021 Kalkine Media New Zealand Ltd, data source- Refinitiv
PaySauce Limited (NZX:PYS)
Based in Wellington, PaySauce Limited designs software solutions for people at work. The Company recently disclosed to hold an online ASM on 24 September.
It must be noted that earlier PYS was planning to hold a hybrid meeting, i.e., shareholders could attend the meeting both physically as well as online. But, owing to the prevailing circumstances related to the pandemic, it was later decided to organise an online ASM.
At the closing bell on 22 September, PaySauce gained 3.23% at NZ$0.320.
Related Read: Look at the 5 NZX-listed penny stocks in the technology space
Chorus Limited (NZX:CNU)
Founded in 2011, Chorus Limited provides world-class telecommunications infrastructure across New Zealand. The Company has announced to pay a final dividend of NZ$0.145 per share in the second week of October. Also, shares would be allotted at a price of NZ$6.57 under its DRP scheme.
Moreover, it has revealed scheduling its virtual ASM on 27 October.
At the closing bell on 22 September, Chorus climbed 1.23% at NZ$6.590.
Must Read: How are these 4 NZX telecom stocks performing as cyber-attack hit NZ?
Enprise Group Limited (NZX:ENS)
Enprise Group Limited has its core capability in ERP and is a high-tech software and services investment company, which was launched in 2004. Recently, the Company has set its foreign exchange rate at AUD 0.9520 for the payment of dividends.
It is noted that on 21 September, the Company paid a final dividend of 2.5 cps to its shareholders.
At the closing bell on 22 September, Enprise Group dipped by 1.91% at NZ$2.050.
Related Read: 5 NZX stocks with highest YTD returns that can be explored
Serko Limited (NZX:SKO)
Serko Limited offers integrated travel & expense solutions to its customers. In its recently held Annual Meeting, the Company passed resolutions related to an increase in remuneration of its non-executive directors among other resolutions.
At the closing bell on 22 September, Serko was up by 1.30% at NZ$7.800.
Interesting Read: Five NZX travel stocks to look at amid border closure and paused travel bubble
Plexure Group Limited (NZX:PX1)
Last on the list is Plexure Group Limited, which is headquartered in Auckland. The Company organised its online Annual Meeting on Tuesday, wherein a resolution was passed for the re-election of a director of the Company.
Further, a resolution was also passed to authorise the Board to fix the fees and expenses of Deloitte, its auditor for FY22.
At the closing bell on 22 September, Plexure Group surged by 3.28% at NZ$0.630.
Do Read: How are 10 NZX technology stocks faring amid the pandemic?
Bottom Line
In this modern world, the adoption of the latest technology has become a necessity and is helping businesses to grow by leaps and bounds.