Highlights

Waiving intellectual property (IP) rights would allow additional manufacturers to bypass the IP barriers and manufacture the COVID-19 vaccine.
The patent protection waiver can provide some immediate relief in terms of the production and distribution of vaccine in emerging nations.
The pandemic cannot be controlled while developing countries are not able to get enough vaccines.
Intellectual property (IP) rights are coming in the way of equitable access of key components to combat the pandemic. COVID-19 pandemic has taught us that the equitable access to vaccines is crucial to combat the pandemic. Unfortunately, high vaccine prices and IP barriers have limited manufacturing from the emerging nations, some of which are among the most vulnerable countries to the spread of COVID-19.
In May 2021, US President Joe Biden announced unprecedented support for temporarily waiving IP rights for COVID-19 vaccines. The patent waiving would allow additional manufacturers to bypass the IP barriers and manufacture the COVID-19 vaccine.
RELATED READ: COVID-19 vaccination: People's freedom gateway as holiday season approaches
However, it can be achieved by manufacturing the vaccine at multiple locations instead of manufacturing it in a single place. And here comes the requirement of patent waiver.
By waiving some IP rights on key components of the COVID-19 vaccine, governments could help make it possible for low-income countries to manufacture the required vaccine independently. Furthermore, a patent waiver will allow manufacturing of cheaper generic versions of COVID-19 vaccines in developing nations.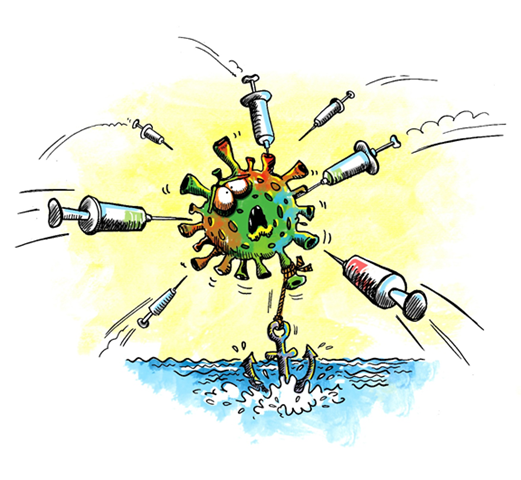 Copyright © 2020 Kalkine Media
RELATED ARTICLE: Pressure to waive off vaccine IP rights increases as COVID-19 cases continue to rise
Australia supports relaxing IP rights for COVID-19 vaccines
Australian Trade Minister, Dan Tehan, stated that the country will back the international push to waive IP protections for COVID-19 vaccines as rising coronavirus infection rates across the globe extending the pandemic.
Moreover, vaccine equity activists also applauded the Australian government's decision to a prolonged pressure campaign requiring for a suspension of IP rights for COVID-19 vaccines.
For months, Australia's unwillingness to back the waiver had generated criticism from human rights and support groups and had even sparked protests outside Australia's embassy.
RELATED ARTICLE: How is Australia faring on the vaccination front?
What are the pros of waiving IP rights of COVID-19 vaccine?
Pros of waiving IP protection-
Faster and equitable access to vaccine- The relaxation of intellectual property rights would grant governments of many countries quicker and easy access to the lifesaving doses of vaccine with the local manufacturing.
Immediate relief- If the patent protection is waived, it would offer some immediate relief in terms of production as well as distribution, as more manufacturers in emerging economies can participate in vaccine production immediately. Besides, developed nations will also get an advantage as the governments can include more local manufacturers to produce COVID-19 vaccines.
Accessible cost of vaccine- With the decision of waiving off the patent protection, the emerging nations can manufacture the COVID-19 vaccine. Besides, these countries can offer the key protective measures at a low and affordable cost.
Global solutions for global health problems- The pandemic is a global public health problem. There is a need to start adopting the vision of seeking global solutions to combat the COVID-19 pandemic. The pandemic cannot be controlled while developing countries are not able to get COVID-19 vaccine.
MUST READ: How long will COVID-19 pandemic last? Will it continue into 2022?
What are the challenges of COVID-19 vaccine IP protection?
Challenges of COVID-19 vaccine IP protection
Limited access and shortage of supply- IP rights can become an obstacle to get access to the COVID-19 vaccine. For instance, if a pharmaceutical company obtains a patent for a vaccine, it may prevent other companies from manufacturing and selling it at low prices. This can drive a significant shortage of supply.
Maintaining incentives- The reason patent protections was introduced is to offer incentives through short-term monopoly profits so that the companies can invest in innovation. Patent waiving generates inefficiencies, and there would be no incentives for research, development and innovation. This scenario could discourage the pharmaceutical companies from launching new product lines to solve the new public health problems.
Impact on pharmaceutical players- Developed countries fear that there could be a direct impact on pharmaceutical companies and waiving the IP rights may affect the manufacturing cost. However, the government in some countries is providing funding to pharma companies for manufacturing the vaccines.
Limited production capacity- With a patent grant, the companies can hold exclusive rights for twenty years which prevents other companies from manufacturing or selling the object of the patent without the consent of patent holder. Patent holders cannot manufacture enough vaccines to meet the global demand.
Bottom Line
Overall, waiving IP rights for the COVID-19 vaccine will help in increasing the vaccine availability all over the globe, thus, significantly aiding to contain COVID-19 infections.
DO READ: US COVID-19 daily death toll crosses 2000: What lessons should Australia learn?