Highlights

The NZ government revealed its new COVID Protection framework on Friday, which includes 3 traffic light systems once all DHBs achieve 90% vaccination rates.
The new framework will involve red, orange and green settings, which will replace Alert levels that began in March 2020.
The government also announced a business support package to help them sail in challenging times.
The NZ government disclosed the details of the new COVID Protection Framework on Friday, giving more liberty to vaccinated citizens. PM Jacinda Ardern announced that NZ would shift to a new traffic light system when every District Health Board (DHB) hit 90% full vaccination rates.
The new framework includes 3 traffic light system settings - green, orange and red. The new system comes as NZ reported 129 community cases on Friday with 2 additional cases in Northland.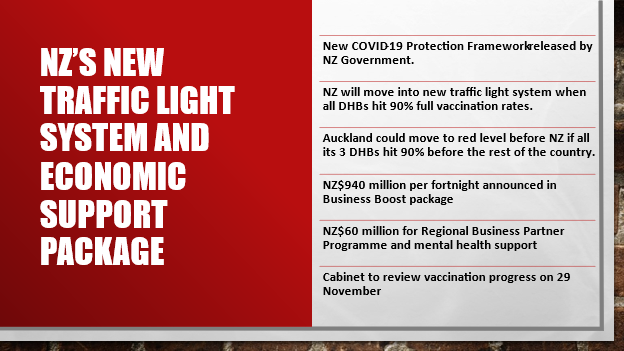 Image source: © 2021 Kalkine Media, Data source- beehive.govt.nz
The traffic light system will use vaccination certificates that will permit businesses to be able to open and operate at any level. The vaccine certificates will be used for nearly everything barring essential retail and services.
Red Setting
This setting would permit hospitality and retail with public health measures to open with vaccine certificates. However, gathering limits and physical distancing will also be needed at places where vaccine certificates are not used.
Rather than waiting for the rest of the country, Auckland will step into a red setting as the city's all 3 DHBs hit the 90% vaccination target.
ALSO READ: Look at these 5 dirt cheap NZX stocks under 50 cents
Orange Setting
There will be no gathering limit for those who have a vaccine certificate. Social distancing measures and other health measures will still be needed. However, businesses that do not apply for vaccine certificates will have limitations.
DO READ: Are there any 3 NZX penny stocks in tech space?
Green setting
This setting will be applied when there are COVID-19 community cases but at lower levels. Under this setting, people with full vaccinations can enjoy all events and gatherings by showing a vaccine certificate. There will be limitations for places not using vaccine certificates.
The government will review Auckland's and NZ's progress on 29 November if there are any changes needed.
Enhanced business support package
The NZ government has also announced an increase in the amount and frequency of the Resurgence Support Payments (RSP). RSP payments will increase from $1500 per eligible business and $400 for every full-time employee to $3000 and $800, respectively.
ALSO READ: Would 5 NZX banks benefit from the financial sector's growth?
The government will be giving up to $940 million per fortnight to help businesses impacted due to higher-level alerts in the country, subsequently, supporting them in steering through challenging times. The payments will be made until Auckland moves into the new protection framework.
Income limits have also been lifted to get help. The limit has been raised to 40 hours at a minimum wage with $800 per week for an individual and $1600 per week for a couple with or without children.
RELATED READ: How are 5 NZX consumer stocks doing after NZ struck free trade deal with the UK?
Ministers Peeni Henare and Willie Jackson also declared a $120 million fund to fast-track Maori vaccination rates and support communities to get ready for the new framework. The first $60 million will be used to provide direct financial assistance to the Maori to boost their vaccination rates and the remaining $60 million will be used for Maori and Iwi-led schemes to secure communities against the virus.
Bottom Line
Auckland is expected to reach the 90% double dose vaccination rate by early December. NZ will move to orange level once every DHB has 90% of its population double vaccinated. Auckland could move into the red level before NZ if its 3 DHBs hit the 90% vaccination target before the whole country does.
(NOTE: Currency is reported in NZ Dollar unless stated otherwise)