Highlights

finance is a DeFi player, basically an aggregator, with YFI coin as its native token

YFI trumped Bitcoin to become the most expensive cryptocurrency, but it lost its value sharply

Lately, bulls have entered the scene, and YFI token is likely to end 2021 on a positive note
In a world of more than ten thousand crypto assets, Bitcoin is not only the most popular or has the largest market cap, but Bitcoin price also rules the market.
But at least one cryptocurrency is a threat to Bitcoin's supremacy in terms of price per token. Not Ether, which is second to Bitcoin in terms of market cap, this crypto is YFI, the native token of DeFi aggregator, yearn.finance platform. In fact, YFI crypto peaked to US$88,000 in mid-May 2021 to become the most expensive crypto asset, though price tumbled over subsequent trading sessions.
What is yearn.finance?
Before understanding yearn.finance, it is important to know what decentralized finance (DeFi) is. DeFi is a sub-sector within blockchain. Here, cryptocurrency holders can indulge in lending and borrowing, just like in the conventional banking sector. The lender charges interest, the borrower pays it, and all deals are struck in crypto denominations, not fiat currency.
Yearn.finance is a DeFi aggregator, which simply means it aggregates different DeFi platforms like Aave and Curve and lets the user maximize returns in yield farming.
Also read: Top cryptos by market cap that ruled in 2021
What is yield farming?
Yield farming allows crypto holders to earn from their assets without having to sell them off on a crypto exchange. Using DeFi platforms, holders can stake their holding. They can lend to other users within the platform and earn additional cryptos in the form of yield.
In essence, yield farming unlocks idle cryptos and helps in creating liquidity in the market.
Also read: Explained: Cryptocurrency categories – DeFi, NFT, Metaverse
YFI crypto price
YFI is a native token, and its value depends largely on how its parent blockchain project, yearn.finance performs.
Nearly a week earlier, YFI token rose sharply after the parent project announced a bulk buy back of the floating YFI coins. Nearly 282 tokens were bought by yearn.finance at a price of nearly US$26,000 per token. YFI, which was priced US$29,000 on December 1, 2021, is trading at over US$36,000 apiece as of now.
YFI crypto price prediction
YFI was priced nearly US$21,000 on the first day of 2021. A consistent rally until May took the price to nearly US$88,000. By mid-December, the price had plunged below US$20,000.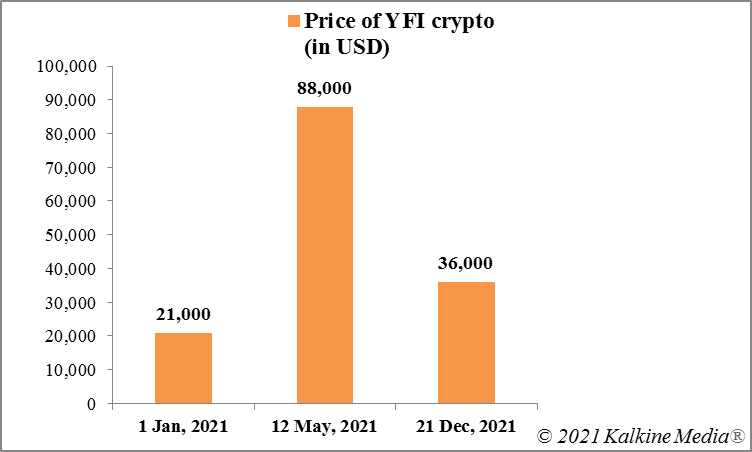 Data provided by CoinMarketCap.com
Image description: Price movement of YFI crypto in 2021
YFI token has regained some lost ground, but the May 2021 highs are far from reach. By the end of 2021, the token may likely touch at least US$40,000, but any profit-booking by recent backers may bring the price back to under US$30,000.
Also read: Top 5 blockchain games of 2021 with massive price appreciation
Bottom line
DeFi was one of the hottest sub-sectors in cryptocurrencies in 2021. It unlocks earning prospects without the holder having to sell off crypto assets. Instead of looking at the best DeFi protocol, a user might find it rewarding to use yearn.finance, which acts as an aggregator for DeFi space. If DeFi gains further traction in 2022, and yearn.finance can attract more users to lend and stake their holdings, YFI token may likely rise very sharply to touch US$50,000.