Summary

Staking is a process of validating a blockchain transaction with cryptocurrencies that run on a Proof-of-Stake mechanism.
Staking helps to earn passive income with cryptocurrency through the interests.
The crypto holders are rewarded with interest for holding their tokens in wallets or exchanges.
Cryptocurrency is now a popular virtual form of currency that is being used to make payments. This digital coin is managed by Blockchain, which is a decentralized technology that records and manages transactions.
Proof of Stake, or POS, and Proof of Work, or POW, are two major mechanisms to validate blockchain transactions. In the POS mechanism, cryptocurrency holders can mine and validate block transactions, while POW requires miners to validate transactions and create a new block.
What is staking?
The process of holding cryptocurrencies in a wallet to validate crypto transactions on a blockchain is referred to as crypto staking.
Not all crypto coins support staking. It can be done only with cryptocurrencies that run on a Proof-of-Stake mechanism for validation.
In this process, a cryptocurrency buyer purchases and sets aside cryptos to become an active validating node for new blocks. Anyone who locks cryptos can take part in forging the next block of the blockchain. Through staking, participants actively support the cryptocurrency networks to achieve consensus.
Some of the cryptocurrencies that support staking are Ethereum, Tezos, Cosmos and Cardano.
READ MORE: Which are the top cryptocurrencies available?
How are holders rewarded?
Crypto staking is similar to depositing money in a long-term savings account and getting that money back after a certain period, along with interest.
The cryptocurrency networks reward the buyer, who holds cryptos, for taking part in the validation process. In staking, people, who stake their coins, are rewarded with interests. Those who get to forge the next block of transactions are also rewarded in coins for the contribution.
The interest rate varies depending on the network. It is because each coin calculates and distributes rewards in different ways.
For instance, one can become a part of the Ethereum staking pool by depositing a minimum of 32 Ethereum coins. The annual percentage rate is reported up to 5 percent.
READ MORE: Which are the top cryptocurrency stocks to explore in the US?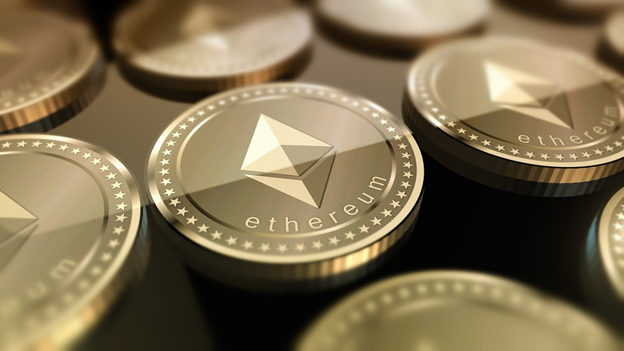 Source: Pixabay
Pros and cons of staking
Staking helps to earn passive income with the cryptocurrency through the interest earned.
Staking replaces cryptocurrency mining and is much cheaper and faster. Through the staking process, new blocks can be produced in a blockchain without powerful mining hardware, making it more energy-efficient.
Also, staking can make cryptocurrency less volatile as people are rewarded for investing and holding the coins.
READ MORE: What is KYC in the crypto space?
Meanwhile, there is a possibility of losing the stakes in case of any disruptions.
In some networks, it is required to lock the tokens for a certain period for high interests. During this time, the tokens cannot be moved or traded.
Please note: The above constitutes a preliminary view, and any interest in stocks/cryptocurrencies should be evaluated further from an investment point of view.