Highlights

KSHIB is the native cryptocurrency of Kaiken Shiba network
Kaiken Shiba claims to have an NFT launchpad in future, besides saving dogs through charity
KSHIB token is a volatile asset, which has seen a trading volume surge over the past 24 hours
Bitcoin is one cryptocurrency that is being projected as a better alternative to fiat currencies. Ether, on the other hand, is a native token used within Ethereum to pay the network fee. Shiba Inu and Dogecoin are two popular meme coins.
In this scheme of things, where do fan tokens fit?
Fan tokens are community-led, and they rely on a large number of users coming together to promote a crypto. Fan tokens can be used as rewards within that community to encourage user participation. The project of any fan token can have multiple dimensions including wallet services and non-fungible token (NFT). Over the last 24 hours, one such fan token's trading volume has skyrocketed. Let's find more.
What is Kaiken Shiba?
The project was launched in July 2021, and it seems to have borrowed the name from the popular Shiba Inu or SHIB cryptocurrency. One of the most popular cryptos of 2021, SHIB has spawned many such tokens.
Kaiken Shiba has outlined encryption as its primary emphasis. The developers, who are said to belong to the Dogecoin community, envisage making encryption technology more accessible to all.
Built using Binance Smart Chain (BSC), Kaiken Shiba project promises to offer a variety of services. These include a crypto wallet that can track rewards, and an NFT vertical. Kaiken Shiba crypto claims to be developing an ecosystem for NFT enthusiasts to help them create new NFTs. A part of the earnings is also said to be dedicated to saving dogs.
Also read: Top cheap cryptocurrencies with high market cap
KSHIB crypto
Like any other blockchain-based project, Kaiken Shiba also has a native token. KSHIB uses BSC, which it claims makes it cheaper for users to create new blocks.
Holders of KSHIB crypto can earn out of each transaction recorded on Kaiken Shiba network. For all transactions, a 10 per cent fee is levied by the network. Half of the fee is given as reward to the existing users, and half is added to network liquidity.
KSHIB crypto price
At a time when most cryptocurrencies including the big ones like Ether are losing value, KSHIB crypto has shined over the last 24 hours.
Also read: Best crypto trading platform in Canada -- Top 5 contenders
Though KSHIB crypto ranks very low in terms of market cap, the trading volume has surged by approx. 2,500 per cent over the last 24 hours. Price per token is also up by almost 15 per cent.
As of now, SHIB token is trading at nearly US$0.000000000001, according to CoinMarketCap.
KSHIB crypto price prediction
KSHIB does not feature in top cryptos by market cap. The price per token is also extremely low. This indicates that the crypto may manifest price volatility in the near-to-medium term.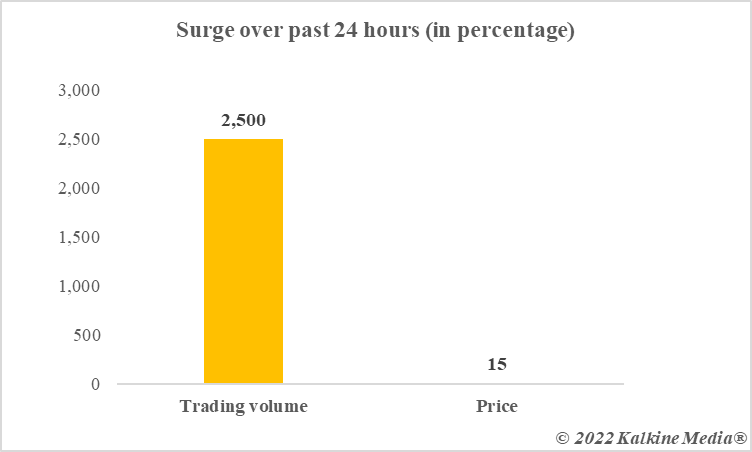 Data provided by CoinMarketCap.com
KSHIB price may surge if users find value in the Kaiken Shiba network. The project's NFT offering is only on papers right now. Any present price fluctuation is primarily the product of sentiments. KSHIB may gain out of these sentiments, however, investment in low-priced fan tokens is quite risky.
How to buy KSHIB crypto
KSHIB token can be bought using the services of PancakeSwap, which is a decentralized exchange built on Binance Smart Chain. The user can swap Binance Coin (BNB) crypto on PancakeSwap to get hold of KSHIB cryptocurrency.
Bottom line
KSHIB is a fan token which relies on a devoted community to rise. Fan tokens are risky, and investors must weigh their risk appetite before investing in them.