Highlights

In YTD terms, Bitcoin has an edge over gold and the former appears a better hedge against inflation
Crypto assets' bull run is often fragile and unpredictable, with timing holding the key
Institutional interest in cryptocurrencies makes them an interesting watch in 2022 and beyond
Confused which is a better hedge against inflation? Is Bitcoin better than gold, is Bitcoin digital gold, will Bitcoin replace gold, questions are plentiful. The answer to these questions is not clear-cut.
Proponents on both sides of this debate have their valid set of arguments. Gold is a tangible good, we can touch it, buy it in physical form, and indeed it is rare, and hence expensive. How can Bitcoin or altcoins replace it? But, is Facebook or Google tangible? Why are these companies so valuable? May be, Bitcoin is the next big thing in finance despite being intangible.
Still confused? Why not look at real numbers?
Also read: Can Bitcoin be termed as the 'asset of the century'?
Gold vs. Bitcoin returns in 2021
It's pretty simple to calculate. In the beginning of 2021, gold was priced at nearly US$1,900 per ounce, according to the World Gold Council. As of now, gold is priced at nearly US$1,790 per ounce. That's a significant drop considering prices of most metals and commodities have risen this year.
In the US and most other developed countries, prices of food, clothing, energy and houses have soared to record levels. A few analysts are blaming near-zero policy rates by central banks as the key reason behind high inflation. But, why isn't the price of gold picking up then? If people have money in their pockets – thanks to low interest rates and government cash support – why aren't they buying gold?
Gold's most likely losing its shine, but Bitcoin and some other cryptos are scaling new peaks.
Also read: Does Bitcoin even have a resistance level? Let's find out
On January 1, 2021, one Bitcoin was priced at nearly US$29,000. The price more than doubled through just first four months of the year. As of now, Bitcoin is priced at US$60,000. Compare the appreciation with the Fed's inflation target of two per cent. Now even if inflation has breached this target by a few percentage points, Bitcoin returns have beaten it by a huge margin.
A few other cryptocurrencies, including Axie Infinity (AXS) and Shiba Inu (SHIB), have grown multi-fold in 2021.
By this count, cryptos seem to be winning the battle against gold. But wait.
Fragile bull run of cryptos lacks predictability
Bitcoin returns are more than enough to convince even the staunchest critic of cryptocurrencies. But what about volatility and regular periodic dips in prices? Let's find out.
Though the year-to-date (YTD) return of Bitcoin is nearly 100 per cent as of today; in mid-July 2021, this was almost zero. Price doubled within first four months, which is when the bears entered. This took price from US$65,000 to US$29,000 in just three months. The recent bull run in Bitcoin can be attributed to the approval and launch of first US Bitcoin ETF.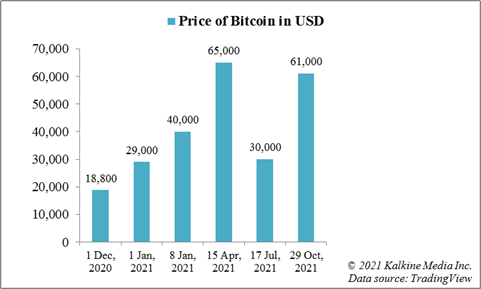 Another popular cryptocurrency of 2021, Dogecoin too scripted a similar tale of gains and losses. DOGE started 2021 with a humble price tag of nearly US$0.0047. Bulls entered in mid-April and took the price of Dogecoin to a whopping US$0.7 by early May. That was too much gain for a 'meme' crypto token. As of now, price has tumbled to nearly US$0.29.
Also read: Can these 5 altcoins hedge against inflation?
When compared with price at the beginning of the year, DOGE has managed to give handsome returns to its backers, however the YTD figure hides the real story that unfolded through these 10 months.
What's behind Bitcoin's comparison with gold?
It is not like Bitcoin and gold comparison is totally unfounded. There are multiple reasons to expect that Bitcoin might someday become 'digital gold'.
First, institutional investors and high-net worth individuals like Elon Musk and Jack Dorsey are bullish on cryptocurrencies. In September 2021, the CEO of MicroStrategy, a listed business intelligence firm, said that the company has bought 5,050 new BTC, taking its total tally of Bitcoin holding to 114,042. Tesla, which is reportedly re-thinking Bitcoin as a form of payment, holds 38,300 Bitcoins, according to data by CryptoTreasuries.org.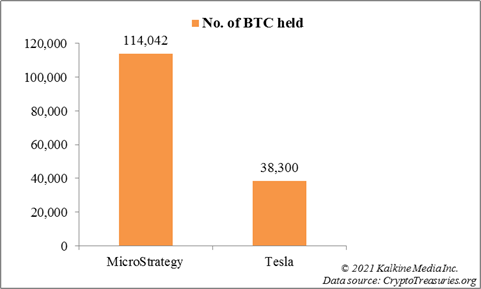 Second, the year 2021 was all about mainstreaming of Bitcoin. Bitcoin ETF was approved in Canada in February, and S&P Dow Jones launched indices to track the prices of BTC and Ether.
Also read: Elon Musk's crypto holdings & how they've performed in 2021
Third, Bitcoin achieved in 2021 what it always aspired for – status as legal tender. El Salvador declared Bitcoin as legal tender, on par in the country with the US dollar, with the aim of cutting remittance costs. The latest development is the launch of ProShares Bitcoin ETF in the US. This is being considered by enthusiasts as a nod by the Securities and Exchange Commission for crypto assets.
Cryptos seem to have a fragile lead over gold
For now, cryptocurrencies seem to be a better hedge against inflation, but the price volatility is hard to ignore. This shines the light on timing in crypto investments. A perfect timing is at the heart. For example, if someday bought Bitcoin during the mid-July lows would have doubled the money in just three months. A bad timing, for example if somebody bought Dogecoin at its peak of US$0.7 would have incurred losses, can likewise hurt.
Are cryptocurrencies a long-term bet, meant to be held for long to create wealth? Maybe, or maybe not. A lot depends on how the blockchain technology unfolds in the future. Every crypto, including decentralized finance apps and peer-to-peer gaming platforms, promises something new. Bitcoin's hegemony is being challenged by altcoins like Ether. This makes the crypto space an interesting watch in 2022.
Also read: Can Bitcoin end 2021 with a price tag of $100,000?
Bottom line
It is difficult to answer whether Bitcoin is a better hedge against inflation than gold. Gold's value has gone down in 2021 regardless of the fact that there was enough liquidity in the markets that fueled inflation in almost every commodity. Bitcoin and some altcoins, on the other hand, have gained as compared to the start of 2021. But cryptos' gain is fragile and unpredictable. Who knows if Bitcoin can become digital gold or 'native currency' of the internet in future.