Highlights

HEX was created by Richard Heart in December 2019.


It is dubbed the first blockchain certificate of deposit.


It is an ERC20 token.
HEX crypto claims to be the first blockchain certificate of deposit, a financial tool, launched on the Ethereum network by Richard Heart on December 2, 2019.
HEX or ERC20 token has been designed to be a "store of value" to replace the "certificate of deposit" used in the traditional financial markets.
It is expected to be a boon for the emerging DeFi assets within the Ethereum network.
In traditional banking parlance, the certificate of deposits, offered by commercial banks, provides a higher interest rate compared to the standard savings accounts.
However, to obtain higher interest rates, depositors should not withdraw the funds frequently. As per rules, they cannot withdraw them at least for a month, and up to 10 years in some cases.
Also Read: Cohesity IPO: SoftBank-backed tech firm gears up for public offer
These deposits are generally secured by the government, or a central regulatory body, and the investors get an opportunity to earn interest on their deposits.
The certificate of deposits is also known as term deposits or time deposits.
Likewise, users can earn interest on their coin deposits on the HEX platform.
HEX uses the Ethereum blockchain network for transactions, i.e., for sending or receiving HEX tokens and interacting with HEX smart contract, which contains the consensus code and provides the staking process. The platform allows participants to stake their coins or for the issuance of new HEX coins. In addition, it contains features designed for price appreciation.
Also Read: Grocery delivery firm Instacart going public? All you need to know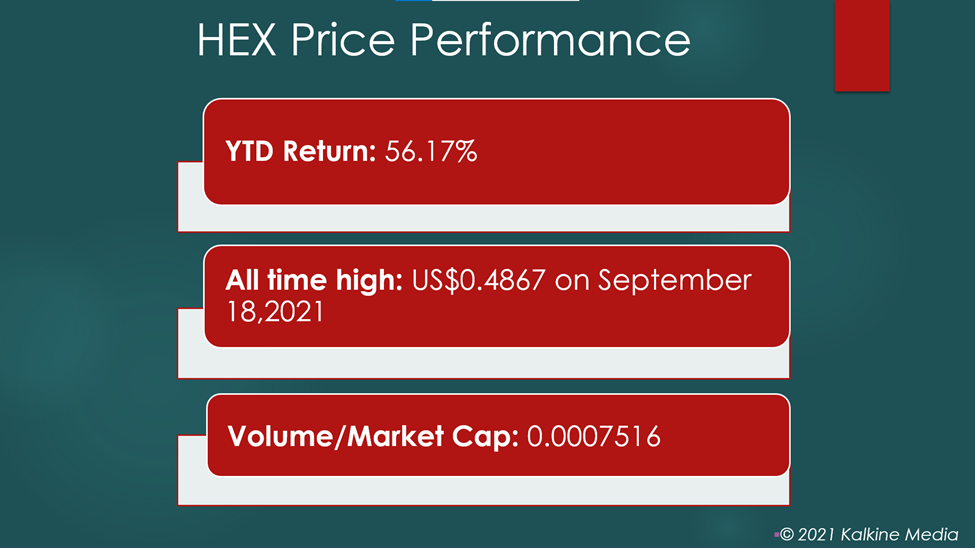 Also Read: Biofrontera stock (BFRI) rallies 115%, fired up by upbeat rating
How to buy HEX?

Buyers can visit its website and follow the steps provided in the "buy" section.
HEX price and performance

HEX was priced at US$0.1878, down 3.23%, at 7:43 am ET on Nov 26. Its market cap is US$32.56 billion, and its trading volume was US$24.37 million in the last 24 hours to Friday evening.
Its 24-hour highest and lowest prices were US$0.1865 and US$0.2059, respectively.
HEX gave a YTD return of 56.7%.
Also Read: Ocuphire Pharma (OCUP) stock jumped 34% - know why?
Bottomline

The crypto market is often volatile. Additionally, some experts believe the market might be also prone to various risks, including scams. Hence, crypto enthusiasts must apply due diligence before investing in crypto assets.