Summary

Bitcoin fell 15% yesterday as the digital currency dropped to US$34,742 – a low not seen since January this year.
Other cryptos followed suit, with Ethereum – the second-largest crypto in the world - crashing by 23% to US$1,901 and Dogecoin falling by 20% to US$0.28.
The most recent crash comes amidst talks of a crackdown of illegal business activities in China as well as new regulations on crypto exchanges in Hong Kong.
The global cryptocurrency market has suffered considerable losses in the past 24 hours as several of the most prominent digital currencies struggle to maintain the record highs achieved one month ago.
The price of the world's largest cryptocurrency, Bitcoin, plummeted almost 15% yesterday to US$34,742 – a low not seen since January 2021. Bitcoin's recent decline has seen it drop from a record high of US$65,000 in April of this year. Bitcoin's most recent fall comes after an arduous week, which saw many cryptos fall across the board.
Cryptos' downward spiral continued over the weekend (Source: © Hello6373 | Megapixl.com)
Bitcoin wasn't the only cryptocurrency to feel the heat yesterday, with Ethereum, the world's second-largest crypto, diving 23% to a price of US$1,901.
Meme-coin, Dogecoin also experienced a 20% loss dropping to US$0.28 during the sliding session.
What is Causing the Downfall?
The major downward shift of cryptocurrencies across the world, including the most recent drop over the weekend, comes amidst talks of a crackdown on illegal business activities.
Chinese vice-premier, Liu Hu, said on Friday that China would hand out severe penalties for illegal financial activities, specifically targeting Bitcoin mining and trading.
Before Liu's announcement, three state-backed organisations in China had majorly criticised cryptocurrencies in general, claiming them to be unreal and stating that they could face regulation from banks as well as other government agencies.
A government report released in Hong Kong on Friday said that cryptocurrency exchanges would need to be licensed by Chinese regulators. Under these new regulations, only investors with portfolios worth more than US$1 million will be permitted to use the exchanges.
Moreover, Hong Kong's Financial Services and the Treasury Bureau (FSTB) announced on Friday that all virtual asset exchanges would need to be regulated by government bodies if they wished to conduct their business in Hong Kong.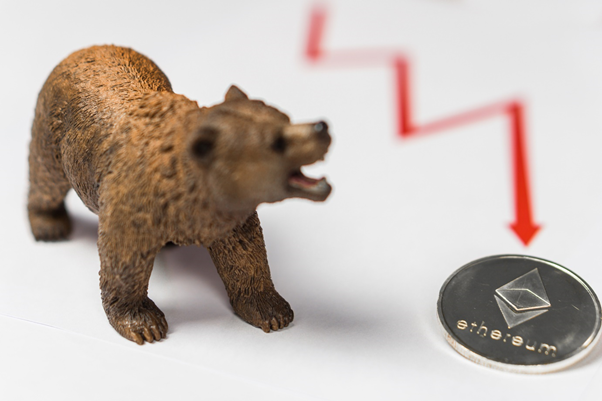 The world's second-largest crypto also took a big hit (Source: © Grejak | Megapixl.com)
Elon Musk Flakes on Bitcoin
Although the rise of Bitcoin and several other cryptos had been heavily influenced by tech-billionaire and Tesla CEO Elon Musk, The SpaceX Founder also has a thorn in the side of many crypto investors in recent weeks.
Earlier this month, Musk announced that electric car company, Tesla, Inc. (NASDAQ:TSLA), would stop accepting Bitcoin as payment for their vehicles, which sent the price of Bitcoin plummeting. This led to Musk receiving heavy criticism online from Bitcoin investors, which then led to an inference from Musk that he may dump Tesla's remaining Bitcoin stock. Earlier in the year, Tesla purchased US$1.5 billion, sending the price of Bitcoin soaring.
Musk sites his reasoning for Tesla's decision to cease accepting Bitcoin as the damage to the environment caused by energy-consuming Bitcoin mining.