Highlights

SFP crypto is the native token of a crypto wallet service provider, SafePal
SafePal is backed by Binance, a leading cryptocurrency exchange, and has millions of users
There is little doubt that cryptocurrency investment can lead to exceptional gains in literally no time. But for this to happen, the investor must keep a close tab on the latest trends. The point is crypto investments return well only when money is parked at the opportune time, in the right crypto asset. Otherwise, risks too are immense.
A crypto asset that may be the asset of choice, considering its low-price attribute at this time, is SafePal, popularly referred to as SFP crypto.
What is SFP token?
SFP is to SafePal crypto wallet what Ether is to Ethereum's blockchain. SFP crypto is basically the native cryptocurrency used within the SafePal network.
The official website of SafePal crypto wallet claims to have a user base of over 3,000,000. The services are available in 196 countries. It is notable that investors in crypto assets can buy them from exchanges like Coinbase and Binance, but storage needs a dedicated wallet like SafePal.
SafePal is backed by Binance, which claims to be the biggest Bitcoin exchange in the world. SafePal has an option for users to pick from hardware or software wallets. An app facilitates all transactions on the wallet.
SafePal stores tens of thousands of cryptocurrencies. Binance's strategic investment in the project came within nine months of its original launch in January 2018. SafePal uses BSC, the acronym for Binance Smart Chain. The platform has multi-chain support for over 18 blockchains as of now. The platform also provides Solana and Polygon chain supports.
SafePal wallet also supports Ethereum-based NFTs and BSC NFTs.
Also read: 10 best crypto wallets in Canada
What is SFP token price?
SFP crypto has not had a great year in 2021. While other crypto assets like Axie Infinity grew multi-fold in 2021, SFP reached a price of US$3.8 in March 2021 before entering into a volatile period that saw the value coming down to nearly US$0.6 by mid-July. As of now, SFP crypto is trading at nearly US$1.7.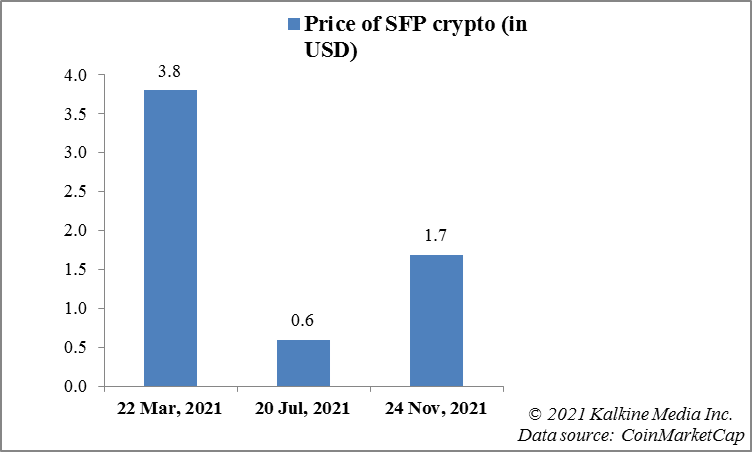 The market cap of the cryptocurrency is nearly US$182 million.
Also read: Top 5 NFT marketplaces to create & trade original work by creators
SFP crypto price prediction
SFP reached US$3 in mid-October but then experienced a month-long bearish trajectory. The price was back to US$2 on November 24, however a correction has followed.
By the end of 2021, SFP might retain its US$1.5 level. The adoption of SafePal crypto wallet services is what that can shape the price in the medium-to-long term.
Also read: Is investing in altcoins better than Bitcoin?
Bottomline
SFP crypto is a low-priced cryptocurrency as compared with Bitcoin and Ether. There is a wide consensus among analysts that low-priced cryptos can soar in value on the back of any positive development. SFP has yet to provide any exceptional gains to its backers. The adoption of BSC and SafePal's wallet can add to the value in future.