Highlights

Adventure Gold (AGLD) is the governance token to be used on Loot project, a community based NFT gaming platform
Binance has announced inclusion of AGLD in the Innovation Zone that has many new tokens
New and innovative tokens can experience price volatility in their initial days of trading
If Bitcoin is being touted as 'digital gold', there is another crypto with the word 'gold' in its name.
Adventure Gold or AGLD is neither Bitcoin nor gold and nor Ethereum. But it borrows some elements from all three. Like Bitcoin, AGLD wants to be a digital currency. AGLD was contemplated as currency that could be used in DeFi games.
Like gold, AGLD wants to increase the wealth of its holders. And lastly, it is an Ethereum (ERC-20) token, a new addition to the growing list of ERC-20 cryptos.
What is Adventure Gold crypto?
With the rising interest of all blockchain enthusiasts in NFTs, a project titled 'Loot' was launched. Loot is a blockchain-stored initiative that has some 8000 text-based non-fungible tokens. Adventure Gold is now the native token of this project. It was initially given free of cost to Loot NFT holders.
Also read: Top 5 cryptocurrencies available for under $1
Will Papper of Syndicate DAO is the developer of AGLD. DAO is an interface that enables online communities to interact. The Loot project is also said to have the endorsement of Ethereum's Vitalik Buterin.
AGLD key feature
Loot NFT will use AGLD as its governance token. Governance tokens serve the purpose of providing the gamers a chance of having a say in future developments within the project. Decisions are put to a vote.
AGLD's Binance listing
Binance, a leading crypto exchange, has announced it will include the AGLD altcoin in Innovation Zone. This zone includes crypto tokens that are comparatively a late entrant but have innovative features. The exchange also cites volatility in prices as one of the features of Innovation Zone cryptos.
AGLD may also likely see its price undergoing volatility in the coming days.
The exchange has also called upon AGLD holders to deposit their holdings in order to facilitate trading in them.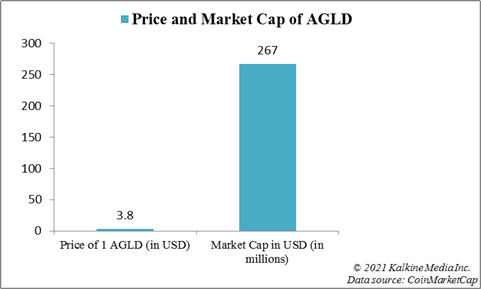 Total market cap of AGLD and crypto world
At the time of writing, the total market cap of all cryptocurrencies was nearly US$2.16 trillion, according to CoinMarketCap.
The market is led by Bitcoin, which has gained in double digits over the last seven days. At the time of writing, it was trading at nearly US$49,500 apiece.
Also read: Can Bitcoin be termed as the 'asset of the century'?
According to CoinMarketCap, the market cap of AGLD is nearly 267 million. It was trading at nearly US$3.8 apiece and had a circulating supply of over 70 million AGLD tokens.
AGLD's Price prediction
Adventure Gold is a new cryptocurrency. According to CoinMarketCap, it jumped from nearly US$1 to US$7 between September 2, 2021, and September 3, 2021. In the following days, price hovered between US$2 to US$5.
The Binance listing can push the price higher in the near term, and it might attain the US$7 or an even higher price tag again by mid-November.
Bottom line
AGLD has made it to the Binance's Innovation Zone list. This governance token of Loot NFT project can be a promising cryptocurrency. New and innovative tokens are usually subjected to volatility once trading in them begins on any exchange. This means that investors must undertake due diligence. What matters the most is the fundamentals of the cryptocurrency. AGLD's price relies on the success of Loot NFT and the overall sentiments of various stakeholders in the crypto space.