Summary

Inflation is often seen as a necessary evil by experts due to the dual nature of its impacts on the economy.
Investors may find themselves in a tight spot when prices rise as the real returns offered to them decline, even when nominal returns are increasing.
Commodities and hedge funds can be options worth investing when other instruments fail investors.
Inflation may appear to be a threat to a well-functioning economy, but most economists agree that inflation is a necessary evil. High levels of inflation are worrisome for governments, but a certain degree of inflation may be required to stimulate the economy and move towards economic growth.
This poses the question, how do rising prices benefit the economy? Those economies that are coming out of a recessionary phase can benefit from slight increases in inflation. As inflation erodes the value of money, consumers are compelled to spend more to obtain the same amount of goods. This would inject greater liquidity into the economy and would push it towards revival.
However, inflation levels must be kept in check as they can be more harmful than beneficial in most cases. To better understand how inflation affects an economy, it is imperative to understand what inflation is.
Inflation in a Nutshell
Inflation is simply the rise in prices of goods and services in an economy over time. As inflationary pressures set in, the value of money decreases. This means that the amount of goods that could previously be bought with one unit of money declines as inflation increases.
For investors, inflation affects the rate of return that is offered on investments. The nominal rate of return is the return that is not adjusted for inflation. However, the real rate of return factors in inflation levels and gives a more accurate level of returns, which investors would receive.
The relationship between nominal interest rate, real interest and inflation is defined below:
Thus, high levels of inflation can eat up a larger portion of the returns that investors would have otherwise received. Hence, it becomes important to understand how inflation affects investment in the economy.
RELATED READ: Personal Finance: 10 Golden Rules
The Impact on Investments
Inflation can have different impacts on different types of investments, depending upon the economic set-up.
The effect on fixed income instruments: Fixed income instruments are used by investors who like a secured stream of income in uncertain times. This includes securities like government bonds and CDs, which have a fixed set of interest payments associated with them.
The same set of interest payments also means that income stream would not increase when inflationary pressures kick in. In effect, the amount of interest income received declines in value due to inflation. Additionally, inflation impacts the present value of the future stream of income offered against the instrument. If prices are rising at a higher-than-average speed, then it is an indication of future streams of income getting impacted more harshly and over a longer period.
ALSO READ: Five Tips to Maintain Financial Hygiene amid Rising Bond Yields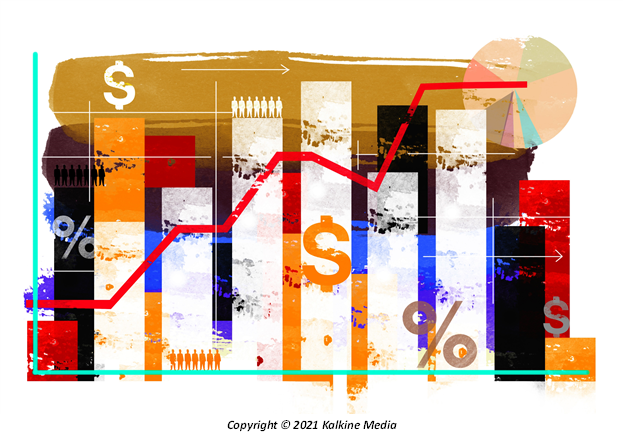 The effect on Stock Investments: Unlike the case of fixed income instruments, inflation may not cause exorbitant amounts of losses to stock investors. This happens because under inflationary pressures, the profits earned by companies also increase at the same pace, or in some cases, even faster. The stock prices may become overstated in such a scenario as the increased returns offered on the stocks would not be in line with the high levels of inflation.
The nominal value of the returns offered on stocks increases, whereas the real value remains either the same or declines due to inflation.
The effect on retirement plans: Retirement investments must be made in line with the expectation of a future increase in prices. As is the case with any investment return, inflation would eat away the returns on retirement plans if inflationary pressures are not factored into their calculation.
If inflation is accounted for in the calculation, retirement plans would require individuals to save a higher proportion of their income for the future.
The effect on commodity investments: Much like the stock market, commodities and physical assets also experience gain in value during inflation. Inflation primarily affects tangible assets and commodities, explaining why commodity investments have such a strong positive relationship with inflation.
However, commodities may be volatile instruments and can underperform in the long run.
DO NOT MISS: Five tips to hack your way through financial freedom
The Safeguard for Investors
Investing in mutual funds can be a safe way for investors when inflation seems to be kicking in. Mutual fund companies must be analysed thoroughly by investors and only those companies should be selected which can sustain increased inflationary pressures and bring in profits.
Commodities are also a good investment alternative due to the high linkage of their returns to inflation. For this reason, commodities are often used to tap the degree of price rise in the economy. Metals like gold and silver are the safe bait options that investors can turn towards. Thus, it is possible to safeguard oneself from rising inflation by being cautious and adopting future planning.
IN CASE YOU MISSED: Buying your dream home? Here are 5 basic boxes to tick