Source: TippaPatt, Shutterstock
Summary

Contribution of the ICT sector to the Canadian GDP was C$97.1 billion in Q3 2020.
There are 43,200 tech companies out of which 39,000 come under software and allied services as of 2019.
The Canadian technology sector has returned 51 per cent in the last one year.
It is often argued by experts on various forums that technology stocks are overvalued, and investors should be careful before blocking any substantial amount as investment.
The year 2020 is a case study for all generations to come. The world changed forever especially from the point of view of technology and health care.
No matter how overvalued tech stocks might be, investors did not think twice before seizing the opportunity and capitalize on the rally of certain tech stocks in the year of the pandemic.
Well, to answer why overvalued tech stocks are still preferred by a class of investors, one needs to take into consideration various factors.
Intrinsic, market or fair value of shares depend on variables like company fundamentals, industry challenges, historical growth, current stage of industrial evolution, etc.
Is there a relation between stock volatility & over valuation?
Often people confuse between stock volatility and overvaluation. But both are two different occurrences.
A broad-level volatility in stocks can be triggered by either one or a combination of the following reasons:
An economic crisis
Changes in economic policy
Economic indicators
Political developments both domestic and foreign.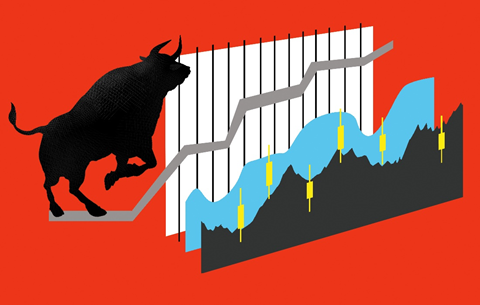 (@Kalkine Media 2020)
Whereas stock valuation mostly is an internal factor that is arrived at after considering earnings with some comparable market value such as price.
Price-to-earnings (P/E) ratio is the most popular comparison used to analyze a company's stock price relative to its earnings.
One of the basic reasons of stock overvaluation is impulsive investor behavior that inflates the market price of the stock artificially.
This causes a surge in demand of the stock which is already in limited supply. This mismatch causes the market price to rise exponentially.
Valuation matters
One of the common theories surrounding any underperforming asset is that it is overvalued.
Tech stocks account for 9.3 per cent on the entire TSX Composite Index. The TSX technology index, with just 16 constituents, has garnered compound annual growth rate (CAGR) of 25 per cent over the past five years.
US stocks like Facebook, Apple, Amazon, Netflix, Google (FAANG) have very strong fundamentals and account for almost 15 per cent of the S&P 500.
Role of interest & inflation rate
For tech stocks to remain above-average in valuations, a low interest rate is a key enabler. An accelerated economic growth and higher rate of interests makes the technology sector vulnerable.
With interest rates on the lower side, the value of companies with long-dated future cashflows increases.
Similarly, a recovery of inflation also poses a threat to the dominance of technology stocks. In the current situation with the vaccine rollout, the gap in almost all sectors is closing fast, which means fundamentals are improving.
Bottomline:
Currently, two things are happening because of which investors are still interested to invest in overvalued tech stocks:
Adoption of digital technologies by small, medium and large companies at an unprecedented rate.
Dependence on online buying/e-commerce is not going to disappear anytime soon.
The other core sectors of the Canadian economy will take time for a complete recovery.