Stocks of SPI Energy Co Ltd (SPI:US, NASDAQ:SPI), a photovoltaic solutions provider, shot up over 18 per cent on Wednesday, June 16 (10AM EST). Witnessing a heaving buying, the stock recorded a one-hour volume of nearly 10 million shares on Wednesday morning.
The surge came after SPI's subsidiary Phoenix Motorcars launched multiple electric vehicle (EV) charging products for the US EV market. The firm stated that these EV charging products are well-configured for residential and commercial usage.
The US-based renewable energy company offers solar power storage and EV solutions. It has expertise in funding and developing solar projects in the agriculture sector.
Let us explore the clean energy stock's price performance and financials in details.

SPI Energy Co Ltd (SPI:US, NASDAQ:SPI)
Stocks of this solar power panel chip manufacturer rocketed over 679 per cent in the past one year, outperforming the S&P 500 Semiconductor (Sub-Industry) Index that grew 368 per cent in comparison.
SPI stock has been trading in the red this year, down nearly 84 per cent from its one-year high of US$ 46.67 (recorded on September 23, 2020).
However, the semiconductor stock has recovered as much as 44 per cent in the last one month. It has also bounced back by 711 per cent from its one-year low of US$ 0.93.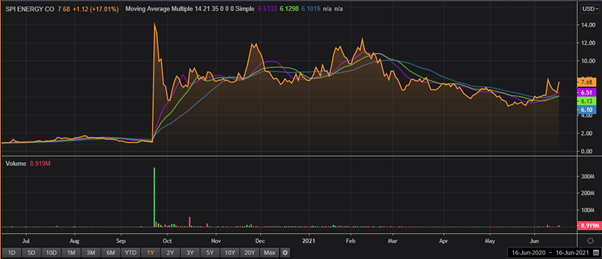 SPI Energy's one-year stock performance against moving average multiple and volume. (Chart Source: Refinitiv)
After February, SPI stock's price trajectory recorded a spike and breached its moving average multiple, indicating a short-term uptrend. On the other hand, the stock is still down 12.34 per cent down from its 200-day simple moving average.
Its 10-day average volume has risen three times to 1.64 million shares against the 50-day average volume of 582,679 shares.
Its shareholders' equity soared US$ 53.9 million to U$ 48.4 million as of December 31, 2020, a massive rise from a loss of US$ 5.5 million a year ago.
SPI Energy held cash and equivalents of US$ 38.9 million at year-end 2020.
SPI posted net sales of US$ 138.6 million in 2020, representing a 42 per cent year-over-year rise against that of US$ 97.9 million in fiscal 2019.
Its profits recovered by almost US$ 20 million to US$ 0.1 million in 2020, which was a recovery against an operating loss of US$ 19.2 million a year ago.
Please note: The above constitutes a preliminary view and any interest in stocks should be evaluated further from an investment point of view. The reference data in this article has been partly sourced from Refinitiv.