Highlights

Stocks of BlackBerry (TSX: BB) jumped by over one per cent to C$ 6.99 on Thursday, June 23

The TSX tech index also rose by more than four per cent this day

The software company posted cash and cash equivalents of US$ 391 million as of May 31, 2022
Stocks of BlackBerry Limited (TSX: BB) jumped by over one per cent to C$ 6.99 on Thursday, June 23, as it released its quarterly earnings for Q1 FY2023. With BB stock being among the top gainers, the TSX tech index also rose by more than four per cent this day.
The Canadian intelligent security company reported that a one-time 'litigation settlement' of US$ 165 million severely impacted its operating profit, thereby dragging down its net loss further in Q1 2023.
Now, the question is whether BlackBerry stock is still worth exploring with such financial results. Let us discuss BlackBerry's financial results to find out.
BlackBerry Limited (TSX: BB)'s Q1 FY2023 financial results
BlackBerry said its revenue amounted to US$ 168 million in the first three months of FY2023, representing a decrease from US$ 185 million in the previous quarter. Revenue in the latest quarter was also low compared to C$ 174 million posted in Q1 FY2022.
The software provider saw its gross margin slip to 61.9 per cent in the latest quarter, lower than 67 per cent in Q4 2022 and 65.5 per cent in Q1 2021. Litigation settlement pushed operating expenses to US$ 281 million in Q1 2023 from C$ 172 million a year ago. As a result, the mid-cap company posted an operating loss of US$ 177 million in the latest quarter, significantly up from US$ 58 million reported a year ago.
Also read: CM and TD: 2 TSX financial stocks to tackle rate hike fear
BlackBerry's net loss extended to US$ 181 million in Q1 FY2023, relatively higher than US$ 62 million in Q1 2022. The technology firm posted basic earnings per share of US$ 0.31 in the latest quarter compared to US$ 0.11 in the same period a year earlier.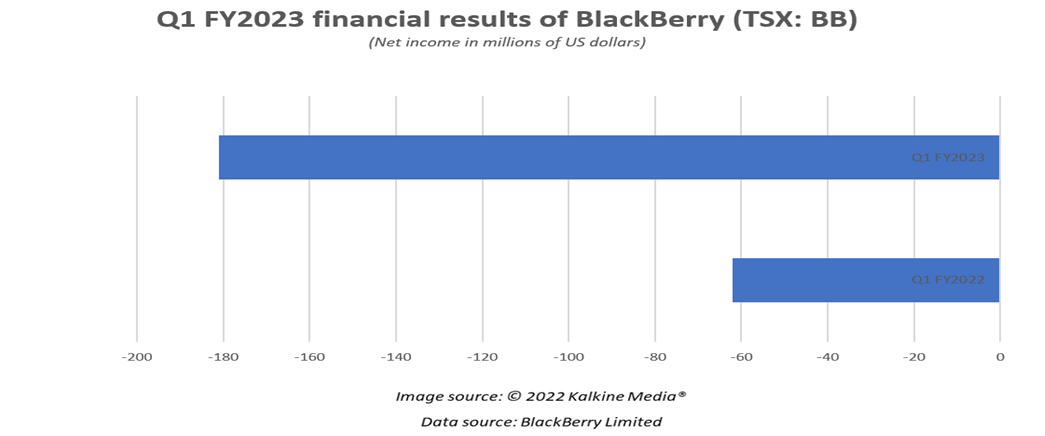 BlackBerry's stock performance
BlackBerry stock plunged by almost 57 per cent on a year-over-year (YoY) basis. However, BB stock rose by roughly seven per cent in the last one week. According to Refinitiv, BB stock seems to be on an upward trend with a rising Relative Strength Index (RSI) of 46.47 on June 23.
BlackBerry held a debt-to-equity (D/E) ratio of 0.39, denoting that it mainly prefers financing from equity rather than debt sources.
Also read: 2 TSX dividend stocks to buy as BoC hikes rates again: CM and SLF
Bottomline
A key detail to note here is that despite decreasing revenue and increasing net profit, BlackBerry enhanced its cash position with growing cash and cash equivalents (CCE) of US$ 391 million as of May 31, 2022, compared to US$ 378 million on February 28, 2022.
On the other hand, the software company announced some strategic developments, including the deployment of an advanced digital LCD cluster for Changan Automobile's UNI-V Coupe developed jointly with BiTECH Automotive.
Besides this, this software company also signed a multi-year deal with vehicles and parts supplier Magna International (TSX: MG) to serve the global automobile market. Such developments could significantly expand BlackBerry's empire in future.
Please note, the above content constitutes a very preliminary observation based on the industry, and is of limited scope without any in-depth fundamental valuation or technical analysis. Any interest in stocks or sectors should be thoroughly evaluated taking into consideration the associated risks.