Highlights

The TSX main index spiked by 63.05 points on June 15.
CIBC rose its quarterly dividend payout to C$ 0.83 per share (payable on July 28).
TD stock delivered a nine-month return of about eight per cent.
The US Federal Reserve's move to boost the benchmark interest rate by 0.75 per cent on Wednesday, June 15, has raised the likelihood for the Bank of Canada (BoC) to follow a similar suit in the coming month to tame inflationary pressure. The TSX main index, notably, jumped (by 63.05 points) to the green territory this day after having five back-to-back sessions in red.
To deal with increased interest rates in future, equity investors may consider healthy financial stocks like Canadian Imperial Bank (TSX: CM) and Toronto-Dominion Bank (TSX: TD). Let us talk about these two TSX financial stocks.
Canadian Imperial Bank of Commerce (TSX: CM)
Canadian Imperial was the number one online banking provider among the Big Five banks, per the Online Banking Satisfaction Study, 2022, conducted by J.D. Power, an American consumer data and research company.
As for its financial performance, CIBC posted a net profit of C$ 1.52 billion in the second quarter of FY2022, lower than C$ 1.65 billion a year ago. Despite declining net profit, the bank increased its quarterly dividend payout to C$ 0.83 per share (payable on July 28) from the previous payment of C$ 0.805.
CM stock slipped by almost 10 per cent year-over-year (YoY) and, as per Refinitiv data, appears to be on a downward trajectory since mid-March. CM's Relative Strength Index (RSI) value of 32.29 on June 15.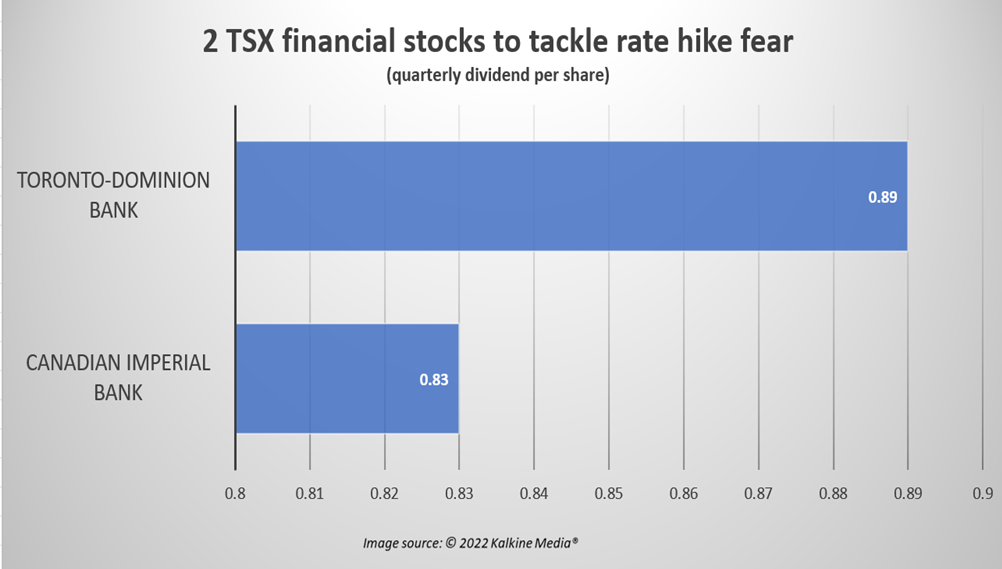 Also read: 2 TSX dividend stocks to buy as BoC hikes rates again: CM and SLF
Toronto-Dominion Bank (TSX: TD)
Toronto-Dominion Bank enhanced its online web access by announcing its TD Payment Plans launch on June 14. This payment plan is available to only 'eligible' TD cardholders and marks a new feature that enables a fixed payment schedule to manage monthly bills efficiently, said TD Bank.
Toronto-Dominion saw its net earnings zoom to C$ 3.81 billion in Q2 2022, higher than C$ 3.69 billion in the previous year's quarter. TB Bank also announced a quarterly dividend of C$ 0.89 apiece due on July 31.
TD stock delivered a nine-month return of about eight per cent. According to Refinitiv data, TD breached many support levels after achieving a 52-week high of C$ 109.08 on February 11 and held an RSI value of 30.42, showing a bearish market trend.
Bottomline
These TSX financial stocks may offer some stability as the central banks, including the BoC, strategize to utilize policy rates to tame inflation. Also, investors can source steady passive income by investing in these stocks, considering their dividend history.
Many macroeconomic factors like the new variant of coronavirus (omicron) and the war between Russia and Ukraine have contributed to increased volatility in equities markets since the beginning of 2022. Despite strong fundamentals, many stocks are declining. However, some analysts believe they could bounce back if the economy rebounds.
Also read: National Bank (NA) ends Big 6 earnings season with Q2 profit. Buy call?
Please note, the above content constitutes a very preliminary observation based on the industry, and is of limited scope without any in-depth fundamental valuation or technical analysis. Any interest in stocks or sectors should be thoroughly evaluated taking into consideration the associated risks.