Highlights

Mining stocks can help investors sustain economic storms in the long term.
Some low-priced mining stocks like Emerita Resources (TSXV: EMO) could provide substantial returns to investors.
A stock mentioned here ballooned by over 477 per cent in the past 12 months.
Mining stocks are known for their cyclical nature. However, when planning for long-term investments, investors can consider mining stocks to weather future economic storms, given that the right strategies and investment approaches are implemented. More important, such stocks can help diversify their portfolio.
Some low-priced mining stocks like Emerita Resources Corp (TSXV: EMO) could provide substantial returns to investors. On that note, let us discuss the following under C$ 5 mining stocks.
1. Emerita Resources Corp (TSXV: EMO)
Emerita Resources is a small-cap company that focuses on exploring natural resources. The mining company announced the completion of a 15-day permitting process for the diamond drill program of the Romanera and El Cura mine at its 100 per cent owned Iberia Belt West Project.
Emerita Resources was recognized as one of the top 10 mining stocks for 2021 in the TSX Venture Exchange list released on February 24. As of its stock performance, EMO stock ballooned by over 477 per cent in the past 12 months.
Also read: CGI (GIB.A) and DSG: 2 TSX tech stocks to buy instead of Amazon (AMZN)?
2. Eskay Mining Corp (TSXV: ESK)
Eskay Mining identified various new precious metal-rich volcanogenic massive sulphide (VMS) targets at its wholly-owned and controlled Consolidated Eskay project in the Golden Triangle area, British Columbia, in March. Following this development, the small-cap firm also closed the final tranche of its non-brokered private placement of up to C$ 7 million, proceeds from which will be expended on its Consolidates Eskay project.
ESK stock spiked by over three per cent year-over-year (YoY).
3. Oroco Resources Corp (TSXV: OCO)
Oroco Resources is a junior mining firm with a market capitalization of over 332 million at the time of writing this. It is an exploration stage firm with mineral properties in Mexico. In April, the firm announced additional assay results from a drilling campaign at its Santo Tomas site in northwest Mexico.
OCO scrip plunged by over 39 per cent in the last one year.
4. Eloro Resources Limited (TSXV: ELO)
Eloro Resources is a mineral exploration company that has an option to buy a 99 per cent stake in Iska Iska Property in Bolivia and an 82 per cent stake in the La Victoria project in Peru.
Eloro Resources recently intercepted 169.11 grams of silver equivalent per tonne from 0.00 meters to 235.55 meters, including a higher-grade section, as its Iska Iska silver-tin polymetallic project.
Stocks of Eloro Resources increased by over 20 per cent in the last six months.
Also read: IFC, FFH, CIX, GSY and IGM: 5 TSX financial stocks to buy in May 2022
5. Discovery Silver Corp (TSXV:DSV)
Discovery Silver Corp's flagship Cordero Project is situated in the mining belt in Mexico's Chihuahua State.
Discovery Silver posted a net loss of C$ 7.09 million in Q4 FY2021 against C$ 6.12 million a year ago. Its total assets amounted to C$ 107.79 million as of December 31, 2021, compared to C$ 111.56 million a year ago.
DSV stock slipped by roughly 32 per cent in the past one year.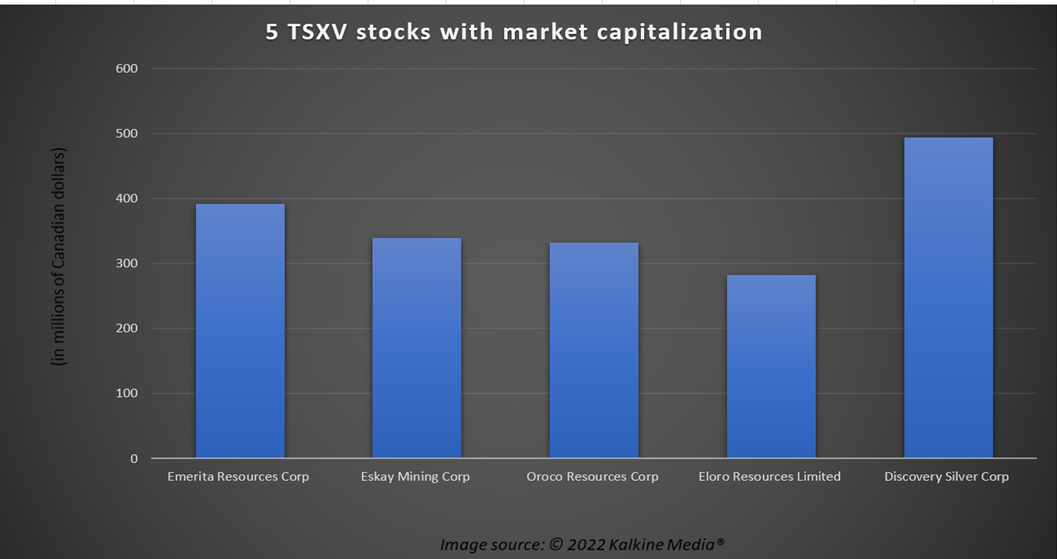 Bottomline
Investors should note that mining stocks are considered highly volatile as these stocks are likely to suffer from weak market situations. However, when carefully analyzed and studied, investors can identify some stocks that could fetch notable returns in the long run.
Also read: 10 under-$10 TSX stocks to add to your TFSA for retirement
Please note, the above content constitutes a very preliminary observation based on the industry, and is of limited scope without any in-depth fundamental valuation or technical analysis. Any interest in stocks or sectors should be thoroughly evaluated taking into consideration the associated risks.