The aviation industry, one of the hardest-hit sectors due to the coronavirus outbreak, has been scrambling to get back on its feet. Several airlines are struggling to stay afloat as governments limit international and domestic flights to contain the spread of the deadly virus. However, one airline stock has turned the tides against it and witnessed share prices shoot up by nearly 70 per cent in the last six months.
As the pandemic shut down the world, logistics became the lifeline for people to survive the isolation. This company became a frontrunner, enhancing its operations to keep the supply chain and e-commerce shipments moving. At the same time, it delivered millions of Personal Protective Equipment (PPE) to frontline healthcare workers across the world.
Robust fundamentals and business growth drive Cargojet's stock performance. It also made it to Toronto Stock Exchange's TSX30 list of best-performing stocks for two years in a row. It also paid a cash dividend of C$0.234 per in its latest quarter.
Cargojet Inc (TSX: CJT) is a sky warrior with a three-fold growth amid the COVID-19 outbreak
With a fleet of 24 aircraft, Ontario-based Cargojet Inc provides time-sensitive overnight air cargo services. The company operates between fourteen Canadian cities and across select international routes between the USA and Bermuda. Cargojet also offers premium overnight air cargo services and transfers over 8,000,000 pounds of payload weekly.
Cargojet's stock was already faring well before COVID-19 hit the global markets.
After a quick crash along with the rest of the market, the stock recovered and took a trip down the growth lane. The freight carrier's stock price started declining in February, tumbling more than 37 per cent within a month. March 19 onwards, the stock has surged nearly 199.2 per cent.
Currently, the company is mostly dealing with e-commerce shipments. Before the pandemic struck, its primary source of revenue was from B2B operations. Once the COVID-19 vaccine releases in the market and B2B clients resume operations, the company may see a surge in its operations. Moreover, as volatility continues in engine oil cost, Cargojet may continue to benefit from higher revenues.
Flying Stock Performance
The year-to-date performance of the scrips indicates an astonishing 118.6 per cent surge, from C$103.33 at the beginning of the year to C$ 225.91 at the time of filing this report. In the last three months, the stock has increased by 43.8 per cent. Its current market capitalization is C$3.52 billion.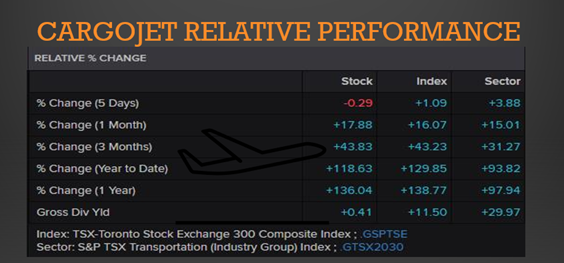 Data Source: Refinitiv Thomson Reuters
As per Refinitiv data, Cargojet's profit-to-book (P/B) ratio is 15.86 and the price-to-cash flow (P/CF) ratio is 16. The company provides a negative return on equity (RoE) of 20.65 per cent and negative return on assets (RoA) of 3.85 per cent. The company's total debt-to-EBITDA ratio is 2.82.
The air cargo company holds a dividend yield of 0.414 per cent. It paid a quarterly dividend of C$0.234 per share. The average dividend growth for three-year is 7.55 per cent.

Cargojet's Year-To-Date Stock Performance (Source: Refinitiv Thomson Reuters)
The company made it to TMX's top industrial stocklist – a ranking industrial stocks across the TSX and TSXV with the largest price gains in the last 30 days. The air cargo company has also been placed on TMX's top price performer stocks that have outperformed the markets (TSXV and TSX) in the last 30 days.
Cargojet Financial Statistics
Cargojet's domestic revenues gained from a strong e-commerce demand driven by the work-from-home economy, which partly offset the low B2B volumes.
It reported total revenue of C$196.1 million in the second-quarter 2020 (ended June 30, 2020), a 64.6 per cent growth from C$ 119.1 million in the same quarter last year.
Cargojet's adjusted earnings before interest, taxes, depreciation, and amortization (EBITDA) for Q2 FY20 was C$91.1 million, up from C$37.5 million a year ago. The adjusted earnings before interest, taxes, depreciation, amortization, and restructuring or rent costs (EBITDAR) was C$91.1 million, up from C$37.8 million.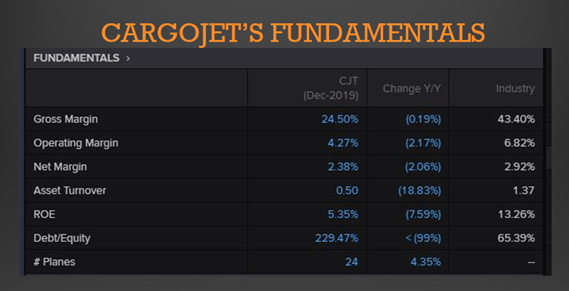 Data Source: Refinitiv Thomson Reuters
Cargojet has continued to demonstrate resilience and operating leverage as it manages a significant rise in volumes, as seen in the figures above. Simultaneously, the company is using increased cash flows to pay back loans and make investments to capture growth opportunities, stated Ajay Virmani, President & CEO, Cargojet.
The company announced that it had revised its dedicated revolving credit facility to increase the credit limit from C$510 to C$600 million and to push the maturity date to July 16, 2025.
The credit facility is provided by the Royal Bank of Canada, Canadian Imperial Bank of Commerce (CIBC), and Bank of Nova Scotia. Other creditors include Bank of Montreal, National Bank, Laurentian Bank of Canada, and ATB Financial.
The company will be releasing its third-quarter earnings for 2020 on Tuesday, November 3.
Bottomline
As per a Statistics Canada report in April, retail e-commerce sales went up 120 per cent year-over-year.
The current surge in supply chain and logistics will continue even after the world gets the COVID-19 vaccine, claim market experts. And Cargojet may be able to fly on that demand surge.