Highlights

Bombardier Inc (TSX: BBD.B) were zooming on Wednesday morning, June 15.
Bombardier (TSX: BBD.B) decreased by over 18 per cent on this day.
The jet company's free cash flow zoomed by 578 per cent YoY in Q1 2022.
Bombardier Inc (TSX: BBD.B) stocks were zooming on Wednesday morning, June 15, up by about 11 per cent around 11 AM EST, after falling notably the day before. The jet company saw its stocks tumble by over 18 per cent on Tuesday, June 14, fuelling the S&P/ TSX Composite Index's decline to a 13-month low as it closed at 19,548.51.
Bombardier stock's decline came after the Internationale Association of Machinists and Aerospace Workers (IAMAW) recently rejected its five-year contract offer and went on a single-day strike on Monday, June 13. On Tuesday, the company sought to resume negotiation with IAMAW.
The owner of Challenger and Global business jets also initiated a tender offer on June 13 to buy its outstanding Senior Notes for an aggregate purchase price of up to US$ 350 million. Besides this, the Canadian industrial company also implemented consolidation of its Class A multiples voting stock and Class B subordinate voting stock on June 13.
Amid all this, the question that remains strong is whether it is worth exploring Bombardier stock at a discounted price. Let us evaluate.
Bombardier Inc (TSX: BBD.B)'s financial performance
Bombardier said that continued 'strong' deliveries, order intake and aftermarket service performance in Q1 FY2022 accelerated its momentum towards long-term objectives.
The Canadian jet manufacturer increased its order backlog by 11 per cent to US$ 13.5 billion as of March 31, 2022, compared to US$ 12.2 billion on December 31, 2021. The aerospace company held cash and cash equivalents (CCE) of US$ 1.4 billion at the end of Q1 2022, reflecting a 16 per cent decline from US$ 1.67 billion posted on December 31, 2021.
Coming to its income statement, Bombardier reported a revenue of US$ 1.24 billion in the latest quarter, denoting a year-over-year (YoY) decline of seven per cent. The mid-cap company saw a net loss of US$ 287 million in the first quarter of 2022 compared to a profit of US$ 5.07 billion a year ago.
However, its free cash flow (FCF) zoomed by 578 per cent YoY to US$ 173 million in Q1 2022.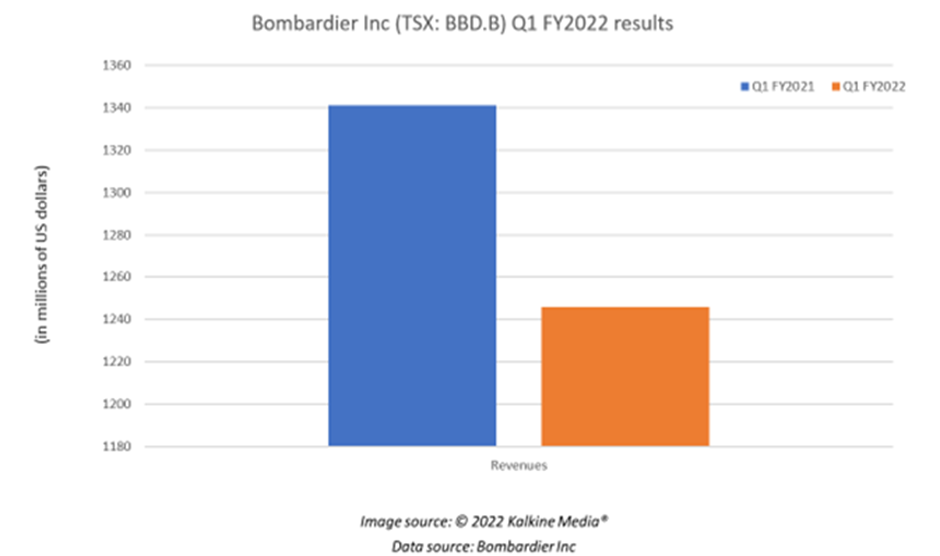 Also read: 5 TSX stocks to buy for +5% dividend yield - GWO, ENB, RNW, MFC, SRU
Bombardier stock performance
The industrials scrip has lost nearly 48 per cent year-to-date (YTD). On Wednesday, though, BBD stock reflected recovery from its decline the day before.
Refinitiv findings suggest that Bombardier stock breached multiple support levels and had been on a bearish trend since November 2021. The Relative Strength Index (RSI) signals stocks' market condition. BBD.B's RSI was 25.59 on June 14, lower than the oversold mark of 30.
Bottomline
Interest rate hike fear and the current economic condition seem to be weighing on investors, broadly affecting stock markets worldwide. However, quality stocks are likely to endure economic setbacks. Investors can explore Bombardier stock for the long term after thoroughly researching and investigating their goals and return targets.
Also read: Understanding undervalued stocks and where to find them
Please note, the above content constitutes a very preliminary observation based on the industry, and is of limited scope without any in-depth fundamental valuation or technical analysis. Any interest in stocks or sectors should be thoroughly evaluated taking into consideration the associated risks.