Highlights

Growth companies generally reinvest their surplus earnings to expand their operational footprints.
A payment technology provider mentioned here saw an increase of 88 per cent year-over-year (YoY) in total volumes to US$ 21.6 billion in Q3 FY2021.
An energy stock listed below swelled by approximately 168 per cent on a year-to-date basis.
Amid rising inflation, many investors are looking for stocks that could help strengthen their financial health in the long term. For such investors, growth stocks can be a healthy potion.
Growth companies are known to focus on reinvesting surplus earnings on their growth operations. Their organic growth in business can strengthen their fundamentals and financials, which, in turn, often helps improve their stock performance.
That said, let us discuss three Canadian growth stocks listed on the TSX.
Also read: Cyber Monday 2021: 3 TSX stocks to buy ahead of time
1. Paramount Resources Ltd (TSX: POU)
The Calgary, Alberta-headquartered oil and gas company recorded an average sales volume of 82,150 barrels of oil equivalent per day (including 52 per cent of liquids) in Q3 FY2021.
Paramount Resources Ltd reported C$ 97 million as cash flow from operating activities in its latest quarter. Its adjusted funds flow amounted to C$ 148.4 million in this quarter.
Paramount recently hiked its dividend payout from C$ 0.02 to C$ 0.06. It is scheduled to pay a monthly dividend of C$ 0.06 apiece on November 30.
TOU stock climbed by almost 46 per cent in the last three months and expanded nearly 149 per cent in the past 12 months. Its stock soared by approximately 168 per cent year-to-date (YTD).
The energy stock clocked day high of C$ 23.65 on Tuesday, November 23 and closed at C$ 22.99 apiece, up by less than one per cent. It achieved a one-year high of C$ 46.14 on November 9, 2021.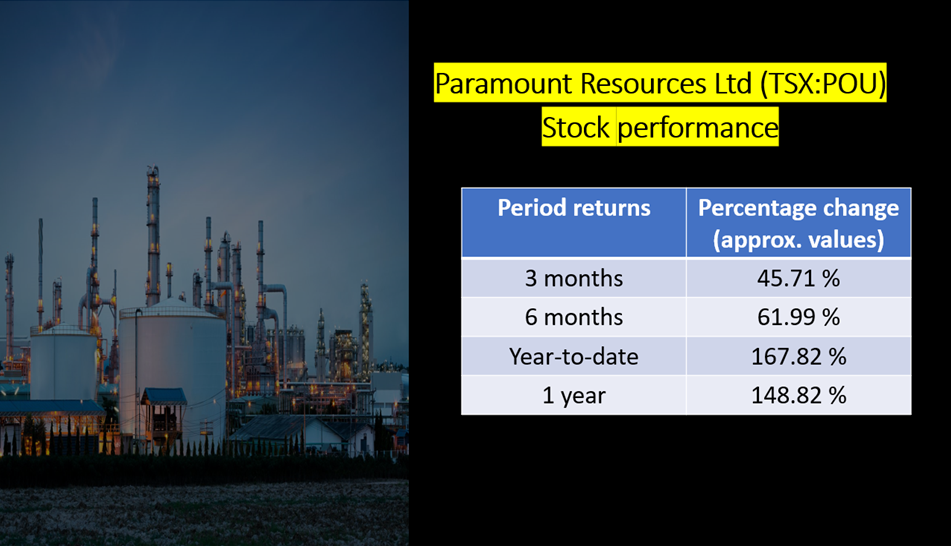 Image source: © 2021 Kalkine Media Inc
The C$ 3.1-billion market cap company held a return on equity (ROE) of 22.28 per cent and earnings per share of 3.35 (as of Wednesday, November 24).
2. Nuvei Corporation (TSX: NVEI)
Canadian payment technology provider Nuvei Corporation saw an increase of 88 per cent year-over-year (YoY) in its total volumes of US$ 21.6 billion in the third quarter of fiscal 2021. This included 83 per cent from e-commerce.
Its net revenue rose by 96 per cent YoY to US$ 183.9 million in the latest quarter. Its net income amounted to US$ 28 million in Q3 FY2021, noting a YoY rise of US$ 105.9 million from previous year.
Nuvei's stock grew by roughly 28 per cent in the past six months and zoomed by nearly 110 per cent in the last 12 months.
After hitting a day high of C$ 123, NVEI stocks closed at C$ 116.56 apiece on November 23, down by about four per cent.
On the valuation front, Nuvei Corporation had a market capitalization of C$ 7.7 billion and an ROE of 8.35 per cent.
3. Spin Master Corp (TSX: TOY)
Canadian entertainment firm Spin Master Corp designs, develops and markets entertainment assets like puzzles and video games for kids.
The Toronto-based firm saw its total revenue grow by 25 per cent YoY to US$ 714.5 million in the third quarter of FY2021. Its net income amounted to US$ 135.4 million in the latest quarter, as compared to US$ 86.8 million in Q3 FY2020.
Stocks of Spin Master surged by more than 12 per cent in the past month and delivered a YTD return of almost 63 per cent.
On November 23, the entertainment stock closed at C$ 47.22 apiece, down by nearly two per cent.
Spin Master held a price-to-earnings ratio of 22.80 and an ROE of 18.91 per cent at the time of writing.
Also read: 3 consumer stocks to buy before Black Friday
Bottom line
Some Canadian growth stocks can help investors in combating the inflation effects, as they can rise significantly in the medium and long term amid operational expansion. However, they too come with some risk levels and investors should keep that in mind.