Highlights

Smart contracts enable developers to make the best use of decentralized blockchain technology.

Blockchain platforms providing smart contract services are popular among crypto enthusiasts.

Such a platform can use either proof-of-work or proof-of-stake consensus mechanisms.
Anything you invest in should have utility. The cryptocurrency space has many options – from the "most popular of the lot" Bitcoin to the regular newsmaker Dogecoin.
Not all crypto tokens want to replace fiat currencies. A token of any blockchain-based platform can be used to perform various tasks like the creation and validation of smart contracts. Let's find out the best crypto smart contract platforms of 2021.
But before we do that, let's know what smart contracts are.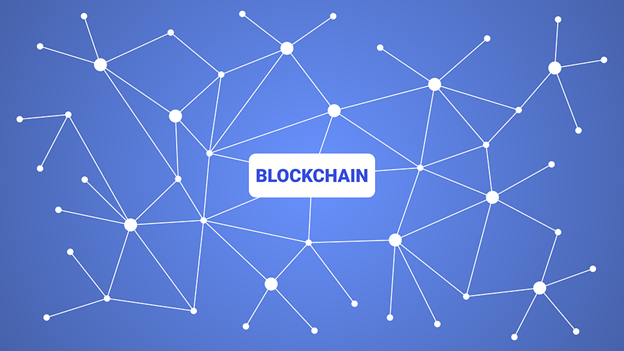 Image source: Pixabay
Smart contracts
The term is self-explanatory. A contract stored digitally on a decentralized platform is a smart contract. In such contracts, execution by parties is supervised by codes. Smart contracts are claimed to be immutable.
5 best smart contract platforms in 2021
Another feature is the absence of any centralized authority. Though this puts more power in the hands of the users of the blockchain platform, it raises concerns about a lack of enforcement mechanisms.
Let's check the most promising smart contract enablers.
Ethereum (Ether)
If Bitcoin is the undisputed king of the crypto world, Ethereum wields the same authority in the smart contracts space.
Also read: Can Bitcoin be termed as the 'asset of the century'?
Ethereum's blockchain is used not only for building smart contracts but also for hosting crypto tokens. ERC-20 tokens like LINK have emerged as successful tokens in their own respect. Ethereum's own token is Ether or ETH.
At the time of writing, Ether commanded a market cap of over US$418 billion. Bitcoin has a market cap of nearly US$900 billion, and it can be said that Ether is fast catching up.
One ETH can be bought for nearly US$3,500. It has gained almost four per cent over the past seven days.
Cardano (ADA)
If Ethereum is a Bitcoin-challenger, ADA is Ether's formidable rival. A proof-of-stake protocol, Cardano allows the building of DApps and smart contracts. It was founded by Ethereum co-founder, Charles Hoskinson.
Cardano boasts less consumption of energy to run its platform. It also claims to be more stable than other smart contract platforms.
At the time of writing, Cardano's token ADA commanded a market cap of nearly US$77 billion. It is the third-largest cryptocurrency by market cap.
One ADA can be bought for nearly US$2.4. It has lost almost 2.5 per cent over the past seven days.
Polkadot (DOT)
Polkadot allows interoperability over multiple blockchains. It can process a wide variety of transactions in what it calls 'Parachains'.
The Polkadot community has control over its governance, which can be customized according to needs. It is claimed that the network can upgrade without any fork. Ethereum on the other hand needs a fork.
At the time of writing, Polkadot's market cap was nearly US$35 billion. It features in the list of top ten cryptos by market cap. One DOT can be bought for nearly US$35.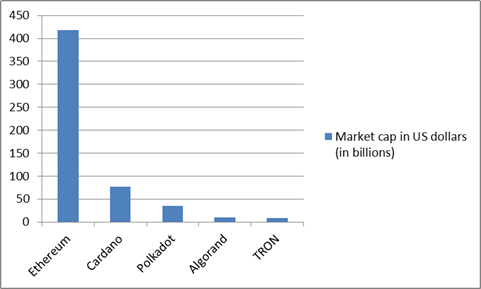 Data source: CoinMarketCap
Algorand (ALGO)
Founded by a professor at the Massachusetts Institute of Technology, Algorand is another decentralized network. It claims to have better transaction speed and elevated efficiency as compared with its competitors.
It also boasts lower costs for transactions and no mining. Algorand is a proof-of-stake protocol.
At the time of writing, ALGO's market cap was nearly US$10 billion. One ALGO can be bought for nearly US$2.
TRON (TRX)
TRON's leading feature is that it can handle more transactions per second as compared with Bitcoin and Ethereum. The platform can be used to issue personal tokens. It is being predominantly used for content sharing.
Also read: How Can I Buy Cryptocurrency In Canada?
DApps are supported on TRON's blockchain. The protocol targets the entertainment industry by putting more power in the hands of content creators.
At the time of writing, TRON's token TRX commanded a market cap of nearly US$8 billion. One TRX can be bought for nearly US$0.11.
Bottom line
Smart contracts have utility. Blockchains that provide smart contract services are sought by developers. The linked token performs according to the efficiency and promises of the respective blockchain. The above five are popular smart contract platforms with very high market cap.