Highlights

Canada's inflation rate reached 8.1 per cent in June 2022, according to Statistics Canada
Enbridge doles out a quarterly dividend of C$ 0.86
The CM stock is down almost 16 per cent in 2022
Canada's inflation rate reached 8.1 per cent in June 2022, marking the biggest annual change since 1983, according to Statistics Canada, which may get investors looking for quality dividend stocks.
Dividend stocks like Pembina (TSX: PPL), Enbridge (TSX: ENB), BCE (TSX: BCE) etc., may be looked at amid the ongoing market volatility caused by the rising inflation rate due to excessive demand in the economy. As the Bank of Canada remains determined to reduce inflation by increasing policy rates, the threat of an economic slowdown and the possibility of a recession could keep affecting market sentiments.
Investors could look into these five TSX dividend stocks to see if they may strengthen their portfolio income.
1. Pembina Pipeline Corporation (TSX: PPL)
Pembina Pipeline is a largecap company that owns and operates pipeline infrastructure across North America. The midstream energy company doles out a monthly dividend of C$ 0.21. The next dividend payment is due on August 15.
The C$ 26-billion market cap company saw its stock climb roughly 22 per cent year-to-date (YTD). According to the Refinitiv data, Pembina stocks seem to be on a mixed trend since mid-June and held a Relative Strength Index (RSI) of 52.51, reflecting moderate market condition with 1.79 million shares exchanging hands on July 19.
2. Enbridge Inc (TSX: ENB)
The C$ 112-billion company has a pipeline network spread across Canada and the United States to transport hydrocarbons. Enbridge recorded a return on equity (ROE) of nearly 11 per cent, which measures profitability and how efficiently it produces profits.
The midstream company doles out a quarterly dividend of C$ 0.86. The ENB stock rose by over 15 per cent in 52 weeks. Refinitiv information shows ENB scrips held an RSI of 55.67, with its price in the green territory, on July 19.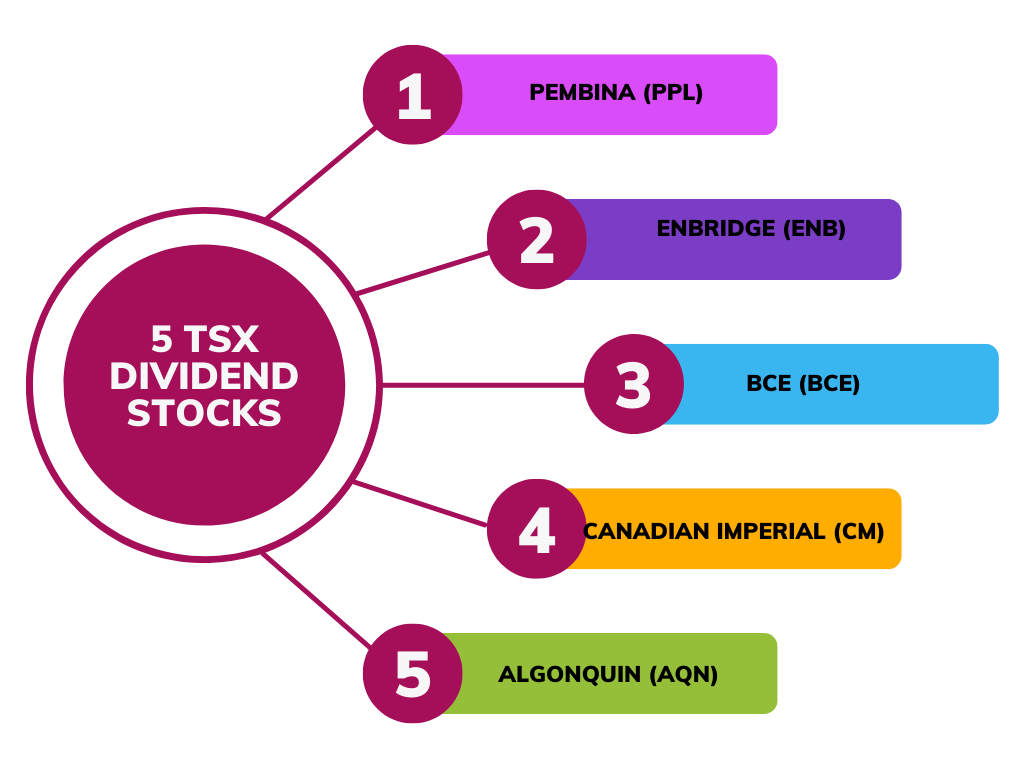 ©Kalkine Media®; @rizelleannegalvez via Canva.com
3. BCE Inc (TSX: BCE)
The internet service provider had a dividend yield of almost six per cent (annual dividend stated as a percentage of its current stock price). With a market capitalization exceeding C$ 58 billion, BCE is among the top communication service companies in the country. Hence, investors looking for defensive stocks could look into this telecom stock.
The BCE stock was up by almost three per cent in 12 months. Refinitiv data suggests that BCE stocks had an RSI of 44.39 on July 19.
4. Canadian Imperial Bank of Commerce (TSX: CM)
Canadian Imperial lifted its prime lending rate to 4.7 per cent on July 13, relatively higher than the previous 3.7 per cent after Canada's central bank raised interest benchmark rates to 2.5 per cent. CIBC is one of the country's top lenders.
The CM stock has fallen by almost 16 per cent in 2022. As per Refinitiv, Canadian Imperial's RSI value increased to 43.38, underpinned by a trading volume of 5.32 million in the green territory on July 19.
5. Algonquin Power & Utilities Corp (TSX: AQN)
Considering the prevailing economic uncertainty, investors could look at largecap utility stocks like Algonquin. Utility stocks, generally tend to be less volatile and sought for dividend income.
The AQN stock dipped by over five per cent this year. As per Refinitiv data, the Canadian utility stock had an RSI of 42.67 (just above the oversold mark of 30) on July 19.
Bottom line
Investors looking to ease inflationary pressure somewhat could explore these TSX dividend stocks as these could also offer notable returns in future. Some of these stocks could diversify portfolio risk to include defensive sectors like telecom and utility.
Please note, the above content constitutes a very preliminary observation based on the industry, and is of limited scope without any in-depth fundamental valuation or technical analysis. Any interest in stocks or sectors should be thoroughly evaluated taking into consideration the associated risks.