Highlights:

SpendTheBits is a cryptocurrency payment mobile app powered by XRP Ledger, which facilitates instant ecofriendly transactions
The app claims to have an effective mechanism that thwarts any security breaches
The app can not only be used to securely spend BTC, but it is also engineered to save users large amounts of transaction fees, making it operational in everyday use
Why keep it idle when you can move it and register more gains? Though HODL (hold on for dear life) is a strong sentiment among the global cryptocurrency investors' community, the bigger picture suggests that moving the holding can bring its own set of advantages.
SpendTheBits, a cryptocurrency payment mobile app, enables users to store and spend their cryptocurrency – and all this at speed and lower cost.
Image source: SpendTheBits
What is SpendTheBits?
SpendTheBits app, which can be downloaded from App Store or Google Play, enables the movement of crypto assets. It adds to the crypto payment's ecosystem through, what it claims, "instant" features such as instant deposits/withdrawals and instant spending. The user's funds will be credited or debited after the first confirmation on the Bitcoin blockchain.
What lies at the heart of this promise is the decentralized XRP ledger. The SpendTheBits app is powered by XRP ledger, which is also the technology behind the multi-billion-dollar market cap asset XRP.
The app can be used as a bridge to facilitate Bitcoin (BTC) transactions effectively. User can top up their STB wallet either from an exchange, ATM machine, or ledger nano. The investor can tap the 'Fund Wallet' option on the app that immediately shows Bitcoin (BTC) main-net QR code address to be scanned.
The initial transaction made by the investor will see a minimal charge of 10 XRP tokens, translating into a few US dollars depending on the trading price of XRP. The fee levied goes on to prevent any spams, which ail crypto investors using unsecured platforms. SpendTheBits claims quick settlements at very low costs, thanks to the technical superiority of the underlying XRP ledger.
The app provides round-the-clock support to users, which is crucial considering cryptos are traded 24x7 on multiple global exchanges. The decentralized underpinnings, founders claim, mitigate risks of hacks and other breaches.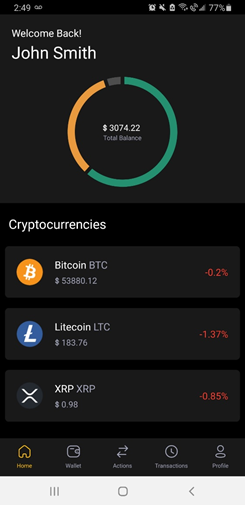 Image source: SpendTheBits
Also read: What's in Canada Budget 2022 for cryptocurrency enthusiasts?
What about security when it comes to crypto assets?
Though cryptos boast of the blockchain network, which is based on the distributed ledger, security breaches have bogged down the sector for a long. Having BTC in your wallet may make no sense despite lucrative returns if they are vulnerable to cyberattacks.
SpendTheBits claims to resolve this concern by having availed the services of the XRP ledger. Besides, any lag in the transaction while moving crypto holding, can heighten the potential risks. SpendTheBits app also takes care of this concern by being a fast and instant solution for crypto transfers.
Is Bitcoin the new king?
Though debatable, Bitcoin's rise from its humble beginnings to one of the most significant assets by market value is no ordinary feat. The price of Bitcoin or any other crypto asset can change quickly, but the same holds true for every other variable-return asset, including stocks. Between January 1, 2020, and January 1, 2022 – a time when the pandemic-induced volatility caused market disruptions – BTC rose from US$7,200 to US$47,500.
Data provided by CoinMarketCap.com
Like all other variable-return investment assets, BTC can exhibit a downward trend, which suggests that investors must keep a close tab on the blockchain industry when making their decisions.
Also read: Bitcoin bond and Bividend: 2 new extensions of Bitcoin?
Risk Disclosure: Trading in cryptocurrencies involves high risks, including the risk of losing some, or all, of your investment amount, and may not be suitable for all investors. Prices of cryptocurrencies are extremely volatile and may be affected by external factors such as financial, regulatory, or political events. The laws that apply to crypto products (and how a particular crypto product is regulated) may change. Before deciding to trade in financial instrument or cryptocurrencies you should be fully informed of the risks and costs associated with trading in the financial markets, carefully consider your investment objectives, level of experience, and risk appetite, and seek professional advice where needed. Kalkine Media cannot and does not represent or guarantee that any of the information/data available here is accurate, reliable, current, complete, or appropriate for your needs. Kalkine Media will not accept liability for any loss or damage as a result of your trading or your reliance on the information shared on this website.