June holds a special place in the hearts of the LGBTQ+ community and its allies. What started off as a commemoration of the Stonewall Riots that took place in the US on June 28, 1969, has now taken the shape of a worldwide celebration for the Pride month.
Generally, millions of LGBTQ+ members and supporters gather all around the world and celebrate the Pride month with various marches and parades. But with the pandemic still hanging around this year, massive get-togethers are not encouraged even for the best of causes.
While parades and parties are fun, there are a few innovative ways to celebrate the Pride month at home. Let's take a look at a few ideas:
Virtual Celebrations Can Be Fun Too!
An epic virtual party may just be a Google search away from you! Many organizers are holding online parades and other such events to celebrate Pride month for minimal or no fees.
If parties and concerts aren't your thing, you can also take part in virtual events such as webinars or campaigns being held in support the LGBTQ community, or organize one yourself.
Make Good Use Of Social Media
LGBTQ members and activists are often subjected to human rights violations across the world. So, raising awareness via social media about such struggles or about the LGBTQ community in general can also be an incredible way to celebrate the Pride month.
And if you are comfortable, this may also be a healthy opportunity to share your story via the excellent tools of the social media.
Raise The Rainbow Flag
You can make a good use of your balcony this month by hanging a rainbow flag to support and cherish the LGBTQ community. And why stop just there? You could also design banners, try different forms of art and display the message of love and unity while maintaining social distancing rules.
Host An Online Movie/TV Series Session
If you are looking to have a quiet night, what better way to celebrate a cause than watch epic movies and TV shows with their friends?
You can organize a virtual movie session and watch a variety of movies, documentaries and shows that will help you develop a deeper understanding about the LGBTQ community and the significance of Pride month.
If you are looking to organize such a movie marathon, here are a few movies and shows you can shortlist to binge-watch throughout this month.
Copyright © 2021 Kalkine Media
Read & Learn More About The Movement

Celebrating the Pride month can be very exciting. However, what is more important is to learn about the history of this movement and gain more knowledge about this month in particular.
There are plenty of books written on the LGBTQ community in both fiction and non-fiction genre. Your options are endless, so choose any book and start reading today.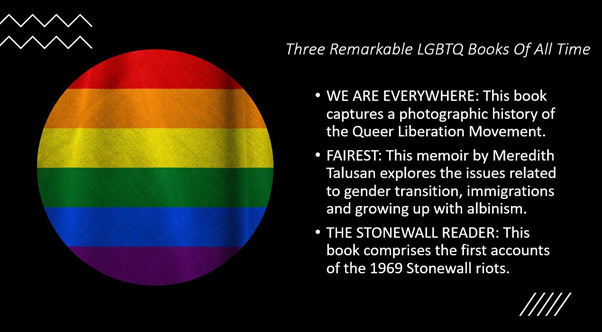 Copyright © 2021 Kalkine Media