Highlights

Telus stock zoomed by nearly four per cent in the last one year

Loblaw stock climbed by almost 51 per cent in one year

The MNP Consumer Debt Index rose by 90 points since the previous quarter but stayed lower, as per the survey
The Bank of Canada left Canadians surprised with a full percentage point hike in interest rates on Wednesday, July 13. Amid this development, stock market investors can look at quality TSX stocks like Telus (TSX: T), Loblaw (TSX: L), Canadian Pacific (TSX: CP) etc for their Tax-Free Savings Account (TFSA) for some financial stability during the prevailing economic uncertainty.
According to a new Ipsos survey conducted on behalf of MNP Ltd, increasing living costs and interest rates are impacting the household budget in Canada.
The survey released on Monday, July 11, also noted that 27 per cent of the 2,000 respondents (aged 18 and up) said that they are making difficult choices to cut back essential expenses on food, utilities and housing. Some 46 per cent of the interviewees reportedly stated that they are shortening non-essential expenses, with 37 per cent opting for cheaper everyday purchases, while 30 per cent are driving less.
With such economic concerns circling Canadian consumers, let us explore five TSX stocks that investors could include in their TFSA.
1.

Telus Corporation (TSX: T)
Telus is one of the top telecommunication service providers in Canada and recently announced an investment of C$ 10 million in Haida Gwaii to enable 5G networks and broadband infrastructure to provide access to internet technology.
Telus stock zoomed by nearly four per cent in the last one year. According to Refinitiv, T stock had a Relative Strength Index (RSI) of 43.47, reflecting near the moderate level of 50, with 3.58 million shares exchanging hands on July 11.
2.

Loblaw Companies Limited (TSX: L)
Grocery and pharmacy store owner Loblaw strengthened its healthcare service business by acquiring Lifemark Health Group in May.
L stock climbed almost 51 per cent in a year. As per Refinitiv findings, L stock seems to be on a bullish trend with a recently clocked 52-week high of C$ 120.60 (July 8) and held an RSI of 67.25 on July 11.
3.

Canadian Pacific Railway Limited (TSX: CP)
The railroad giant, known for its wide network of railway lines, will pay a quarterly dividend of C$ 0.19 this month. CP stock jumped by over eight per cent in nine months.
According to Refinitiv information, CP stock had an RSI value of 57.55 on July 11, more than the moderate level.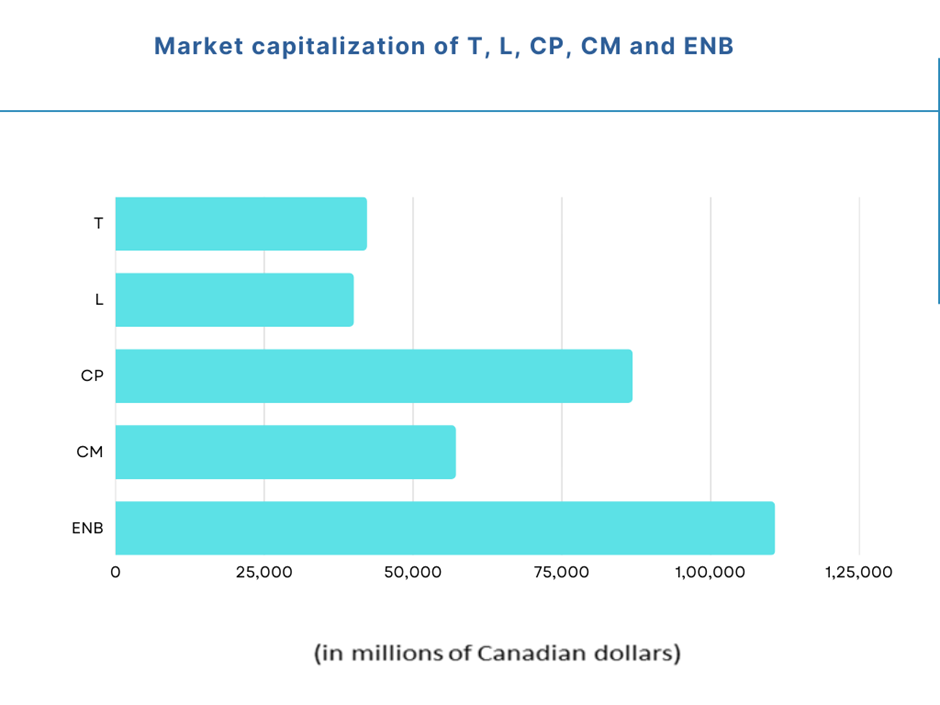 ©Kalkine Media®; ©Garis Studio via Canva.com
4. Canadian Imperial Bank of Commerce (TSX: CM)
Stocks of Canadian Imperial fell by over 24 per cent from a 52-week high of C$ 83.75 (February 8). Refinitiv data suggests that Canadian Imperial had an RSI of 39.73 on July 11, above the oversold territory. Canadian Imperial is set to disburse C$ 0.83 as a quarterly dividend on July 28.
5.

Enbridge Inc (TSX: ENB)
Enbridge is one of the top dividend-paying companies with a market capitalization of over C$ 110 billion. The energy infrastructure firm had a dividend yield of over six per cent (an annual dividend amount that a company pays its shareholders, reflected as a percentage of its current stock price.
ENB stock swelled by almost 11 per cent year-to-date (YTD) and, as per Refinitiv, held an RSI of 46.46 on July 11.
Bottomline
The MNP Consumer Debt Index, which reportedly tracks Canadians' attitudes about their debt and ability to meet monthly obligations, rebounded by 90 points since the last quarter but stayed lower compared to the benchmark score clocked five years ago, the report said.
In such tough economic situations, as peoples' personal finances struggle to reach pre-pandemic levels due to inflationary and rate hike pressure, investors could consider these healthy TSX stocks for their TFSAs.
Please note, the above content constitutes a very preliminary observation based on the industry, and is of limited scope without any in-depth fundamental valuation or technical analysis. Any interest in stocks or sectors should be thoroughly evaluated taking into consideration the associated risks.