The TSX Composite Index recovered 1.45 per cent Thursday, December 2, after a series of heavy losses. All the major sectors saw serious gains led by base metals that rose over three per cent and healthcare was up 2.6 per cent.
Financials gained 2.2 per cent after Toronto-Dominion Bank and Canadian Imperial Bank of Commerce were the latest to announce they were buying back shares and raising dividends. The former's TD stock surged 4.9 per cent on better-than-expected Q4 results.
Energy, industrials and IT also saw good gains as the benchmark index rebounded by 297.43 points to 20,762.03. Nuvei Corp's stock gained 5.6 per cent.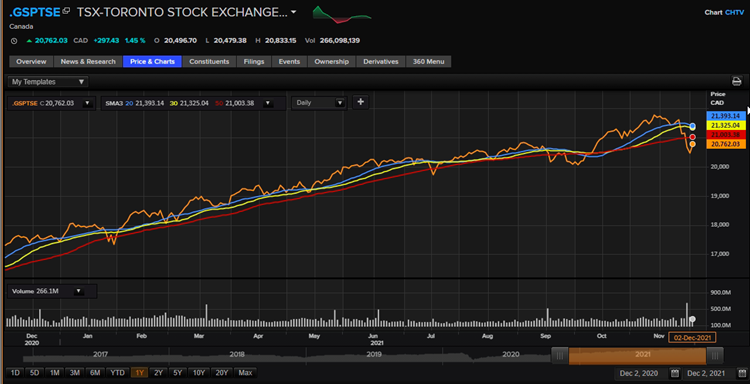 One-year price chart (December 2). Analysis by Kalkine Group
Volume actives

Manulife Financial Corporation saw 20.93 million shares traded, making it the most active stock and it was followed by Canadian Natural Resources Limited that saw 14.66 million shares switch hands and
Suncor Energy Inc saw 13.64 million shares traded. All three ended in the green.
Movers and laggards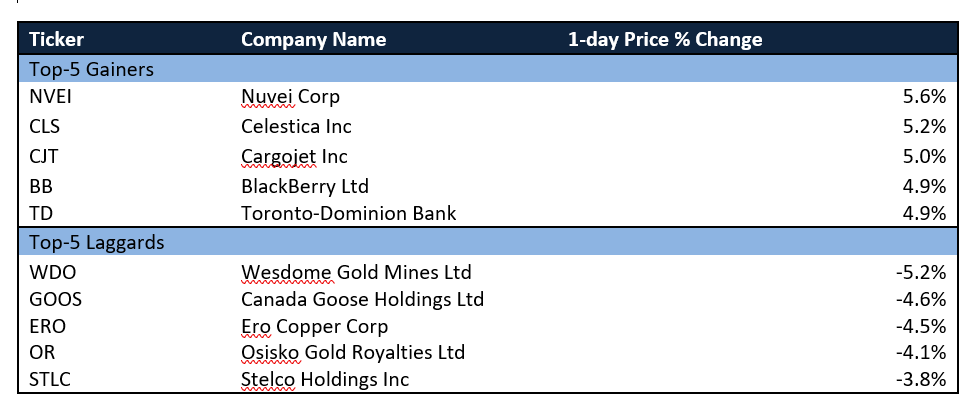 Wall Street back up
Trade was good south of the border too as the three main indices gradually rose through the day. The Dow spiked 617.75 points, 1.82 per cent, to 34,639.79 points, while the S&P 500 was up 64.06 points, 1.42 per cent, to 4,577.1 points and Nasdaq grew 127.27 points, 0.83 per cent, to 15,381.32.
Oil prices sink, gold up
Gold dropped 1.21 per cent to US$ 1,762.70. Brent oil was up 1.16 per cent to US$ 69.67/bbl. Crude gained 1.42 per cent to US$ 66.50/bbl.
Currency news
The loonie gained 0.07 per cent Thursday while USD/CAD ended at 1.2808. The US Dollar Index saw a 0.13 per cent rise against the basket of major currencies to close at 96.16.
Money market
The US 10-year bond yield was up 2.89 per cent to 1.444 and the Canada 10-year bond yield gained 0.94 per cent to 1.506.