Buoyed by positive corporate earnings, upbeat investors sentiments and anticipation of rapid economic recovery, the S&P/TSX Composite index advanced by 0.54% to settled at 19,143.25 on Wednesday. However, falling oil prices limited the gains.

One-Year S&P/TSX Composite Daily Price Chart (as on April 21, 2021). Source: Refinitiv (Thomson Reuters)
The TSX Venture Index up by 1.55%, settled at 928.91.
Movers and Laggards on TSX Composite
Ticker

Company Name

%Change

Top-5 Movers

OGI

OrganiGram Holdings Inc

8.2%

ACB

Aurora Cannabis Inc

6.1%

WPRT

Westport Fuel Systems Inc

6.0%

EDR

Endeavour Silver Corp

5.4%

LSPD

Lightspeed POS Inc

5.4%

Top-5 Laggards

WFG

West Fraser Timber Co Ltd

-6.4%

CFP

Canfor Corp

-2.8%

BYD

Boyd Group Services Inc

-2.2%

KXS

Kinaxis Inc

-1.9%

TOY

Spin Master Corp

-1.9%
Source: Refinitiv (Thomson Reuters)
Active Volume Leaders
Zenabis Global Inc. (7.04 million), Tetra Bio-Pharma Inc. (6.25 million) and Manulife-Financial Corporation (4.66 million).
Technical Indicators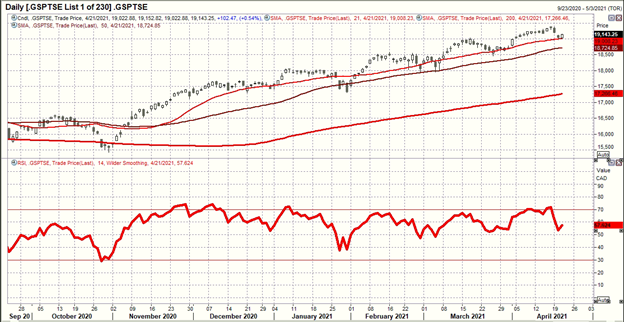 Technical Price Chart (as on April 21, 2021). Source: Refinitiv (Thomson Reuters)
After moving below 21-day simple moving average (SMA) support level in the previous trading session, the S&P/TSX Composite index bounced back to a bullish territory. It traded above the 21-day SMA and closed above this support level on Wednesday.
Long-term and short-term bullish trend is largely intact as the index traded well above its crucial short-term as well as long-term support levels of 200-day and 50-day SMAs. Moreover, all the moving averages are indicating a bullish trend. Further, the 14-day RSI is also recovering after two straight days of downward trend and hovering in the neutral zone, with bullish biases at 57.6.
Wall Street Update
US equities broke a two-day losing streak, rebounding on businesses that stand to benefit the most from an economic recovery. As investors looked beyond worries that rising covid-19 infections around the world could delay economic growth, US stocks ended the day higher.
The S&P 500 gained 0.93% to 4,173.42. Nasdaq rose by 1.19% to 13,950.22, while Dow Jones Industrial Average rallied 0.93% to 34,137.31.
Commodity Markets
Gold futures traded on a positive note to US$ 1,792.30 or 0.84%.
Brent Oil was down by 1.88% to US$ 65.32/bbl, and WTI Crude Oil also fell by 1.75% to US$ 61.35/bbl.
Forex Update
On April 21, 2021, the Canadian dollar made a strong comeback against the US Dollar, and at the close, USD/CAD traded 0.88% higher at 1.2496.
The U.S. Dollar Index (DXY), on the other hand, was down by 0.14% at 91.11 on April 21, 2021.
Money Market
The U.S. 10-year bond continues to slide for the second session and closed at 1.5590% on April 21, 2021, down 0.45%.
Canada 10-year bond was up by 1.40% at 1.525% on April 21, 2021.