Canada's TSX Composite Index continued in the green for the fifth straight day Tuesday, October 12, gaining 20.81 points to 20,437.12.
All the major indices were in the red but only slightly so and the 2.7 percent gain posted by the base metals sector contributed significantly toward the 0.10 percent gain the index made, followed by utilities' one per cent growth.
One-year price chart (October 12). Analysis by Kalkine Group
Volume active
Enbridge Inc was the most actively traded stock with about 12.5 million shares exchanging hands. It was followed by Canadian Natural Resources Limited where nearly 10.8 million shares exchanged hands, and the Toronto-Dominion Bank with approximately 10.5 million shares exchanging hands.
Movers and laggards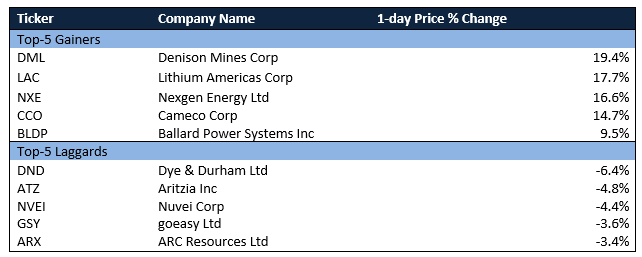 Wall Street update
While analysts are reportedly optimistic about the growth to be seen in the third quarter, the big question of when the Fed will start tapering the bond-buying program still looms. Meanwhile, the big hurdle for the third quarter remains supply chain woes.
The main indices fell at the day's open and regained by the afternoon only to fall again. All in all, it was a downward trend.
The Dow Jones Industrial Average dropped 117.72 points or 0.34 per cent to 34,378.34 points, and the S&P 500 10.54 points or 0.24 per cent down to 4,350.65 points, and the Nasdaq lost 20.27 points or 0.14 per cent to 14,465.93 points.
Commodity update
Gold traded at US$ 1,759.30 up 0.21 per cent. Brent oil was down 0.27 per cent to US$ 83.42/bbl, while crude oil gained 0.15 per cent to US$80.64/bbl.
Currency news
The Canadian dollar stood better against the US dollar on October 12, while USD/CAD ended in the red at 1.2465, down 0.14 per cent.
The U.S. Dollar Index was better off against the basket of major currencies on Tuesday and ended at 94.53, up 0.16 per cent.
Money market
The U.S. 10-year bond yield fell 3.44 per cent on Tuesday's trade and ended at 1.572.
The Canada 10-year bond yield fell just a little by 0.37 per cent on October 12 and ended at 1.622.