Highlights

The main Canadian index closed 0.8% down at 19,078.64 on Wednesday.
Its tech stock plunged by 2.2% during the session.
The energy sector sank 3.7% on Wednesday.
Wednesday, June 29, saw the S&P/TSX composite index slip into the red territory again as the energy and technology sectors noted declines. The fall seems to have been triggered by rising concerns about a possible recession in the wake of tightening policies to rein in inflation.
The Canadian benchmark index dwindled by 144.10 points, or 0.8%, to end the session at 19,078.64 on Wednesday, marking a quarter-to-date (QTD) decline of 12.8%. Some market experts believe that Q2 2022 could see the worst quarterly performance for the TSX since the COVID-led crash in 2020.

One-year price chart of TSX Composite Index (June 29). Analysis by © 2022 Kalkine Media®
The TSX energy sector lost some of its gains from the previous sessions and tumbled by 3.7% on Wednesday as oil prices slid,
Technology stocks, on the other hand, plummeted by 2.2%. Ecommerce giant Shopify Inc (TSX: SHOP) contributed to this decline as it fell by about 5.6% after completing a 10-for-1 stock split.
Active Volume
Whitecap Resources (TSX: WCP), Bank of Nova Scotia (TSX: BNS), Crescent Point Energy (TSX: CPG) and Athabasca Oil (TSX: ATH) were among the most active stocks on June 29 on the TSX.
Movers and Laggards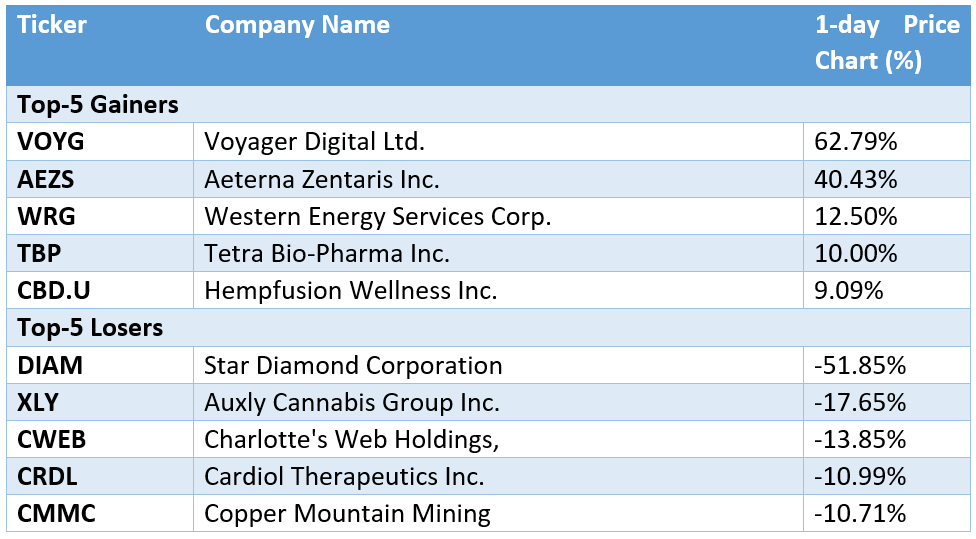 Commodity
Gold futures slipped by 0.2% to US$ 1,817.5 per ounce on June 29.
Oil prices traded lower on June 29 as anticipation about fuel demand grew. Brent oil futures slipped by 4.69% to US$ 112.45 per barrel, while Crude Oil WTI Futures dipped by 1.77% to US$ 109.78 a barrel.
Currency
Amid rising recession-related fears, the Canadian dollar lost some of its strength against the US greenback on Wednesday.
The loonie dipped by 0.2% at 1.2895 to the US dollar, or 77.55 U.S. cents. This loss is said to have come after three days of gains in a row.