For the second day in a row, the TSX Composite Index grew by over one per cent after it gained 1.34 per cent, 279.67 points, to 21,184.95. This puts the benchmark index in the green by over two per cent month-to-date.
Financials spiked 1.03 per cent and energy surged ahead by 2.4 per cent after it was reported that the EU is mulling a Russian oil ban. Base metals and healthcare ended higher by 2.6 per cent and 2.2 per cent, respectively.
One-year price chart (May 4). Analysis by © 2022 Kalkine Media®
Volume actives

Athabasca Oil Corporation saw 19 million shares traded, making it the most active stock. It was followed by Tamarack Valley Energy Ltd that saw over 11.5 million shares switch hands, and Manulife Financial Corporation saw 11.2 million shares traded.
Movers and laggards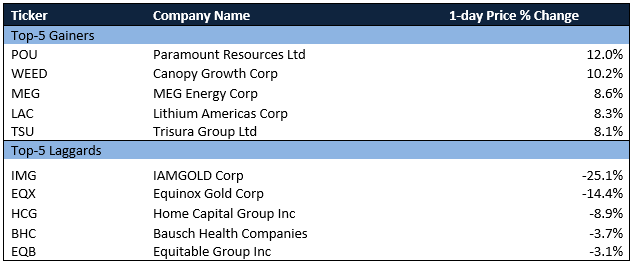 Wall Street updates
As expected, the Fed approved a 0.5 per cent point interest hike. Perhaps less expected was that Wall Street indices surged higher on the news. Perhaps, the market was reacting to the end in uncertainty regarding rate hikes. This was the biggest rate hike in 22 years.
The Dow surged by 932.27 points, 2.81 per cent, to 34,061.06 points, while the S&P 500 ended higher by 124.69 points, nearly three per cent, to 4,300.17 points. Nasdaq's benchmark ended higher by 401.10 points, 3.19 per cent, to 12,964.86.
Commodities update
Gold was down 0.1 per cent to US$ 1,868.80. The price of Brent oil was up 4.93 per cent and was at US$ 110.14/bbl and that of crude oil was up 5.27 per cent to US$ 107.81/bbl.
Currency news
The loonie gained 0.86 per cent compared to the US dollar while USD/CAD ended at 1.2731. The US Dollar Index was at 102.55 against the basket of major currencies, down 0.86 per cent.
Money market
The US 10-year bond yield fell 0.97 per cent to 2.946 and the Canada 10-year bond yield was down 1.04 per cent to 2.944.