Highlights
One crypto asset, Shera or SHR, has risen so sharply that even enthusiasts are stunned

JasmyCoin, linked to the Jasmy IoT project, has also appreciated over the past 24 hours

Jasmy IoT seems to be targeting the data storage space, but the real utility is yet to be shown
Not all crypto assets are the same, which is why the movement in their prices may at times not reflect the broader sentiment prevailing in the crypto investment space. Some experts have warned against risks in trading cryptos, but enthusiasts seem unaffected.
As of writing, the trading volume of one crypto asset, Shera (SHR), was up almost 30,000 per cent over the last 24 hours. The price of SHR tokens also grew exponentially, but tokens with such a low market cap and no clear utility of the project can sharply lose value in a short time.
Another token named JasmyCoin (JASMY), one of the top 500 assets on the CoinMarketCap list, also gained over 10 per cent in the past 24 hours.
Let's know what the Jasmy cryptocurrency project is all about.
What is Jasmy IoT?
On its website, the project has mentioned its intent to further the idea of "data democracy". Jasmy claims that large-cap tech players like Google and Facebook use their centralized systems to collect users' data. The project, however, says that this collected data is often leaked, which calls for a new strategy.
Jasmy IOT, it is claimed, can help store data in a distributed manner. The project claims it will use blockchain tech in its data management focused IoT platform. It talks about IoT communication through devices that use sensors and enable data transfer.
Jasmy appears to target client companies with its core services, including "Secure Knowledge Communicator" and "Smart Guardian".
Also read: LPN token: What is Luxurious Pro's price volatility all about?
What is JasmyCoin crypto?
The Tokyo-based project's native token is known as JasmyCoin or JASMY. According to CoinMarketCap, it can have a maximum supply of 50 billion JASMY tokens, with nearly 10 per cent already in supply.
JasmyCoin is not a large-cap cryptocurrency, but it has a fairly respectable market cap compared to assets like Shera crypto.
Also read: GMT token rises: How does STEPN differ from other metaverses?
What is JASMY crypto's price?
The market cap as of writing was over US$100 million, but JASMY token's trading volume was over US$980 million over the past 24 hours. CoinMarketCap data also suggested a nearly 10 per cent surge in the token's price.
On a year-to-date (YTD) basis, JasmyCoin has lost value, similar to BTC and many other major cryptos. JASMY's price on January 1, 2022, was over US$0.08, but a steady decline brought it to nearly US$0.01 by early March. As of writing, the token traded at over US$0.02, making JASMY price prediction very difficult considering the past volatility.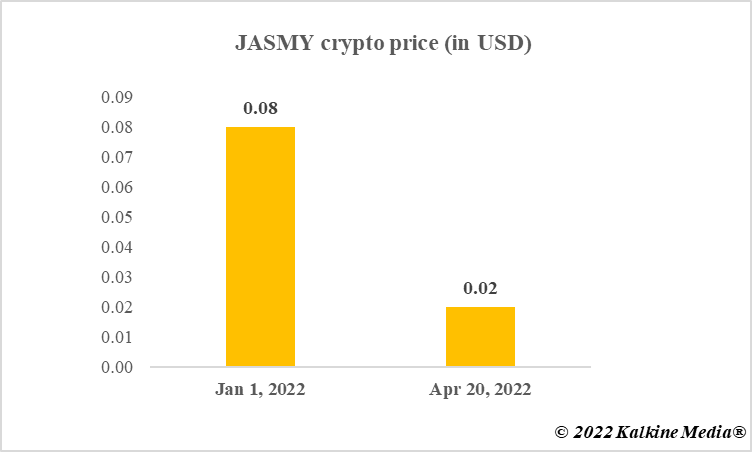 Data provided by CoinMarketCap.com
Bottom line
JasmyCoin recently posted a rise, but it is yet to reclaim its lost ground. The project, which claims to provide IoT services for data, is also yet to demonstrate its utility, which can decide the price of its token in the longer run.
Also read: Deciphering debate around Bitcoin as reserve currency
Risk Disclosure: Trading in cryptocurrencies involves high risks including the risk of losing some, or all, of your investment amount, and may not be suitable for all investors. Prices of cryptocurrencies are extremely volatile and may be affected by external factors such as financial, regulatory, or political events. The laws that apply to crypto products (and how a particular crypto product is regulated) may change. Before deciding to trade in financial instrument or cryptocurrencies you should be fully informed of the risks and costs associated with trading in the financial markets, carefully consider your investment objectives, level of experience, and risk appetite, and seek professional advice where needed. Kalkine Media cannot and does not represent or guarantee that any of the information/data available here is accurate, reliable, current, complete or appropriate for your needs. Kalkine Media will not accept liability for any loss or damage as a result of your trading or your reliance on the information shared on this website.