Summary

Immutep Limited has received encouraging new interim data from Phase II TACTI-002 Study. Also, the Company has secured a patent for LAG3 and its uses from the Australian Patent Office.
Respiri expects a material improvement in gross product margins for wheezo™ almost 30% lower than earlier projected for 2021.
Volpara Health received strong cash receipts from customers of NZ$4.7 million in Q2FY21 despite COVID-19.
Clinical-stage healthcare companies are actively engaged in conducting studies for evaluating potential candidates targeted towards different therapy areas. Amid the unprecedented market turmoil due to COVID-19, market participants have also kept their eyes on small-cap healthcare companies, which continued their focus on bringing promising drugs to the market.
Below discussed are the latest market updates of three ASX-listed small-cap healthcare companies.
Immutep Limited (ASX:IMM)
Globally active biotechnology company Immutep Limited (ASX:IMM) is a leader in the development of LAG-3 related immunotherapies for cancer and autoimmune indication. The Company is committed to leveraging its technology and expertise to bring innovative treatment options for patients and to maximise shareholders' value.
Promising Interim Data from Ongoing Phase 2 TACTI-002 Trial
On 10 November 2020, Immutep revealed promising interim results from its ongoing Phase 2 TACTI-002 clinical trial. The trial is evaluating the combination of eftilagimod alpha with KEYTRUDA® (pembrolizumab) by MSD. Immutep disclosed that encouraging efficacy was observed for low PD-L1 expressing patients, who do not respond to PD-L1 (immune checkpoint) therapy.
Moreover, the Company anticipates reporting more mature information from TACTI-002 clinical trial during the first half of the calendar year 2021
Immutep Secures Patent for IMP701 Antibody
On 9 November 2020, Immutep Limited revealed that it had obtained a patent entitled "Antibody molecules to LAG3 and uses thereof" with patent number no. 2015229103. The patent has been awarded by the Australian Patent Office.
The Australian patent is directed to pharmaceutical compositions including LAG525, the use of LAG525 for cancer or infectious disease treatment. Moreover, the patent also includes nucleic acid molecules coding LAG525 antibody, and to several combination treatments that comprise LAG525 and one other therapeutic agent or method.
LAG525 is a humanised form of IMP701 antibody of Immutep that is outlicenced to Novartis AG.
Collaboration with LabCorp
Recently, Immutep also entered a Licence and Collaboration Agreement with LabCorp (NYSE:LH), Laboratory Corporation of America Holdings. This agreement will aid in developing immuno-oncology products or services.
CEO of Immutep Marc Voigt stated-
The LabCorp collaboration is not linked to any of the in-house pharmaceutical developments of Immutep in cancer or autoimmune disorder. Considerably, the collaboration allows Immutep to enter the field of immuno-oncology diagnostics.
Stock Information- On 11 November 2020 (AEDT 10:57 AM), the share price of IMM traded at A$0.280, up by 1.818% with a market capitalisation of almost A$135.53 million.
e-Health SaaS company Respiri Limited (ASX:RSH) provides support to respiratory health management. The Company's world-first technology detects wheeze, a typical symptom of COPD, asthma and any other respiratory illness, to provide an objective measure of airway limitation.
Respiri Secures Major Reductions in wheezo™ Manufacturing Costs
Last week, Respiri announced that it expects a material improvement in gross product margins for wheezo™ version 3.0, almost 30% lower than earlier projected for 2021. The anticipation is based on substantial gains in accelerated design and manufacturing efficiencies coupled with a reduction in componentry that comprise cost of goods sold.
Respiri notified that as previously indicated, Cipla pharmacy channel-directed gross margins of almost 40% for the wheezo product were anticipated for the calendar year 2021. This indicated an 85% drop in per-unit manufacturing cost from earlier wheezo batches, mainly on the account of improved product costs through design and bill of material optimisation in addition to reductions in labour rates and assembly & test procedures.
CEO and Managing Director of Respiri Marjan Mikel stated-
wheezoTM Launch Strategy Well Received
Late-October 2020, Respiri unveiled that initial interest and feedback towards wheezo™ launch had exceeded expectations.
wheezoTM is a new and innovative eHealth platform of Respiri that is designed to assist asthma patients by extending care beyond the clinic. The Company is partnering with Cipla to make wheezoTM available in selected medical stores.
At present, healthcare experts and asthma patients have access to minimal support once a patient leaves the clinic because of limited interactive tools. The wheezoTM eHealth platform intends to provide an interactive as well as an engaging platform for managing the plans outlined by healthcare professionals for their patients in a better way.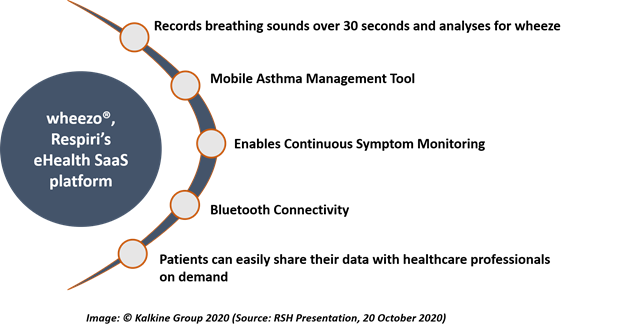 ALSO READ: Respiri (ASX:RSH) to Secure Intellectual Property With Additional Patent Filing
Stock Information - On 11 November 2020 (AEST 10:59 AM), the share price of RSH traded flat at A$0.16, with a market capitalisation of almost A$155.09 million.
Volpara Health Technologies Limited (ASX:VHT)
New Zealand-based MedTech SaaS company Volpara Health Technologies Limited (ASX:VHT) provides digital health solutions. The technology and services of the Company have been used by research projects or by customers across 39 nations. Volpara has many patents, regulatory approvals, and trademarks, including CE marking and FDA approvals.
Quarterly Cash Receipts Remain Strong Despite COVID-19
On 28 October 2020, Volpara Health updated the market with its three-month cash flow report for the second quarter of the financial year 2021.
The highlights from the quarter ended 30 September 2020 included-
Cash receipts from customers remained robust despite the ongoing COVID-19 pandemic. The cash receipts were reported at NZ$4.7 million with subscription receipts up by 16%.
Cash on hand at the end of the second quarter of FY21 stood at ~NZ$64.3 million.
Unaudited revenue for the first half of FY21 was recorded at NZ$9.5 million, representing an increase of 38% on pcp. Meanwhile, subscription revenue rose by 71%.
Group CEO of Volpara Health Technologies Dr Ralph Highnam commented-

Volpara Health Introduces Image-enhanced Reporting Directly to Women
On 26 October 2020, Volpara Health announced a partnership with the Sheila R. Veloz Breast Center in California to bring image-enhanced reporting directly to women.
The Company highlighted the move as another first for the industry as it continues to innovate towards the prevention of advanced stage breast cancer.
Stock Information- On 11 November 2020 (AEDT 11:05 AM), the share price of VHT traded at A$1.320, down by 1.124%. The market capitalisation of Volpara stood at A$334.84 million.