Summary

QX Resources is gearing up to advance the Anthony molybdenum (Mo) deposit, which has the potential to become another major Queensland mining project.
The Anthony deposit has a very large molybdenum resource with excellent grades.
The project advancement bodes well for the strong molybdenum market, with molybdenum prices registering a massive growth of more than 100% to ~US$40 per kg based on daily metal price during the past year.
QX Resources Limited (ASX:QXR) is set to crank up development activities at its advanced-stage pure Anthony molybdenum (Mo) deposit in the Tier 1 jurisdiction of Queensland.
Anthony is one of Australia's largest undeveloped pure Mo deposits, yet to be fully exploited. Developing the deposit offers a unique and substantial opportunity for the Company's investors and shareholders, on the back of extensive exploration progress achieved at the minerals project.
The Company sees the deposit as a major opportunity, owing to the asset quality and substantial investment made to define what is a very large resource with excellent grades.
The deposit is situated within the Company's Central Queensland permits, which extend over an area of 115 square kilometres and are a part of the earn-in agreement with Zamia Metals Limited. The Company owns a 70% stake in the deposit and seeks to raise its ownership to 90% in accordance with the terms of the earn-in agreement.
Zamia has made millions of dollars investment in comprehensively drilling this resource to define a large mineral resource estimate, which is the foundation to take the project into the development phase, according to QXR Non-Executive Director Roger Jackson.

Read Here: QX Resources (ASX:QXR) on track to unlock value with drill program in Central Queensland
Anthony molybdenum deposit – An Ace in the Making
2008 – When the Anthony molybdenum deposit was discovered, it demonstrated potential for the entire region to host significant porphyry-style systems.
In 2012, Hellman & Schofield Pty Ltd estimated the maiden Mineral Resource Estimate for the Anthony Mo deposit, in accordance with the JORC 2004 standards.

JORC 2004 code Inferred Resource estimate for Anthony Molybdenum Project
(Source: QXR update, 6 July 2021)
The inferred mineral resource for the primary sulphide zone is estimated to be around 112 million lb of contained molybdenum at a 400 ppm Mo cut-off grade while the inferred resource volume for the oxide and partial oxide zones are 20 and 6 million lb, respectively, at a cut-off grade of 400 ppm Mo.
Further, the inferred resource for the primary sulphide zones stands at 20mt with 800 ppm Mo at a cut-off grade of 600 ppm molybdenum.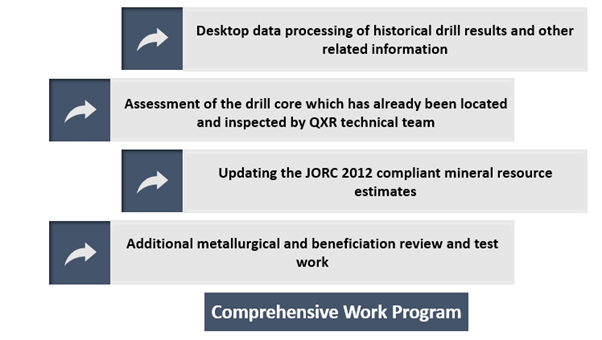 Also Read: QX Resources (ASX: QXR) to Get Drill Rods Spinning at Lucky Break
Why Molybdenum?
The advancement at the project bodes well for the strong molybdenum market. Molybdenum prices observed growth of more than 100% during the past year to ~US$40 per kg based on daily metal price.
Molybdenum is widely used as a precursor to produce ultra-high strength steel. These alloys can withstand pressure up to 300,000 pounds per square inch. The metal has a high melting point and helps in making steel stronger.
Must Read: QX Resources' (ASX:QXR) First Half High on Action at Queensland Gold Projects
Extremely high tensile strength: Owing to its attribute of withstanding extreme conditions without any significant softening, molybdenum plays a vital role in military armour, aircraft parts, electrical contacts, industrial motors, and supports for filaments in light bulbs. Furthermore, the metal is also used in the nuclear power sector and the manufacturing of aircraft and missile parts.
The high-strength steel alloys contain about 0.25% to 8% molybdenum. In fact, over 43,000+ tonnes of molybdenum are being used annually for the manufacturing of stainless steel, tool steels, cast irons, and high temperature superalloys.
Versatile Metal: Molybdenum, when alloyed with nickel, demonstrates high resistance to both heat and corrosion, making it ideal for use in the chemical industry.
The metal, when combined with disulphide, in a compounded form is used as a lubricant at high temperatures.
Upon exposure to trioxide (O3), it forms a chemical compound to attach enamels to metals.
Molybdenum is also used for catalysis application in oil refineries and petrochemicals industries such as in the hydrodesulfurisation (HDS) of petroleum, petrochemicals, and coal-derived liquids.
All in all, QXR's Anthony molybdenum project seems to have a promising future, on the back of the asset quality coupled with the growing demand for molybdenum from multiple industries.
QXR traded at AU$0.016 a share on 8 July 2021 with a market capitalisation of AU$11.99 million.