Summary

Backed by an experience of over 69 years, Saunders delivers high quality engineered solutions across the complete asset life cycle.
In 1H FY20, SND reported revenue of $ 29.6 Mn, up by 5.5 per cent while order book was up by a whopping 60.5 per cent at $ 97.1 Mn (compared to 30 June 2019).
In 2H FY20, Saunders has continued its contract winning momentum despite the uncertainty surrounding COVID-19.
Performance and actions of business entities amid the COVID-19-infused uncertainty have been closely watched by markets and investors. Companies that continued their business momentum streak, with capital raisings, new contracts, restructuring of balance sheet, among other measures, deserve close attention, as they could possibly be the hot stocks of current times.
In this backdrop, we present to you Saunders International Limited (ASX:SND), a provider of construction, maintenance and engineering services to the energy, resources, and infrastructure sectors. The Company has continued to win contracts despite the uncertainty surrounding the pandemic, further strengthening its increased workflow and enriched order book.
Saunders' Contract Wins Amid COVID-19
Continuing to actively contribute to the development of Australian industries, Saunders did not let the pandemic and associated volatility affect its core business focus of providing clients with innovative and cost-effective solutions for their individual project specifications. This is evident from the contract wins that were bagged by the Company amid the crisis situation.
April- Major Construction Contract for a Terminal Expansion
In April 2020, while COVID-19 continued to adversely impact businesses across the world, Saunders won a design and construction contract for three tanks as part of the Sydney B4A Terminal Expansion project at Port Botany, valued at ~$ 20 million.
CEO Mark Benson deemed this to be a "timely award" in the current COVID-19 climate, adding to Saunders' project wins and further reinforcing its order book to $ 108 million.
For more details on the contract, PLEASE READ- Saunders International Strengthens Order Book With Major Construction Contract Amid COVID 19
June- Tank Overhaul Works for BP Bulwer Island
In June 2020, Saunders continued its contract winning trajectory and secured works for mechanical refurbishment and upgrade of two further tanks for BP at its Bulwer Island site, worth close to $ 12 million, further strengthening and extending the Company's long-standing valued relationship with BP.
Subsequently, Mr Benson highlighted Saunders' position as a leading maintenance service provider to the oil & gas industry in Australia.
For more details on the contract, PLEASE READ- Follow On Contract with BP Underpins Saunders' Position in Australian Oil & Gas Industry
Note: Both contracts are likely to contribute to revenues in FY21.
Impressive Contract Win Timeline
Saunders had been bagging new contracts since 2020 commenced and has impressively continued to do so, to date. The below image highlights the timeline of these wins-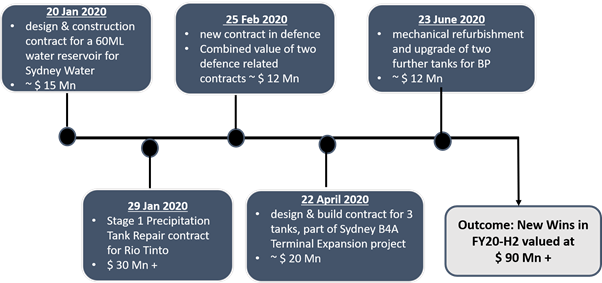 Enriched Order Book & Revised Guidance
As highlighted in its last COVID-19 business update, Saunders has reported $ 90 million in project wins in FY20-H2. The combination of the Company's record order book, which is in excess of $ 107 million, with re-phasing of revenue of existing projects has led to a target budget for FY21 of $ 100 million.
Talking about re-phasing of revenue, let us cast an eye on Saunders' revised guidance-
The revised revenue guidance for FY20 is anticipated to be circa $66 million - $70 million. EBIT margin forecast is likely to be between 1.8 per cent and 2.3 per cent. The EBIT margin in FY21 is forecast to be circa 3.75 per cent - 4.75 per cent.
On ASX, SND last traded at $ 0.5 on 1 July 2020, and its YTD returns have been 53.85 per cent.
Saunders continues to remain focused on the preservation of cash via decreased discretionary operating and capex in these evolving times. The Company displays resilience and deems itself to be well positioned for growth, owing to its record order book and strengthening pipeline of new opportunities.
GOOD READ- Objectives & Outlook of Industrial Solutions Expert, Saunders International
(Note: All currency in AUD unless specified otherwise)