Summary

Cobalt Blue is building a pilot plant at the Broken Hill Cobalt Project site to produce final and intermediate cobalt hydroxide and sulphate products, with test samples to be sent to commercial partners.
2nd tranche of critical pilot plant equipment has been received, and COB remains on track to build/commission the pilot plant and then commence its global sample partner program from 1Q21.
The pilot plant is planned to be designed into a larger demonstration plant (1:1000 scale), with operations expected in 2H21.
Cobalt Blue Holdings Limited (ASX: COB), an exploration and project development company, has announced receiving deliveries of the second tranche of equipment for a proposed pilot plant at the Broken Hill Cobalt Project (BHCP) in New South Wales. Equipment from the shipment continues to arrive at the Broken Hill plant site, and so far, reactors, tanks, filters, spirals and pumps have been received. During early March 2020, the Company announced to have received the first batch of equipment.
Pilot Plant: 3 Key Questions - Why, When & How?
Cobalt Blue is building the pilot plant at the Broken Hill project site to test the leaching of calcined material, which have been produced from the pyrolysis of approximately 100 tonnes of samples collected during the previous drilling program at BHCP.
The calcined samples would be tested in two 5-tonne campaigns. The pilot plant will be used to produce cobalt products of varying specifications including mixed cobalt hydroxide and sulphate products to ensure that commercial products upon development meet the standards of not only the present industry but also, of the future battery industry, which is under fast-paced transformation to produce longer range, safer and durable battery packs.
Good Read: Cobalt Blue Foresees Strong Cobalt Market with Government EV Incentive Push
Commercial Sampling Partners to Assess Market Potential of the Product
Cobalt Blue has collaborated with various sampling partners to test the samples from its Broken Hill Cobalt Project along with ore samples from the sampling partners, using proprietary processing technology to produce battery ready cobalt products.
The Company plans to produce battery ready cobalt sulphate product from the pilot plant to share test samples (~10 kilograms) with its global commercial partners.
COB on Track to Build/Commission Pilot Plant
Cobalt Blue remains on track to build/commission its pilot plant and then commence sample partner program in Q1 2021. The outcomes of the samples produced at the pilot plant will be utilised for designing a larger demonstration plant and will be critical for the achievement of industry wide approval, even prior to the feasibility study in H1 2022.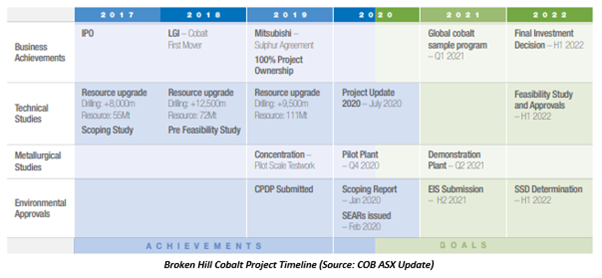 The Company plans to operate the 1:1000 scale demonstrable plant in H2 2021, which would focus on the calcining of cobalt-pyrite concentrate for sulphur production and an integrated hydrometallurgical circuit for leaching to recover high-quality cobalt and elemental sulphur products.
Data from the steady state operations at the demonstration plant will contribute towards the BHCP feasibility study confirming the recoveries of cobalt and sulphur. Even larger volumes of cobalt and sulphur products have been planned for assessment by potential commercial partners.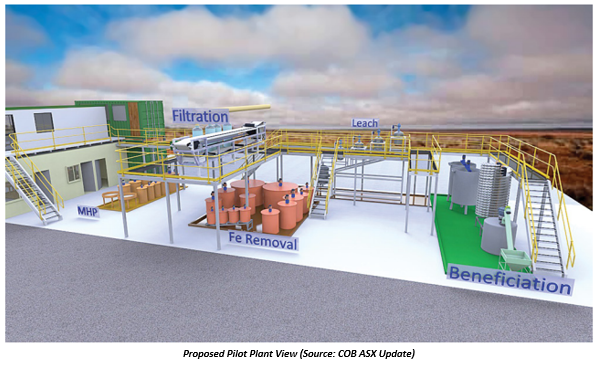 Equipment Acquired So Far
The second tranche of delivery included the following critical equipment, which are planned to be installed during Q3 or Q4 of 2020-
Reactors and storage tanks – Varying size vessels procured
Spirals – To be used for concentrate production from the pyrite ore
Plate and frame pressure filters – To be used to filter secondary products and waste streams of the plant
Process pumps – Various liquor and slurry pumps for transporting liquid and semi-liquid streams across the processing equipment
Spares - A belt filter, a replacement motor for the vacuum pump, and drive units for the pressure oxidation vessels
The previously procured equipment under the first shipment in March 2020 included-
Pressure oxidation reactors and flash vessel: Titanium vessels suitable for the process chemistry and operating conditions unique to the COB technology
Horizontal vacuum belt filter – A primary filtration equipment for use during multiple phases of operation
COB traded at AU$0.105 on 24 August 2020 with a market capitalisation of AU$20.38 million.
Good Read: Scan Through Cobalt Blue's June 2020 Quarterly Report With Noteworthy Accomplishments