Summary

Great Southern Mining has identified the occurrence of visible gold-bearing mineralisation through diamond drilling at its Cox's Find gold project.
The visible gold at the project adds to the potential high-grade nature of the Cox's Find deposit.
GSN plans to drill three remaining diamond holes from the current phase of diamond drilling.
GSN stock was up by 20% intraday after the announcement was released on ASX.
Australia based mineral exploration company with prospective land holdings in Central East Western Australia as well as Northern Queensland, Great Southern Mining Limited (ASX:GSN) has announced the occurrence of visible gold-bearing mineralisation at one of its highly lucrative, Cox's Find gold project.
Following the announcement on 01 July 2020, GSN stock surged significantly recording a fresh 52-weeks high price of $ 0.195.
Previous Update on Cox's Find: Great Southern Mining Surges 23% on the Back of Commencement of Drilling at Cox's Find Project
Multiple occurrences of visible gold were identified within quartz veining through diamond drill core from the project where hole 20CFRCD0004 was drilled immediately down plunge from the known historic Cox's Find workings.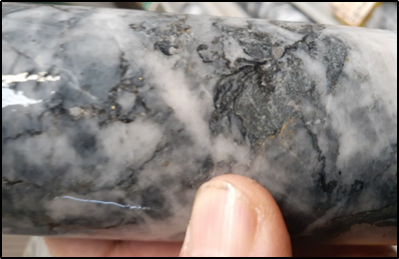 Visible gold observed in hole 20CFRCD0004 (Source: Company's Report)
GSN believes that multiple occurrences of visible gold in drill core is always a "good sign" and is a "very exciting time" for the company.
The 20CFRCD0004 hole was designed to target the recently unearthed unmined high-grade panel of mineralisation intersected between level five and level six of the underground development to gain an interpretation of the structural controls of the high-grade mineralisation.
GSN's 2019 drilling highlighted the following standout intersections in this panel:
19CFRC009 - 5m at 14.54 g/t gold from 140m, including 2m at 28.85 g/t.
19CFRC013 - 5m at 31.23 g/t gold from 134m, including 1m at 143.0 g/t.
19CFRC004 - 2m at 36 g/t gold from 146m, including 1m at 68 g/t.
Since the commencement of diamond drilling on 17 June 2020, two diamond drill holes have been drilled and processing of the diamond core is underway, where the first core is expected to be cut and sent for assay within the week.
Moreover, an unmapped historical stope at 159.3 metres was intersected by the initial diamond drill hole, 20CFRCD0002. This hole shall be processed and assayed after the hole 20CFRCD0004. Further, GSN has planned to drill the remaining three diamond holes from the current phase of diamond drilling. Out of these three, two holes are planned down plunge from 20CFRCD0004.
Visible gold observed (Source: Company's Report)
The diamond core drilling that has been undertaken is the first ever diamond core drilling undertaken into the main lode of Cox's Find. Subsequently, GSN is optimistic that the existing program shall:
Offer very useful insights into the structural setting of the high-grade mineralisation
Assist in the refinement of the geological model
Facilitate in upcoming drill programs at Cox's Find as well as for future untested targets
Related: Shot in the Arm for Great Southern Mining, Receives $3.15 Million Funding Commitments
Update On Reverse Circulation Program
The first stage of RC drilling was focused on delineating the extent of the high-grade mineralisation around 20CFRCD0004, and the potential down-plunge extents of the Cox's Find deposit. To date, the drilling has completed approximately 4600 metres of RC drilling, of which 504 metres accounted for the pre-collar component for the diamond drill program.
Moreover, GSN has also concluded a scout (414 metres) RC program at one of the near-mine untested geological 'look-alike' targets.
Related: Deferral of Payment for Acquisition of the Cox's Find Gold Project of Great Southern Mining
Moving further, phase two of the RC drilling shall comprise of around 4000 metres of RC drilling and shall focus on several other near-mine targets while following up on results from the initial phase.
A 2000-3000 metres drill program shall be undertaken at GSN's Mon Ami Gold Project between these phases and is anticipated to commence later this week. GSN looks forward to announcing assay results for all RC drilling as well as the diamond drilling once they are received and interpreted by GSN.
Given this backdrop, GSN stock settled at $0.145, up 16%, on 1July2020. GSN has a market capitalisation of $ 51.01 million and has returned 247.22% returns to its shareholders in the past three months till 29 June 2020.