About Artificial Intelligence
Artificial Intelligence (AI) refers to the simulation of human intelligence, in which the machines are being programmed in such a manner that they copy the action and mimic human beings. Initially, these machines are fed with huge data, enabling them to learn to perform the task at hand without major human intervention.
AI is a buzzword and finding application in various industries, from medicine to space. AI technology is a major leap in today's world of digital transformation as the companies are benefitted from the increasing data that is being generated and gathered. This was made possible through the Big Data.
Types of Artificial Intelligence:
The research & development under AI is divided into two categories. These are "applied Artificial Intelligence" and "generalised Artificial Intelligence".
Applied AI uses principles of replicating human thoughts to carry out a particular set of tasks.
In Generalised AI, machines are capable of doing anything what a human brain can do.
Influence of AI on Businesses:
With the implementation of appropriate AI technology into a business, businesses can save time and money. Machines are programmed in such a manner that they can automate the routine work.
Helps in boosting efficiency as well as productivity.
By automating the work, a faster and better decision can be made.
If used properly, the chances of making mistakes and human errors can be avoided.
Can mine huge data, enabling businesses to boost their customer base.
Helps businesses to derive insights, enabling them to better serve their customers.
Few of Real-World AI Applications:
Marketing
Banking & Finance
Agriculture
Health Care
LiveTiles Limited
Company Snapshot:
LiveTiles Limited (ASX: LVT) is a rapidly growing enterprise SaaS company, which provides cloud-based intelligent workplace software for organisations. The company's Annual Recurring Revenue (ARR) as on 30 June 2019 stands at $40.1 million and it is targeting to achieve an ARR of $100 million by June 2021. LVT has approximately 919 paying customers across each major industry vertical and around 180 staff in the US, UK/Europe as well as Australia. The company lays strong emphasis on product innovation, which includes AI. It also has close arrangement and unique global relationship with Microsoft.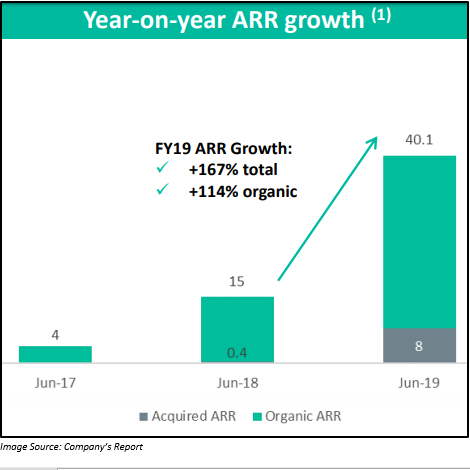 Business Overview:
LVT's Intelligent Intranet Platform helps in solving a range of critical problems and opportunities experienced by companies around the world. This platform links various disparate applications through a single user experience.
LVT's product portfolio includes employee profiles, bots, intelligence.
Employee Profiles: It contains details of the staff, their area of expertise, their working style, their skills and the value they can add.
BOTS: It is a conversation interface between humans and technology.
Intelligence: It provides instant insights with respect to how the solution is being used.
Business Model:
LVT uses its growing network of partners to reach the end user.usiness Update:
The company recently released its FY2019 results for the year ended 30 June 2019. The period saw strong growth in ARR and substantial improvement in cash flow. LVT in FY2020 is expecting to register strong growth in customer base and revenue.
On 6 September 2019 (AEST 01:14 PM), the LVT stock was trading at $0.400, down 2.439% from its previous close, with a market cap of $270.87 million.
Bigtincan Holdings Limited
Company Snapshot:
Bigtincan Holdings Limited (ASX: BTH) is a provider of Sales Enablement Automation software (powered by Artificial Intelligence), used by various companies across the world. The company provides complete content security. Its flagship platform, Bigtincan Hub helps sales, marketing as well as service team members to drive the sales process by enhancing the customer experience, thereby enabling them deliver better business results.
Platforms:
Bigtincan Hub: It is a leading AI-powered Sales Enablement platform that allows to work in collaboration in a better, smarter and faster way.
Bigtincan Zunos: It is BTH's training and enablement platform.
Bigtincan Life Sciences: This platform offers client-facing life sciences professionals a method that is easy and saves time, so that they can optimise the time spent with clients as well as prospects.
Intelligent Automation: It combines as well as automates a wide range of tasks related to sales, marketing and service.
Integrations: It helps in aggregating, organising as well as delivering content to any mobile workforce's devices from a range of content sources.
Recent Update/s:
Asdeq Labs Acquisition:
On 5 September 2019, BTH announced the acquisition of Australian software company, Asdeq Labs Pty Ltd, which provides mobile service enablement out-of-the-box via its products AsdeqForms and AsdeqDocs. With the acquisition, the highly experienced team of Asdeq would be added in the BTH workforce. Moreover, the acquisition would result in expanded existence of the company in Australia. Apart from this, Asdeq would add ~$400,000 in sustainable annualised recurring revenue. The initial acquisition amount is ~ $490,000.
BTH would fund the acquisition through the capital raised in April 2019.
FY2019 Results:
ARR in FY2019 increased by 52% to $23.4 million.
Revenue went up by 51% to $19.9 million.
Gross Profit grew by 60% to $17.5 million.
Net loss declined from $6.6 million in FY2018 to $4.1 million in FY2019.
Net cash and cash equivalents improved by 6% to $25.1 million in FY2019.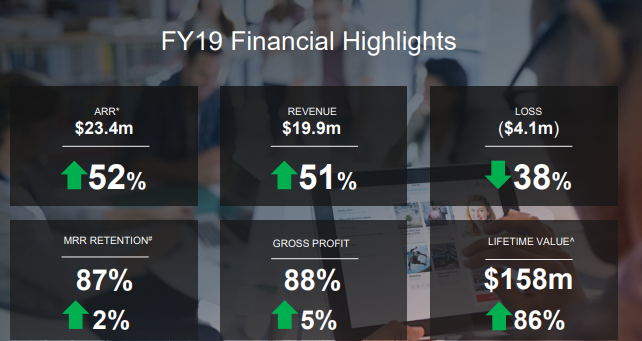 Source: Company's Report
On 6 September 2019 (AEST 01:59 PM), the BTH stock was trading at $0.505, up 1% from its previous close, with a market cap of $130.97 million.
Gooroo Ventures Limited
Company Snapshot:
Gooroo Ventures Limited (ASX: GOO) is a technology sector player that measures how people think. Its patent-pending technology depends on neuroscience and artificial intelligence, mapping the thinking ability of different people and their decision-making ability in their life and at work. The company uses its technology in the fields of human capital, marketing and careers.
Core Products and Service Areas:
Human Capital: The company provides an enterprise Software as a Service platform as well as Human Capital ecosystem, offering the leaders, teams, recruiters, staff and job seekers an integrated and seamless experience.
Marketing: Gooroo Marketing gives 'meaning' to any dataset associated with people and helps by providing guidance in applying that. It helps to understand how the target audience would make their choices and decisions, as a result, helping in deriving the more accurate and actionable insights for quicker and assured decision-making.
Careers: As a Software as a Service-based platform, Gooroo Careers helps in establishing development paths to reskill and upskill an individual for the future.
Recent Update/s:
Capital Raising:
Gooroo Ventures Limited, on 3 September 2019, unveiled the completion of a $1.5 million capital raising via investors (sophisticated as well as professional). Convertible Notes were issued at a price of $0.05 per note. The purpose of raising the capital was to aid GOO in funding working capital requirements as well as the transaction/re-compliance costs for acquiring AIS Anywhere Inc (AIS).
In the capital raising process, the key shareholder of AIS subscribed for one million dollar of the Note issue.
Proposed Merger with AIS:
GOO has also unveiled the details of a proposed merger with privately owned company, AIS Anywhere Inc. The rationale for the proposed merger is transforming existing business models, with Gooroo targeting to position itself as a leading player offering people transformation capabilities.
With the merger, GOO would be able to provide broader product and service offerings, set its enterprise salesforce in North America, and support large-scale transformation via custom data and technology solutions. On the other hand, the proposed merger with GOO would benefit AIS with a broader product and service offering, access to relationships with companies like Microsoft and ManpowerGroup, and access to new markets and capital markets.
The stock of GOO last traded on 31 July 2019, closing the day at a price of $0.057. The securities of Gooroo Ventures were suspended from the ASX official quotation, after the company failed to make payment towards the annual listing fee by the close of 21 August 2019.
ETFS ROBO Global Robotics and Automation ETF
ETFS ROBO Global Robotics and Automation ETF (ASX: ROBO) is an exchange traded fund of ETFS Management (AUS) Limited. The fund provides its investors with a return that keeps a track on the performance of the ROBO Global Robotics and Automation Index. It holds all of the shares that belong to that index closely in proportion to their index weights.
ROBO has given a YTD return of 17.23%. ETFS ROBO Global Robotics and Automation ETF was trading at $56.950 on 6 September 2019 (AEST 02:43 PM), up 1.208% from the previous close.

Source: Company's Website
---
Disclaimer
This website is a service of Kalkine Media Pty. Ltd. A.C.N. 629 651 672. The website has been prepared for informational purposes only and is not intended to be used as a complete source of information on any particular company. Kalkine Media does not in any way endorse or recommend individuals, products or services that may be discussed on this site. Our publications are NOT a solicitation or recommendation to buy, sell or hold. We are neither licensed nor qualified to provide investment advice.