Highlights

New York-based Mobiquity Technologies Inc is a Platform-as-a-Service (PaaS) company for data and advertising.
A-Nation has selected Mobiquity to promote its cryptocurrency, NFTs, and upcoming motion pictures.
The advertising company has a market capitalization of US$10 million.
Mobiquity Technologies, Inc. (NASDAQ: MOBQ) stock shot up nearly 50% to about US$2.42 on Wednesday morning after announcing that the next-gen film production company A-Nation has picked Mobiquity to provide data and advertising services.
Mobiquity has been chosen to promote brand awareness for A-Nation's cryptocurrency, NFTs and upcoming motion pictures. The stock grabbed investors' attention after the announcement.
Mobiquity Networks President Sean Trepeta said: "We are thrilled to have been selected by A-Nation to promote their brand. We are excited to be a part of this groundbreaking model that can transform the film industry."
A-Nation, a tokenized film production company, aims to build an ecosystem bridging the gap between the traditional film industry and blockchain technology.
It plans to monetize film production through NFTs besides creating a new blockchain for governance, transparency, and piracy protection.
Also Read: From UPS to HON: Top S&P 500 industrial stocks to explore in Q2
Producer, director, and screenwriter Chuck Russell has recently joined hands with A-Nation's crypto entrepreneur Kade Vu to introduce blockchain technology in filmmaking.
Russell, the chairman of A-Nation, plans to use his filmmaking knowledge to generate equity and transparency in the film industry.
Chuck Russell, known for films like "A Nightmare on Elm Street 3: Dream Warriors", "The Blob", "The Mask", "Eraser", and action-adventure "The Scorpion King", said Mobiquity's proprietary Crypto-Core and Crypto-Curious segments will help reach its target audience more effectively.
Also Read: Semiconductor stocks to watch in April: NVDA, AMD, AVGO among top five
A-Nation will offer NFTs linked to the characters, cast, etc., as well as glimpse behind-the-scenes, the red carpet events, etc., on its marketplace.
The New York-based Mobiquity Technologies Inc is a Platform-as-a-Service (PaaS) company for data and advertising. It earns revenue by selling these services through its subsidiaries.
Also Read: From PSA to BXP: Top real estate stocks to explore in April
Its services include advertising, data licensing, financial forecasting, attribution reporting, real estate planning, footfall reporting, custom research services, and ingestion and normalization of data sources, such as location, transactional, and search data to reach the target audience. It maintains an extensive database for advertisers and marketers.
Also Read: Musk to join Twitter (TWTR) board after becoming its biggest shareholder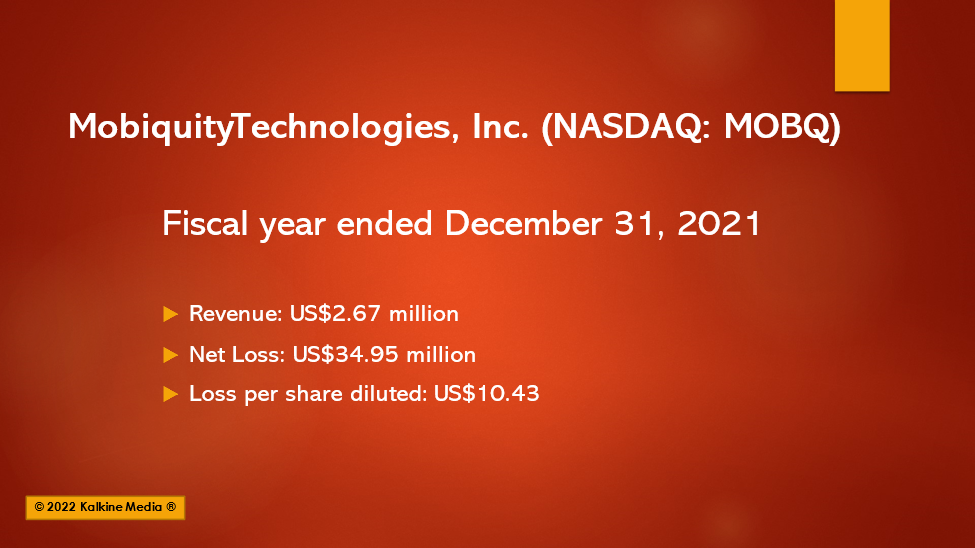 Also Read: Westrock Coffee SPAC: When is the coffee company going public in US?
Financials:
For the fiscal year ended December 31, 2021, Mobiquity generated revenue of US$2.67 million compared to US$6.18 in fiscal 2020. It incurred a net loss of US$34.95 million or US$10.43 per diluted share compared to the net loss of US$15.03 million or US$5.92 per diluted share in the previous fiscal year. The advertising company has a market capitalization of US$10 million.
MOBQ stock traded in the range of US$3.42 to US$1.20 in the last 52 weeks. The stock fell 33.2% YTD.
Also Read: Is Pensando a public company? Know details ahead of AMD acquisition
Bottom line:
The crypto market is attracting more customers to its fold with an exciting and ever-expanding product range. However, the market is volatile and prone to scams and hacking attacks. Hence, investors should exercise due diligence before investing in the market.