Highlights

Lyft's Brian Roberts will join as CFO of OpenSea.


Roberts served as Lyft CFO since 2014.


Lyft's revenue jumped 73% YoY in Q3, FY21.
Shares of ride-sharing company Lyft, Inc. (NASDAQ: LYFT) were gaining traction in the premarket on Tuesday after its long-time CFO Brian Roberts said he quit the firm.
Roberts will join the NFT marketplace OpenSea as CFO.
On Dec 2, Lyft said Elaine Paul would succeed Roberts in the CFO role. However, Roberts will continue to be Lyft's advisor until June 2022, the company said in a release.
The San Francisco, California-based Lyft provides vehicle rental services through its mobile app.
Also Read: 10 US-listed Chinese stocks to explore in 2022
OpenSea is a peer-to-peer marketplace for non-fungible tokens (NFTs), rare digital assets, and crypto collectables. It was founded by Devin Finzer and Alex Atallah in New York in 2017. Roberts joined as Lyft CFO in 2014, and he was one of the key figures in making the firm public.
Roberts, who previously worked at Microsoft and Walmart, became the latest senior corporate executive to join the crypto industry after quitting a longtime position in the tech sector.
Also Read: Insignia (ISIG) stock jumped 204% today – know why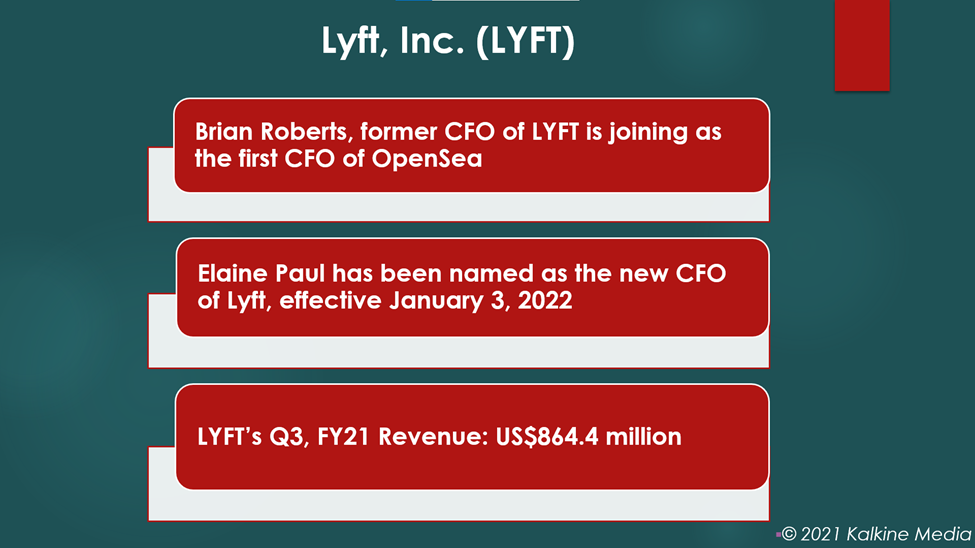 Also Read: Why are these EV stocks worth watching in 2022?
Stock performance and financial highlights of Lyft, Inc. (LYFT):
Shares of LYFT traded at US$43.00 at 7:36 am ET on December 7, up 2.50% from their closing price of December 6. It has a market cap of US$14.29 billion, with a forward P/E one year of -16.92. Its EPS is US$-3.71. The stock saw the highest price of US$68.28 and the lowest price of US$37.97 in the last 52-week. Its stock value tumbled 11.27% YTD.
The trading volume of LYFT on December 6 was 7,735,011. The company's revenue surged 73% YoY to US$864.4 million in Q3, FY21. For the period, it reported a net loss of US$71.5 million, against a loss of US$459.5 million in the same quarter of the previous year.
Also Read: Why did Del Taco (TACO) stock skyrocket 65% today?
Bottomline
Brian Roberts said the growth opportunities in OpenSea and the NFT market, in general, have made it an easy choice for him. Lyft Co-founder and CEO Logan Green said with Roberts' leadership, Lyft reached two critical milestones – going public and reaching profitability.