Highlights

In a report, Hindenburg Research LLC has raised "serious red flags" at Tecnoglass.


Law firm Johnson Fistel is probing Tecnoglass' potential violation of federal laws.


The TGLS stock grew more than 411% YTD
Shares of Tecnoglass Inc. (TGLS) plunged more than 44% in intraday trading on Thursday after an investment research firm raised several red flags at the company's financial reporting.
The New York-based Hindenburg Research raised "serious red flags" at Tecnoglass in a report.
The organization suspects the glassmaker faked a significant portion of its revenue.
After the report, Hindenburg declared a short position for the stock. It said that it found evidence of "undisclosed party deals," although it claimed to have resolved the issue.
Also Read: Nubank IPO: Nu Holdings stock debuts Thursday after raising US$2.6 bn
The report titled "Tecnoglass: Cocaine Cartel Connection, Undisclosed Family Deals, and Accounting Irregularities All In One Nasdaq SPAC" was released on Thursday, Dec 9.
It classified the report into three parts: The first part includes criminal charges against CEO Joes Daes and COO Christian Daes. The second part relates to undisclosed party transactions and accounting irregularities. The third includes partially disclosed party transactions.
Hindenburg has published the full report on its website.
Also Read: HashiCorp IPO: HCP debuts today, how to buy this software stock?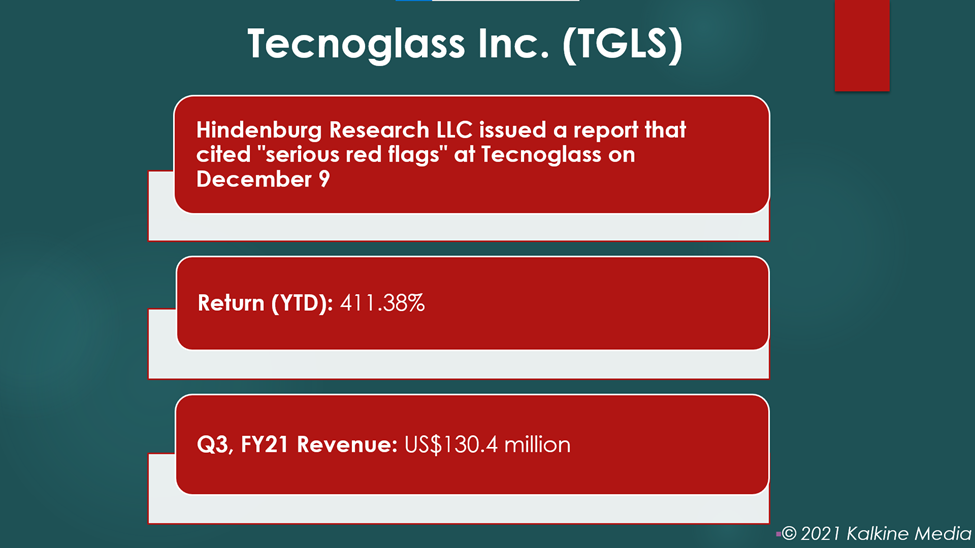 Also Read: Will these five travel stocks weather the Covid-19 threat in 2022?
Probe against Tecnoglass
Meanwhile, New York-based law firm Johnson Fistel, LLP is probing the company's potential violations of the federal securities laws. Tecnoglass is a holding company based in Florida and manufacturing glass products and windows for residential and commercial clients. Its products include tampered safety, thermo-acoustic, and laminated glasses.
Also Read: Grove Collaborative to go public in merger with Branson-backed SPAC
Stock performance and financial highlights of Tecnoglass Inc. (NASDAQ: TGLS)
The shares of TGLS traded at US$18.6601 at 11:21 am ET on Dec 9, down 44.63% from its previous close. It has a market cap of US$929.65 million, with a P/E ratio and a forward P/E one year of 13.83 and 23.08, respectively. The firm has an EPS of US$1.41.
The stock saw the highest price of US$34.90 and the lowest price of US$5.48 in the last 52 weeks. Its trading volume on Dec 8 was 542,082.
The company's total revenue rose by 26% YoY to US$130.4 million in Q3, FY21. Its net income was US$20.94 million, or US$0.44 per diluted share, compared to US$8.27 million, or US$0.18 per diluted share in Q3, FY20.
Also Read: Will Ethereum (ETH) price hit US$5,000 before Christmas?
Bottomline
The TGLS stock saw remarkable growth in the recent quarters. Its price jumped 411.38% YTD, driven by a pandemic-fuelled real estate boom in Florida. Meanwhile, the company's Board of Directors has announced a 136% rise in the quarterly cash dividend on its common stock to US$0.065 per share, from US$0.0275 per share, on Dec 8.