US stocks extended their rally on Thursday, July 21, as investors turned their focus on the growth stocks after another set of earnings from big companies like Tesla, Inc. (TSLA).
The S&P 500 rose 0.99% to 3,998.95. The Dow Jones was up 0.51% to 32,036.90. The NASDAQ Composite added 1.36% to 12,059.61, and the small-cap Russell 2000 ticked up 0.48% to 1,836.69.
The beaten-down sectors like consumer discretionary and technology sectors were among the top performing segments in the market in recent days. The sectors have struggled the most this year so far due to the red-hot inflation and Fed's aggressive stance to tame it.
In addition, economists also anticipate that a more hawkish stance by the Federal Reserve could tip the economy, which is already cooling into a recession.
All eyes will be on the Fed's meeting next week, for cues on how aggressive Fed would react to bring down inflation. The data will be followed by the US GDP data for the second quarter.
According to several experts, the GDP, if declines for the two-consecutive quarters, indicates that the economy is in a recession period.
Meanwhile, the number of Americans filing for new unemployment benefits claims rose to an 8-month high in the last week, reflecting the effect of the job cuts by many companies. Initial claims rose 7,000 to 251,000 in the week ended on July 16, the Labor Department reported on Thursday.
On Thursday, information technology, consumer discretionary, and health care sectors led gains in the S&P 500 index. Nine of its 11 segments stayed in the positive territory. The energy and communication services sectors were the laggards.
Shares of the EV maker, Tesla, Inc. (TSLA) soared 10.13 percent, a day after the company reported strong quarterly earnings results that came in above analysts' estimates. However, it reported its first decline in quarterly profit in over a year.
AT&T Inc. (T) stock lost 8.25% in intraday trading, after the telecommunication firm trimmed its cash flow guidance for fiscal 2022, as some subscribers are delaying paying the bills.
In airline stocks, United Airlines Holdings, Inc. (UAL) fell 10.29%, after the company reported its earnings that fell short of analysts' expectations and warned about the higher fuel prices' impact on its business.
American Airlines Group Inc. (AAL) slipped 8.45% after the company reported its earnings on Thursday that missed Wall Street estimates.
In the technology sector, Apple Inc. (AAPL) increased by 1.53%, NVIDIA Corporation (NVDA) soared 1.32%, and ASML Holding N.V. (ASML) jumped 5.38%. Oracle Corporation (ORCL) and Adobe Inc. (ADBE) advanced 2.69% and 1.77%, respectively.
In consumer discretionary stocks, Amazon.com, Inc. (AMZN) rose 1.52%, Alibaba Group Holding Limited (BABA) gained 1.14%, and Lowe's Companies, Inc. (LOW) surged 1.36%. JD.com, Inc. (JD) and The TJX Companies, Inc. (TJX) ticked up 2.22% and 1.16%, respectively.
In the energy sector, Exxon Mobil Corporation (XOM) decreased by 1.66%, PetroChina Company Limited (PTR) fell 1.31%, and TotalEnergies SE (TTE) slipped by 1.83%. ConocoPhillips (COP) and Equinor ASA (EQNR) tumbled 2.09% and 2.33% respectively.
In the crypto space, Bitcoin (BTC) fell 0.66%, while Ethereum (ETH) rose 3.86% in the last 24 hours. The global crypto market cap ticked down 0.37% to US$1.05 trillion at 4:12 pm ET on July 21.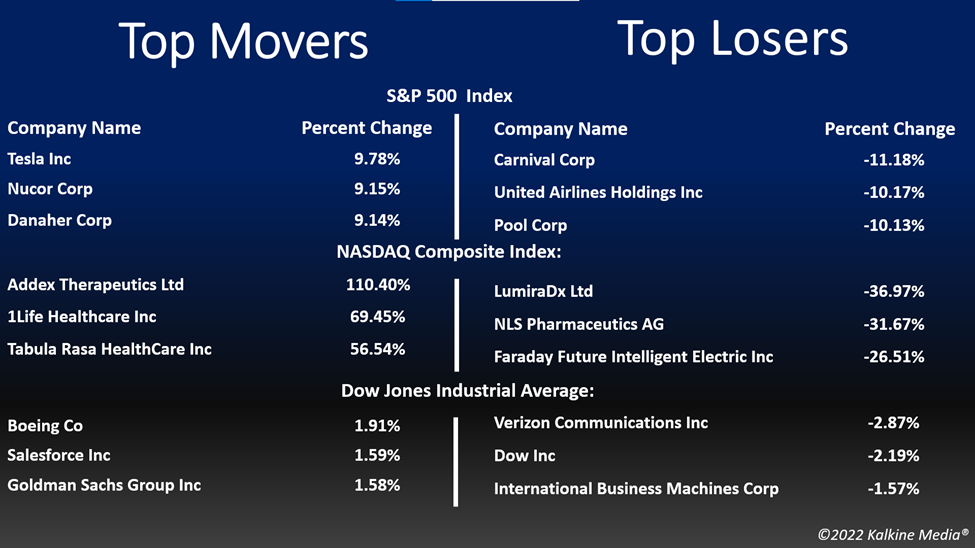 Futures & Commodities
Gold futures were up 1.07% to US$1,718.45 per ounce. Silver increased by 0.61% to US$18.782 per ounce, while copper fell 0.56% to US$3.3065.
Brent oil futures decreased by 2.78% to US$103.95 per barrel and WTI crude was down 3.46% to US$96.45.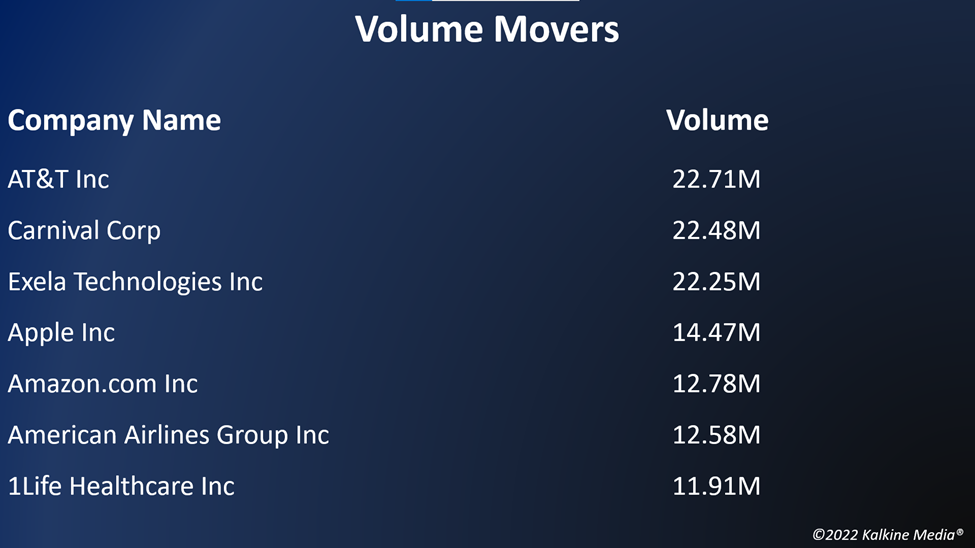 Bond Market
The 30-year Treasury bond yields were down 3.69% to 3.053, while the 10-year bond yields fell 5.13% to 2.880.
US Dollar Futures Index decreased by 0.41% to US$106.517.