Benchmark US indices started the week on a low note on Tuesday, September 6, after the Labor Day weekend, as the investors remained concerned over Fed's anticipated hawkish move in the coming time to tame inflation.
The S&P 500 fell 0.41 per cent to 3,908.19. The Dow Jones was down 0.55 per cent to 31,145.30. The NASDAQ Composite lost 0.74 per cent to 11,544.91, and the small-cap Russell 2000 fell 0.96 per cent to 1,792.32.
The tech-savvy Nasdaq plummeted for the seventh straight day, marking its longest streak of losses since November 2016. The investors kept a distance from the risk-bet assets, after last week's non-farm payroll data indicated that the Federal Reserve may stick to their aggressive rate-hike plans.
The market participants would keep a close watch on Fed Chair Jerome Powell's speech later this week, for cues on future moves of the central bank with their monetary policy.
In addition, the traders are also waiting for the CPI data that is scheduled to release next week, which would set the stage for future rate-hike plans.
The healthcare, real estate, and utility sectors were the top movers in the S&P 500 index on Tuesday. Seven of the 11 segments of the index stayed in the negative territory. The information technology and energy sectors were the bottom movers.
Shares of Kingsoft Cloud Holdings Limited (NASDAQ: KC) dropped by more than 16 per cent in intraday trading, after the cloud service provider reported its latest quarter earnings before the opening bell. The company's earnings might have come below the market expectations.
IVERIC bio, Inc. (NASDAQ: ISEE) stock soared more than 65 per cent in the intraday session on Tuesday after the firm posted positive topline Phase 3 clinical trial data for Zimura.
Shares of the Chinese e-commerce giant, Alibaba Group Holding Limited (BABA) fell more than three per cent on September 7, after China announced fresh restrictions in its southern technology hub Shenzhen, effective September 6.
In the healthcare sector, Eli Lilly and Company (LLY) increased by 1.84 per cent, AbbVie Inc. (ABBV) gained 0.99 per cent, and Novo Nordisk A/S added 1.36 per cent. Danaher Corporation (DHR) and ResMed Inc. (RMD) advanced 1.19 per cent and 2.23 per cent, respectively.
In real estate stocks, American Tower Corporation (AMT) surged 1.40 per cent, Prologis, Inc. (PLD) jumped 1.73 per cent, and Public Storage (PSA) soared 1.94 per cent. VICI Properties Inc. (VICI) and CoStar Group, Inc. (CSGP) were up 1.56 per cent and 7.49 per cent, respectively.
In the technology sector, Microsoft Corporation (MSFT) decreased by 1.10 per cent, NVIDIA Corporation (NVDA) declined by 1.33 per cent, and Oracle Corporation (ORCL) plunged by 1.10 per cent. Salesforce, Inc. (CRM) and Advanced Micro Devices, Inc. (AMD) slipped 1.28 per cent and 1.89 per cent, respectively.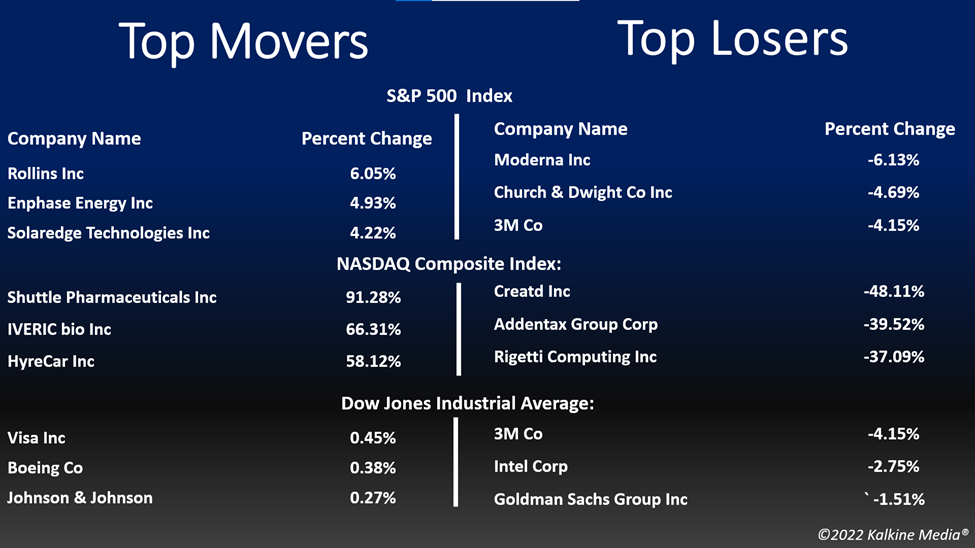 Futures & Commodities
Gold futures were down 0.64 per cent to US$1,711.55 per ounce. Silver decreased by 0.08 per cent to US$17.867 per ounce, while copper fell 0.03 per cent to US$3.4575.
Brent oil futures decreased by 3.09 per cent to US$92.78 per barrel and WTI crude was down 0.08 per cent to US$86.80.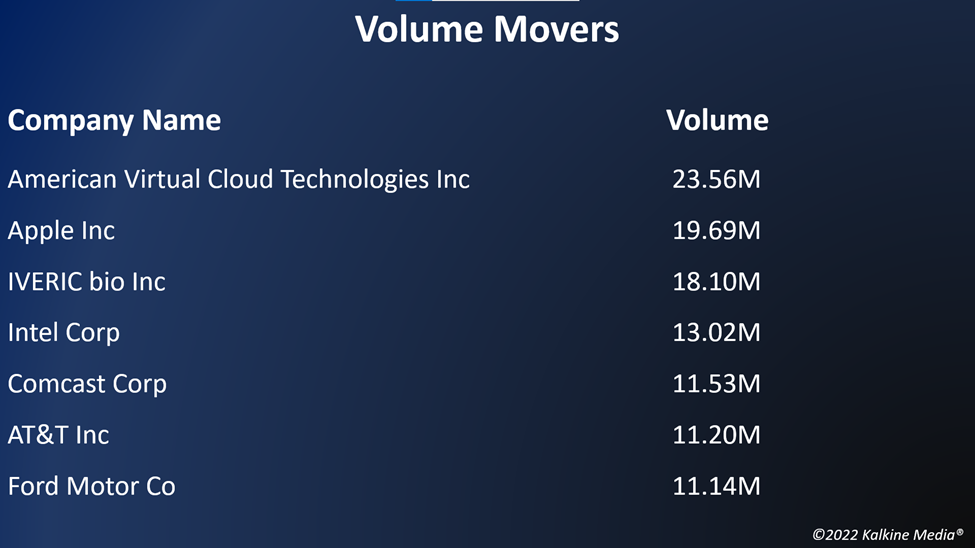 Bond Market
The 30-year Treasury bond yields were up by 4.32 per cent to 3.488, while the 10-year bond yields rose 4.72 per cent to 3.342.
US Dollar Futures Index increased by 0.66 per cent to US$110.233.