Benchmark US indices extended their slide for a third straight session on Monday, May 9, with the S&P 500 slipping to its lowest level since April 2021, dragged down by losses in mega-cap growth stocks.
The S&P 500 was down 3.20% to 3,991.24. The Dow Jones fell 1.99% to 32,245.70. The NASDAQ Composite decreased by 4.29% to 11,623.25, and the small-cap Russell 2000 was down 4.21% to 1,762.08.
Growth stock investors may have looked for the exits as Treasury yields hit a three-and-half-year high. The Fed's anticipated rate hike again next month weighed on investors' minds.
The 10-year Treasury notes climbed to 3.20% in intraday trading, the highest since November 2018.
Following a half-point increase in the interest rates in the previous week, the market anticipates another 75-basis point hike after the central bank's next meeting in June.
An expected slowdown in the Chinese economy due to new Covid-19 cases has also raised traders' concerns. In April, Chinese exports tumbled by 3.9%, the lowest level since June 2020.
All the sectors of the S&P 500 index closed in the red on Monday. Energy, information technology, and consumer discretionary sectors were the top losers.
In quarterly earnings, German biotechnology company BioNTech SE's (BNTX) revenue surged 211% in the first quarter of fiscal 2022, driven by robust Covid-19 vaccine sales. The stock rose 2.98% after the results.
Shares of Society Pass Incorporated (SOPA) increased by over 28% after the company reported a 4,582% YoY growth in its first-quarter revenue on Monday.
Duke Energy Corporation (DUK) stock fell 0.50% after reporting mixed first-quarter earnings. Data analytics firm Palantir Technologies (PLTR) stock declined 21.36% after reporting weak results.
On the other hand, Tyson Foods, Inc. (TSN) stock gained 2.14% after reporting better-than-expected first-quarter results.
In the energy sector, Exxon Mobil Corporation (XOM) decreased by 7.81%, Chevron Corporation (CVX) fell by 6.63%, and Shell plc (SHEL) plunged by 5.79%. ConocoPhillips (COP) and TotalEnergies SE (TTE) ticked down 9.75% and 6.12%, respectively.
In consumer discretionary stocks, Amazon.com, Inc. (AMZN) declined 5.21%, Tesla, Inc. (TSLA) slipped 9.07%, and Alibaba Group Holding Limited (BABA) fell 5.74%. Toyota Motor Corporation (TM) and Nike, Inc. (NKE) lost 2.77% and 2.85%, respectively.
In the technology sector, Apple Inc. (AAPL) dropped 3.32%, Microsoft Corporation (MSFT) plunged 3.69%, and NVIDIA Corporation (NVDA) tumbled 9.24%. Broadcom Inc. (AVGO) and ASML Holding N.V. (ASML) plummeted 2.96% and 6.96%, respectively.
In the crypto space, Bitcoin (BTC) and Ethereum (ETH) decreased by 8.73% and 9.56%, respectively. The global crypto market cap fell 9.90% to US$1.43 trillion at 4:15 pm ET on May 9.
Also Read: XOM, CVX among top 5 oil & gas stocks to explore in Q2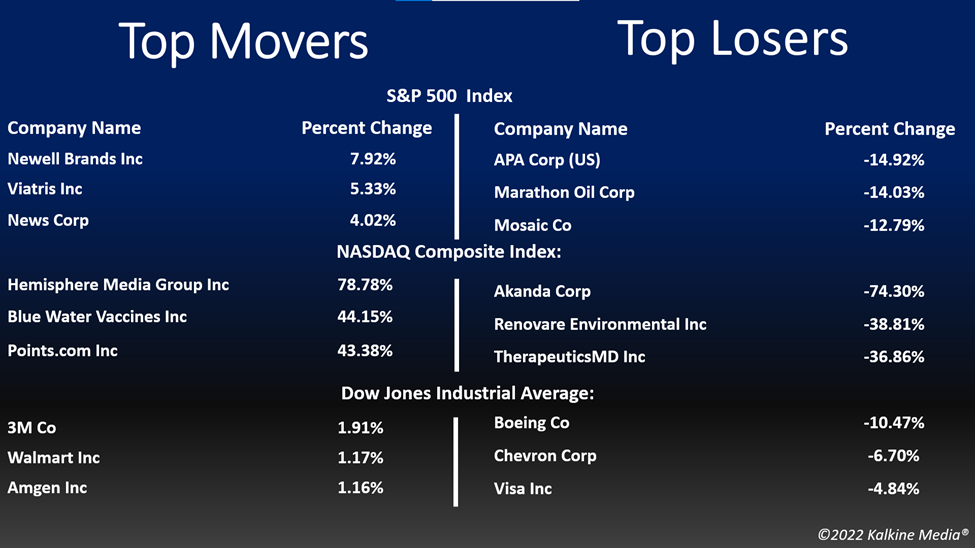 Also Read: TerraUSD (UST) crypto: All you need to know
Also Read: WM to CWST: 5 recycling stocks to watch as climate takes center stage
Futures & Commodities
Gold futures were down 1.65% to US$1,851.92 per ounce. Silver decreased by 2.79% to US$21.742 per ounce, while copper fell 1.73% to US$4.1930.
Brent oil futures decreased by 6.50% to US$105.09 per barrel and WTI crude was down 6.77% to US$102.33.
Also Read: PLD to SPG: Can these 5 REIT stocks provide hedge against inflation?
Bond Market
The 30-year Treasury bond yields were down 1.70% to 3.166, while the 10-year bond yields fell 2.63% to 3.042.
US Dollar Futures Index increased by 0.06% to US$103.755.