Benchmark US indices closed the week lower on Friday, April 22, as weak earnings and the relentless fall in growth stocks weighed on investors' minds.
The S&P 500 was down 2.77% to 4,271.78. The Dow Jones fell 2.82% to 33,811.40. The NASDAQ Composite decreased by 2.55% to 12,839.29, and the small-cap Russell 2000 was down 2.55% to 1,940.66.
The bond yields, which move inversely to prices, remained stable on anticipations of interest rate hikes. The hawkish pivot of Fed Chair Jerome Powell on Thursday that the central bank may raise the interest rates has hurt the market participants' sentiment. Powell indicated to move quickly to control the inflation while adding that a 50 basis point increase would be discussed in the Fed's next meeting in May.
Powell's comment triggered a selloff in the mega-cap stocks, which were already declining especially after the gloomy earnings from Netflix this week.
Communication services and the healthcare sector were the bottom movers on the S&P 500 index on Friday. All the eleven critical sectors of the index stayed in the negative territory.
Shares of Snap Inc. (SNAP) declined 1.87% in the intraday trading, a day after the company reported weaker-than-expected quarterly earnings results that missed the Wall Street estimates. In addition, the company also said that supply-chain woes and inflation could continue to hurt its revenue growth while forecasting higher users in the ongoing quarter.
Verizon Communications Inc. (VZ) reported its financial results on Friday, before the opening bell, which was in line with the analysts' estimates. Meanwhile, the company has provided downbeat earnings forecast for fiscal 2022, as it is spending heavily on its network upgrade while the increasing inflation has stopped the customers from opting for pricier plans. The VZ stock tumbled 5.95%.
The clothing retail firm, The Gap, Inc. (GPS) declined 19.21% in intraday trading, after the company trimmed its forecast for quarterly sales, citing execution hurdles at its Old Navy brand and other macroeconomic factors.
Shares of Schlumberger N.V. (SLB) rose 3.79%, after the company posted a higher-than-anticipated first-quarter profit, as the increasing oil prices due to the Russia-Ukraine turmoil bumped up oilfield services and equipment demand.
In the technology sector, Apple Inc. (AAPL) decreased by 2.78%, Microsoft Corporation (MSFT) declined by 2.41%, and NVIDIA Corporation (NVDA) fell by 3.31%. ASML Holding N.V. (ASML) and Cisco Systems, Inc. (CSCO) plummeted by 2.00% and 2.69%, respectively.
In communication stocks, Alphabet Inc. (GOOGL) plunged 4.15%, Meta Platforms, Inc. (FB) tumbled 2.11%, and The Walt Disney Company (DIS) dropped 2.79%. Comcast Corporation (CMCSA) and Netflix, Inc. (NFLX) ticked down 3.32% and 1.24%, respectively.
In the healthcare sector, UnitedHealth Group Incorporated (UNH) slipped 3.07%, AbbVie Inc. (ABBV) fell 2.23%, and Pfizer Inc. (PFE) declined 2.00%. Eli Lilly and Company (LLY) and Merck & Co. Inc. (MRK) plummeted by 3.76% and 1.90%, respectively.
In the crypto space, Bitcoin (BTC) and Ethereum (ETH) fell 4.10% and 2.13%, respectively. The global crypto market cap ticked up 2.73% to US$1.85 trillion at 4:26 pm ET on April 22.
Also Read: Is Polygon (MATIC) crypto gaining attention on Stripe news?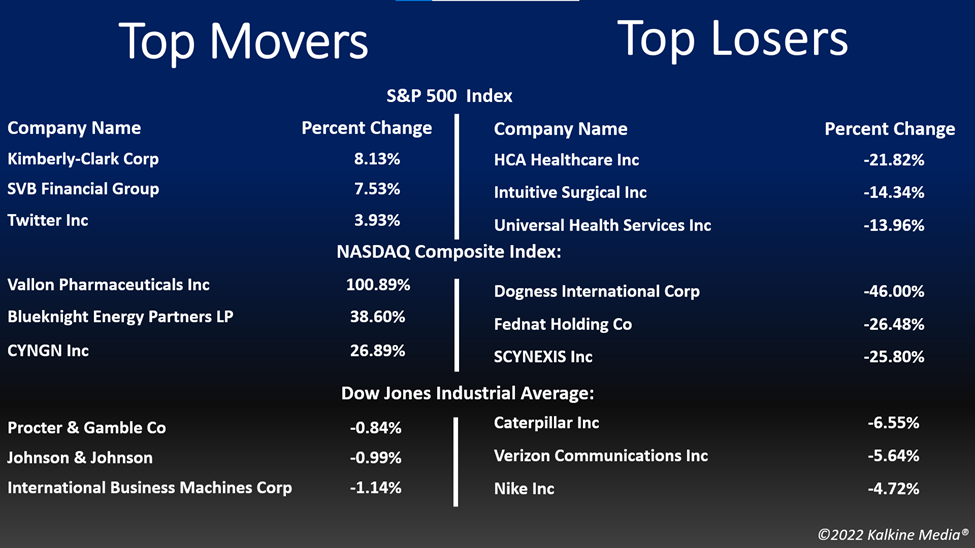 Also Read: What is Decred (DCR) crypto and why it is rising?
Also Read: Blockchain security firm CertiK bags additional US$60 mn from top VCs
Futures & Commodities
Gold futures were down 0.72% to US$1,934.15 per ounce. Silver decreased by 1.55% to US$24.240 per ounce, while copper fell 2.59% to US$4.5820.
Brent oil futures decreased by 2.34% to US$105.80 per barrel and WTI crude was down 2.28% to US$101.42.
Also Read: Why Hawksight (HAWK) crypto surged 100%?
Bond Market
The 30-year Treasury bond yields were up 0.60% to 2.951, while the 10-year bond yields fell 0.43% to 2.905.
US Dollar Futures Index increased by 0.50% to US$101.118.