Benchmark US indices closed mixed on Friday, November 19, as fresh covid fears gripped the country, dragging down the energy, financial, and real estate stocks in intraday trading.
The S&P 500 was down 0.14% to 4,697.96. The Dow Jones fell 0.75% to 35,601.98. The NASDAQ Composite was up 0.40% to 16,057.44, and the small-cap Russell 2000 fell 0.89% to 2,342.53.
The Johns Hopkins University on Friday said that covid cases were rising alarmingly in the US and Europe, raising fresh concerns that it might trigger lockdowns to curb the spread of the virus. Austria and Germany, which were worst affected, might see partial or full lockdowns from next week.
The developments led to a drop in bond yields amid mixed cues. The House of Representatives on Friday cleared a social spending bill worth US$1.75 trillion to address healthcare and other issues.
Technology, utility, and consumer discretionary stocks were the top movers on the S&P 500. Energy, financial, and real estate stocks declined. Eight out of the index's 11 segments closed in the red.
Foot Locker, Inc. (FL) stock fell 12% after reporting third-quarter results. The retailer's total sales grew 4% YoY to US$2.18 billion, but it expects the supply-chain issues to stay.
Intuit Inc. (INTU) stock rose around 10% after beating expectations. Its revenue grew 52% to US$2.00 billion. The company raised the full fiscal year 2022 revenue forecast.
Snow Lake Resources Ltd. (LITM) stock gained 60.63% on the first day of listing on NASDAQ. It traded at US$12.047 at 3:13 pm ET.
Moderna, Inc. (MRNA) stock surged 5% after getting FDA approval for covid booster drug for adults.
Lithium Americas Corp. (LAC) stock rose 14% on analysts' high price target due to the increasing prices of lithium metal used in electric-car batteries.
In the information technology sector, Intuit Inc. (INTU) rose 9.16%, Micron Technology (MU) gained 8.40%, and Enphase Energy Inc. (ENPH) increased 5.79%. Nvidia Corporation (NVDA) grew 4.09%, and Adobe Inc. (ADBE) surged 2.91%.
In the utility sector, NextEra Energy Inc. (NEE) grew 1.04%, Duke Energy Corporation (DUK) rose 0.15%, and Southern Company (SO) increased 1.39%. Exelon Corporation (EXC) and American Electric Power Company (AEP) surged 0.02% and 0.54%, respectively.
In the energy sector, Exxon Mobil Corporation (XOM) plunged 4.75%, Chevron Corporation (CVX) declined 2.34%, and ConocoPhillips (COP) fell 3.99%. EOG Resources (EOG) fell 4.54%, and Pioneer Natural Resources Company (PXD) was down 1.27%.
Also Read: Mammoth Energy (TUSK) stock surges on EV charging station contract
Also Read: Advanced Human Imaging (AHI) IPO is priced: How to buy the stock?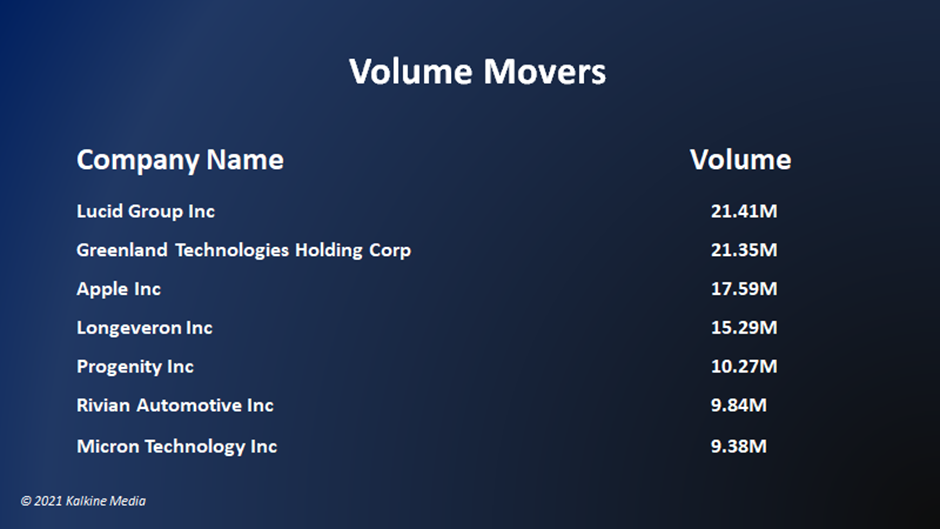 Also Read: FinWise Bancorp IPO: How to buy the stock?
Futures & Commodities
Gold futures declined 0.67% to US$1,849.00 per ounce. Silver futures decreased by 1.06% to US$24.637 per ounce, while copper increased 2.04% to US$4.3925.
Brent oil futures fell by 3.40% to US$78.48 per barrel and WTI crude futures were down 3.53% to US$75.64.
Bond Market
The 30-year Treasury bond yields declined 3.19% to 1.910, while the 10-year bond yields were down 2.68% to 1.544.
US Dollar Futures Index increased by 0.53% to US$96.047