Wall Street closed the session lower on Tuesday, September 20, as investors walked cautiously with a focus on the Fed's two-day meeting that started today. All eyes would be on the Fed's meeting now and Jerome Powell's conference on September 21.
The S&P 500 fell 1.13 per cent to 3,855.93. The Dow Jones was down 1.01 per cent to 30,706.23. The NASDAQ Composite lost 0.95 per cent to 11,425.05, and the small-cap Russell 2000 fell 1.40 per cent to 1,787.50.
The treasury yields surged to multiyear highs on September 20, as the market participants anticipates a fierce increase in the interest rates by the central bank. Both investors and policymakers have grappled with the soaring inflation that has dampened the market so far this year.
Many investors are betting that the Fed would unveil another three-quarter of a percentage point surge in the interest rate on Wednesday. Meanwhile, the traders would also look for cues on the future projections on economic health.
On Tuesday, September 20, all 11 segments of the S&P 500 index stayed in the negative territory. The consumer discretionary, healthcare, and materials sectors were the laggards.
Shares of Ford Motor Company (NYSE: F) plunged over 11 per cent in the intraday trading on September 20, after the automobile manufacturing firm warned that its higher costs would impact its business. In addition, it said that due to part shortages, it would have to push delivery of some of its vehicles.
The Gap, Inc. (NYSE: GPS) stock tumbled more than three per cent in the intraday session after the clothing retailer reportedly plans to trim around 500 office jobs in an effort to cut its costs.
In the consumer discretionary sector, Amazon.com, Inc. (AMZN) decreased by 1.98 per cent, The Home Depot, Inc. (HD) fell 2.23 per cent, and Alibaba Group Holding Limited (BABA) slipped by 2.11 per cent. Nike, Inc. (NKE) and Lowe's Companies, Inc. (LOW) plummeted 4.42 per cent and 2.40 per cent, respectively.
In healthcare stocks, Eli Lilly and Company (LLY) plunged by 1.11 per cent, Pfizer Inc. (PFE) dropped by 1.45 per cent, and Novo Nordisk A/S declined by 1.79 per cent. Thermo Fisher Scientific Inc. (TMO) and Danaher Corporation (DHR) ticked down 1.38 per cent and 1.62 per cent, respectively.
In the materials sector, Linde plc (LIN) slumped 1.28 per cent, Rio Tinto Group (RIO) tumbled 2.14 per cent, and Vale S.A. (VALE) retreated 1.40 per cent. The Sherwin-Williams Company (SHW) and Ecolab, Inc. (ECL) were down 1.97 per cent and 2.08 per cent, respectively.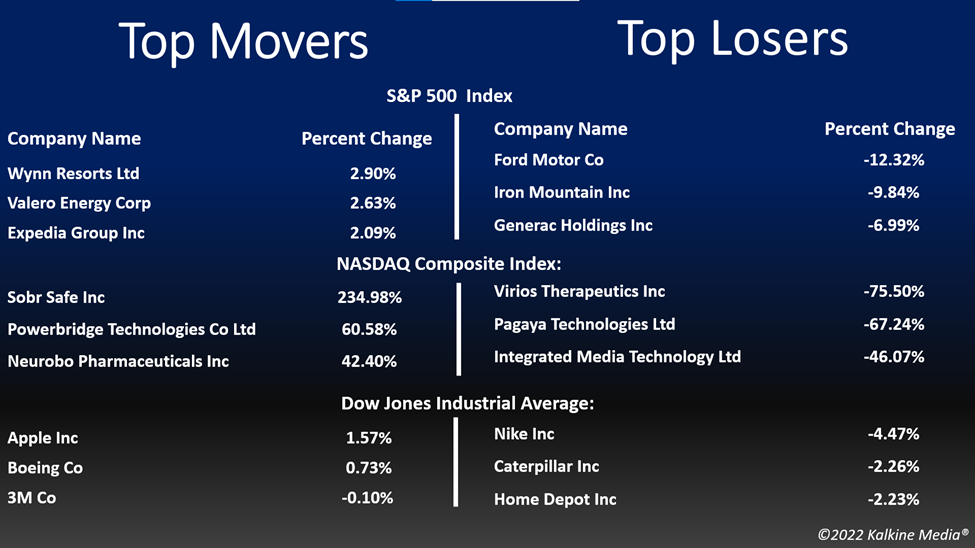 Futures & Commodities
Gold futures were down 0.30 per cent to US$1,673.10 per ounce. Silver decreased by 0.53 per cent to US$19.255 per ounce, while copper fell 0.35 per cent to US$3.5003.
Brent oil futures decreased by 1.33 per cent to US$90.78 per barrel and WTI crude was down 1.39 per cent to US$84.17.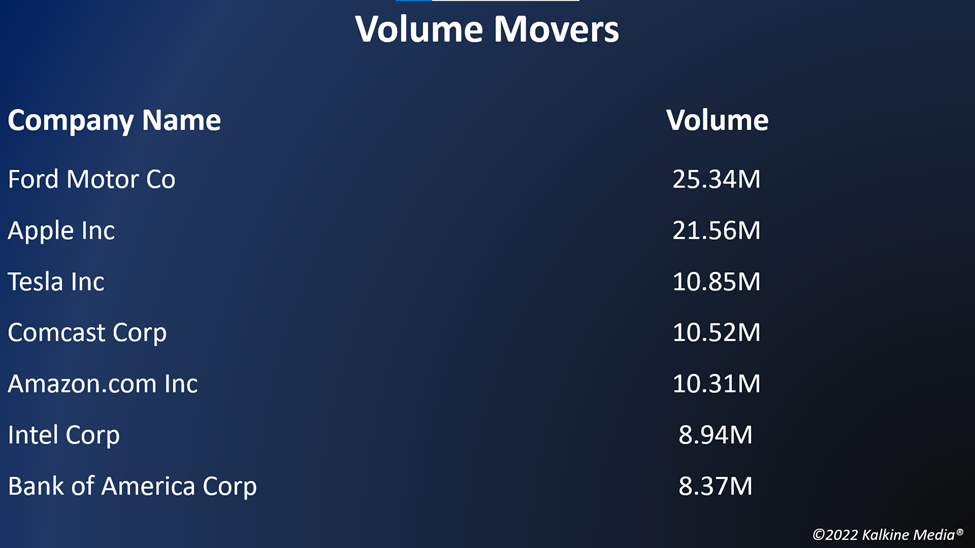 Bond Market
The 30-year Treasury bond yields were up 1.85 per cent to 3.570, while the 10-year bond yields rose 2.01 per cent to 3.559.
US Dollar Futures Index increased by 0.39 per cent to US$109.888.