Wall Street stocks started the week on a low note on Monday, July 11, ahead of the latest inflation data and the second-quarter earnings season that will begin this week.
The S&P 500 fell 1.15% to 3,854.43. The Dow Jones was down 0.52% to 31,173.84. The NASDAQ Composite lost 2.26% to 11,372.60, and the small-cap Russell 2000 ticked down 2.11% to 1,732.01.
S&P 500 gained around 2% last week, helping to regain some losses from the previous weeks.
The market participants traded cautiously ahead of a flurry of economic data later this week.
The Labor Department is expected to release its CPI inflation data for June, which will be closely assessed for cues about the next interest rate hikes. Investors also eagerly wait for the latest producer price index and retail sales data, which would throw light on the economy's current status.
The Federal Reserve will also announce its next installment of the rate increase to calm inflation. In its last meeting, the bank had raised the rate by 75 basis points, its third increment since March this year.
Meanwhile, several large banks are expected to report their second-quarter earnings this week. Some of them include JP Morgan Chase & Co (JPM), Morgan Stanley (MS), Wells Fargo & Company (WFC), and Citigroup Inc. (C). Companies such as PepsiCo, Inc. (PEP), Delta Air Lines Inc. (DAL), and UnitedHealth Group Incorporated (UNH) were also due to report earnings this week.
The utilities sector was the top gainer of the S&P 500 on Monday. Ten of the 11 segments stayed in the red. Consumer discretionary, technology, and energy sectors were the bottom movers.
Twitter, Inc. (TWTR) stock dropped 10% in intraday trading after Tesla CEO Elon Musk terminated his US$44 billion bid to acquire the social media company, claiming a violation of their merger agreement.
Shares of several top US casino operators declined on Monday after Macao enforced a shutdown to stop a new wave of Covid-19 pandemic. Wynn Resorts, Limited (WYNN) and Las Vegas Sands Corp. (LVS) stocks lost 6.46% and 6.33%, respectively.
In the utilities sector, Duke Energy Corporation (DUK) increased by 1.86%, Consolidated Edison, Inc. (ED) added 0.82%, and Alliant Energy Corporation (LNT) soared by 0.86%. UGI Corporation (UGI) and OGE Energy Corp. (OGE) advanced 2.17% and 1.21%, respectively.
In technology stocks, Apple Inc. (AAPL) decreased by 1.41%, Microsoft Corporation (MSFT) fell 1.15%, and NVIDIA Corporation (NVDA) plunged by 4.21%. Broadcom Inc. (AVGO) and Adobe Inc. (ADBE) ticked down 2.94% and 1.59%, respectively.
In the consumer discretionary sector, Amazon.com, Inc. (AMZN) declined 3.06%, Tesla, Inc. (TSLA) lost 5.96%, and NIKE, Inc. (NKE) slumped 2.48%. JD.com, Inc. (JD) and Starbucks Corporation (SBUX) plummeted 3.81% and 1.73%, respectively.
In the crypto space, Bitcoin (BTC) and Ethereum (ETH) shed 0.39% and 0.78%, respectively. The global crypto market cap fell 1.52% to US$911.22 billion at 3:43 pm ET on July 11.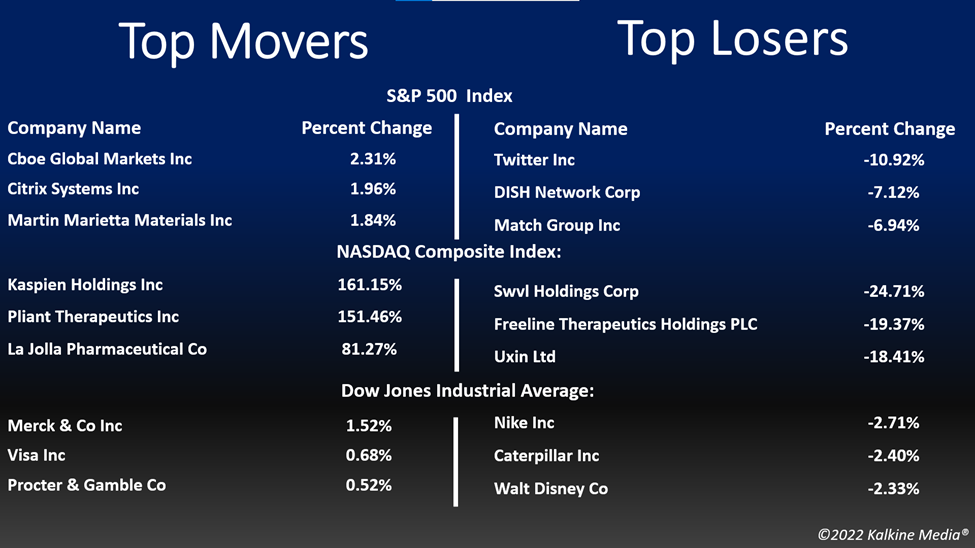 Futures & Commodities
Gold futures were down 0.63% to US$1,731.25 per ounce. Silver decreased by 1.00% to US$19.043 per ounce, while copper fell 2.74% to US$3.4255.
Brent oil futures decreased by 0.45% to US$106.54 per barrel and WTI crude was down 1.20% to US$103.53.

Bond Market
The 30-year Treasury bond yields were down 3.02% to 3.170, while the 10-year bond yields fell 3.55% to 2.991.
US Dollar Futures Index increased by 1.09% to US$107.987.