Wall Street indices closed the session higher on Wednesday, July 20, led by gains in technology and consumer discretionary segments as earnings of more companies came on expected lines.
The S&P 500 rose 0.59% to 3,959.90. The Dow Jones was up 0.15% to 31,874.84. The NASDAQ Composite added 1.58% to 11,897.65, and the small-cap Russell 2000 ticked up 1.59% to 1,827.95.
Growth stocks in the technology and consumer discretionary segments led the rally on Wednesday. Investors seemed less worried over Fed's another possible rate hike this month.
Most economists expect the bank could raise the interest rates by a whopping one percentage point after June's troubling 9.1% increase in annual inflation.
Growth stocks were the worst performers in the current inflationary pressure. But their sell-offs appeared to be easing in recent weeks, with the start of a new earnings season. Traders will carefully evaluate the earnings to enhance the profitability of their investments.
On Wednesday, technology, consumer discretionary, and industrial sectors were the top movers on the S&P 500 index. Seven of its 11 segments stayed in the positive territory. The healthcare and consumer staples sectors were the bottom movers.
Shares of media streaming company Netflix, Inc. (NFLX) gained 6.30% in intraday trading after it said its subscriber base declined less than expected in the latest quarter.
Presenting its second-quarter results on Tuesday, the company further said it expects to add more than one million new net subscribers in the current quarter.
The Omnicom Group Inc. (OMC) stock surged more than 4% a day after it reported better-than-expected quarterly results and raised its guidance.
Abbott Laboratories (ABT) shares fell 1.66% after it said its sales were affected due to a recall and production halt of its nutritional products, including those for infants. However, Abbott has raised the guidance after beating Wall Street's earnings estimates.
The Biogen Inc. (BIIB) stock fell 6.92% in intraday trading, although it posted strong quarterly results and raised the guidance for fiscal 2022.
In the technology sector, Apple Inc. (AAPL) increased by 1.30%, Microsoft Corporation (MSFT) soared by 0.96%, and NVIDIA Corporation (NVDA) gained 4.76%. Adobe Inc. (ADBE) and ASML Holding N.V. (ASML) advanced 3.45% and 3.06%, respectively.
In consumer discretionary stocks, Amazon.com, Inc. (AMZN) rose 3.86%, Tesla, Inc. (TSLA) added 0.80%, and The Home, Depot Inc. (HD) grew 0.93%. Nike Inc. (NKE) and Lowe's Companies, Inc. (LOW) ticked up 1.72% and 1.15%, respectively.
In the healthcare sector, UnitedHealth Group Incorporated (UNH) decreased by 2.63%, Eli Lilly and Company (LLY) fell 1.28%, and Pfizer Inc. (PFE) declined by 1.03%. AstraZeneca PLC (AZN) and Merck & Co., Inc. (MRK) plummeted by 3.48% and 2.88%, respectively.
In the crypto space, Bitcoin (BTC) gained 1.28%, while Ethereum (ETH) slumped 0.48% in the last 24 hours. The global crypto market cap ticked down 0.13% to US$1.06 trillion at 4:03 pm ET on July 20.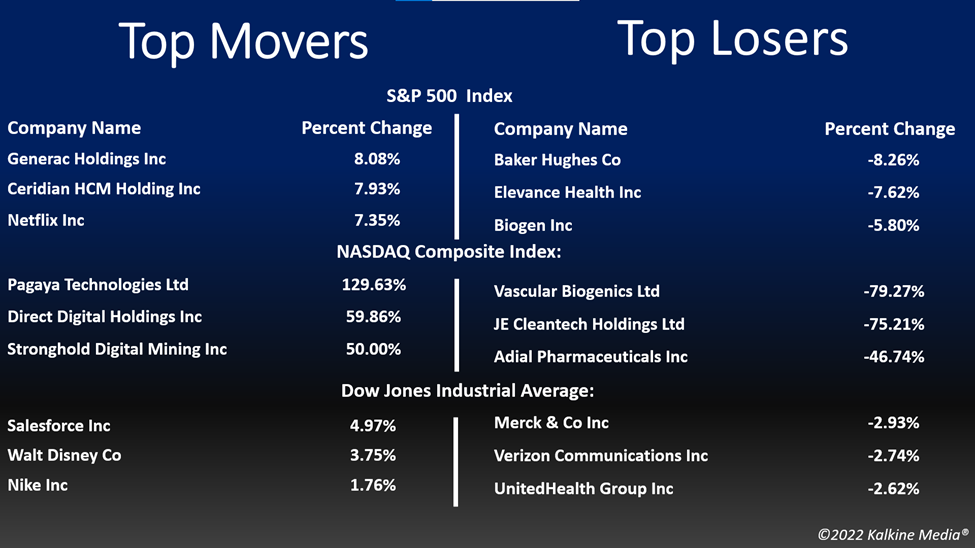 Futures & Commodities
Gold futures were down 1.01% to US$1,693.40 per ounce. Silver decreased by 0.67% to US$18.587 per ounce, while copper rose 0.62% to US$3.3115.
Brent oil futures decreased by 0.68% to US$106.62 per barrel and WTI crude was down 1.04% to US$99.69.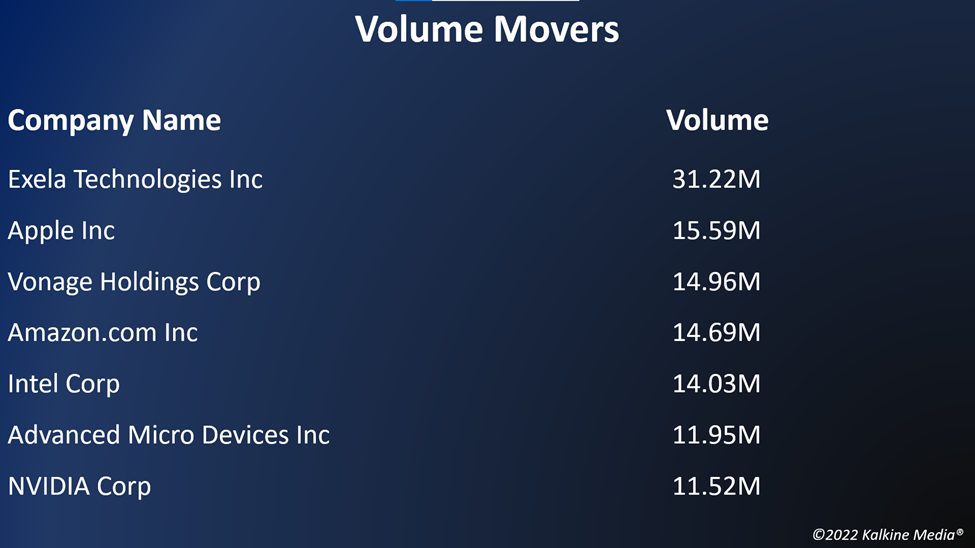 Bond Market
The 30-year Treasury bond yields were down 0.42% to 3.164, while the 10-year bond yields rose 0.37% to 3.030.
US Dollar Futures Index increased by 0.38% to US$106.960.