Wall Street indices started the week in red on Monday, September 26, dragged down by the increasing growth concerns that have so far weighed on the traders' sentiment. The investors seem to be struggling for directions due to the increasing costs, jump in policy rates, and other uncertainties in the market.
The S&P 500 fell 1.03 per cent to 3,655.04. The Dow Jones was down 1.11 per cent to 29,260.81. The NASDAQ Composite lost 0.60 per cent to 10,802.92, and the small-cap Russell 2000 fell 1.41 per cent to 1,655.88.
The market had witnessed a summer rally at the start of the ongoing quarter, supported by the optimism over positive earnings and anticipation that the Federal Reserve may start winding back its aggressive monetary plans by next year.
However, hawkish comments from the policymakers indicated that the central bank may stick to its harsh monetary plans for "some time" now, to tackle the still-elevated inflation. In addition to that, a jumbo-hike in the policy rates last week by the Fed has raised concerns over the economic growth.
Ten of the 11 segments of the S&P 500 index stayed in the negative territory, with only the consumer staples sector in the green. The information technology, healthcare, and energy sectors were the bottom movers of the index on Monday.
Shares of the popular meme-stock, AMC Entertainment Holdings, Inc. (AMC) fell more than 14 per cent in intraday trading, following reports that the theater chain operator is planning to sell as much as 425 million units of its preferred shares, APE.
Annaly Capital Management, Inc. (NLY) dropped by about eight per cent in the intraday session on September 26, the first trading day of the capital manager after its one-for-four reverse stock split took place on Friday.
In the technology sector, Taiwan Semiconductor Manufacturing Company (TSM) decreased by 1.16 per cent, NVIDIA Corporation (NVDA) lost 2.30 per cent, and Broadcom Inc. (AVGO) plunged by 1.37 per cent. ASML Holding N.V. (ASML) and Oracle Corporation (ORCL) plummeted 1.22 per cent and 1.70 per cent, respectively.
In Healthcare Stocks, UnitedHealth Group Incorporated (UNH) declined 1.02 per cent, Eli Lilly and Company (LLY) slipped 1.27 per cent, and AbbVie Inc. (ABBV) slumped 1.29 per cent. Novo Nordisk A/S (NVO) and AstraZeneca PLC (AZN) ticked down 2.71 per cent and 2.86 per cent, respectively.
Futures & Commodities
Gold futures were down 1.61 per cent to US$1,628.90 per ounce. Silver decreased by 3.07 per cent to US$18.330 per ounce, while copper fell 1.59 per cent to US$3.2900.
Brent oil futures decreased by 2.81 per cent to US$82.64 per barrel and WTI crude was down 2.83 per cent to US$76.51.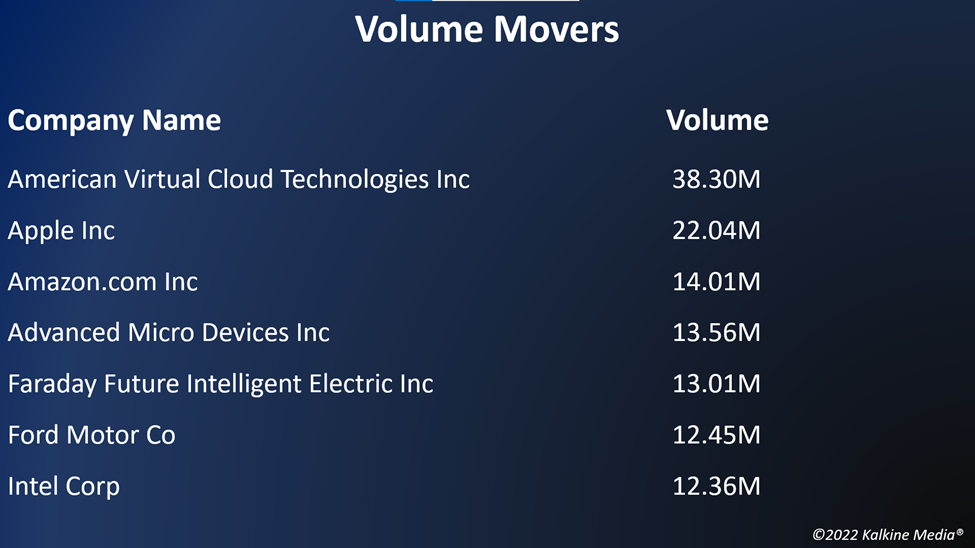 Bond Market
The 30-year Treasury bond yields were up 3.60 per cent to 3.742, while the 10-year bond yields rose 6.21 per cent to 3.926.
US Dollar Futures Index increased by 1.00 per cent to US$114.088.